Are you looking for some zero carb cocktails? Here's everything that you need to know – plus a full Moscow Mule recipe!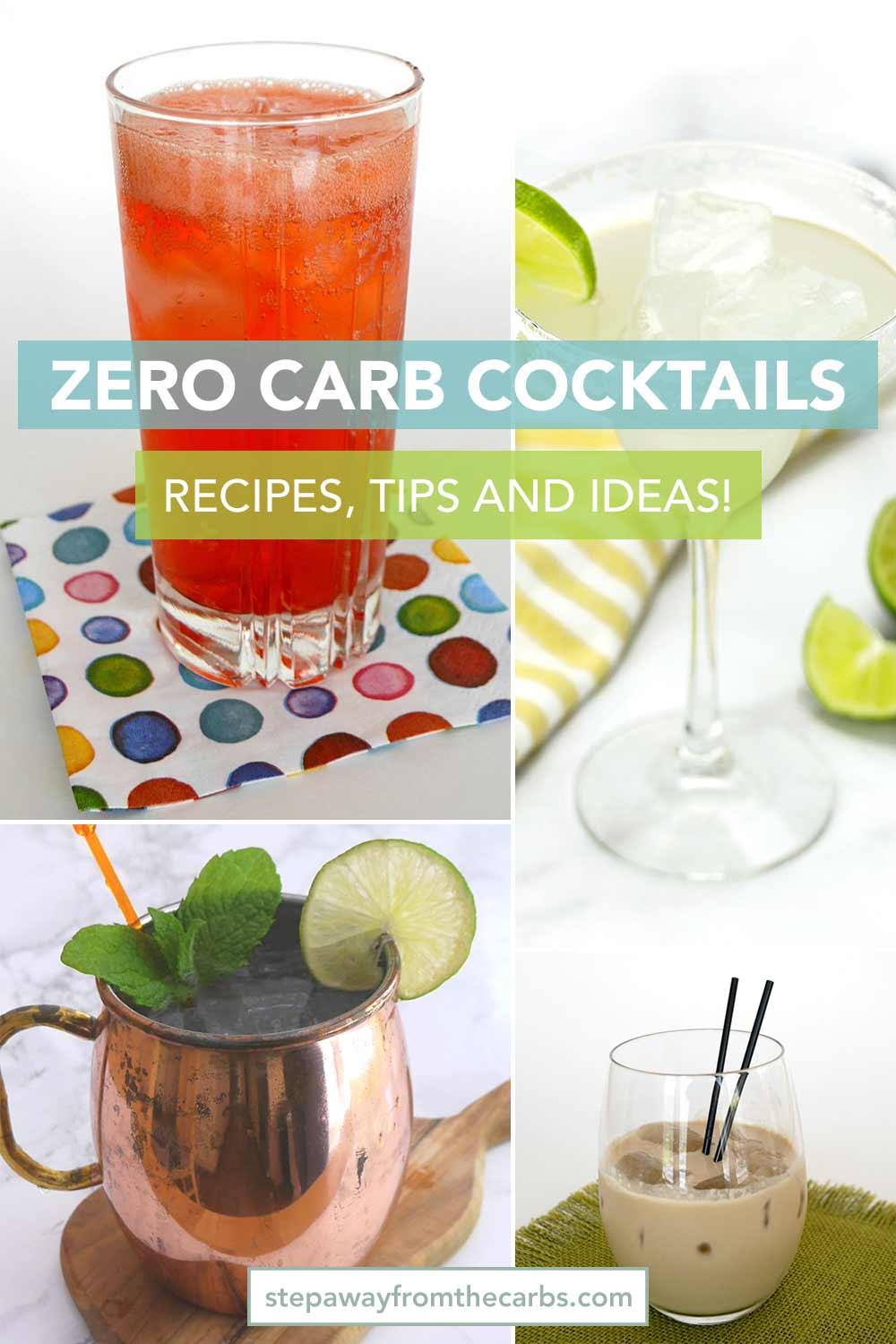 This post contains affiliate links, which means that at no extra cost to you I can make a tiny bit of money to help support this blog. Thank you!
Although you shouldn't go mad on alcohol when following a low carb diet, there are occasions when you might like to celebrate with a cocktail.
There are usually two or three main components to every cocktail:
Now there are many exceptions to this rule, but looking at these three components really helps identify how we can make zero carb cocktails. Let's look at the alcohol first. In my post "Can You Drink Alcohol On A Low Carb Diet?" I discuss the pros and cons of alcohol, and look at the carb count for different types.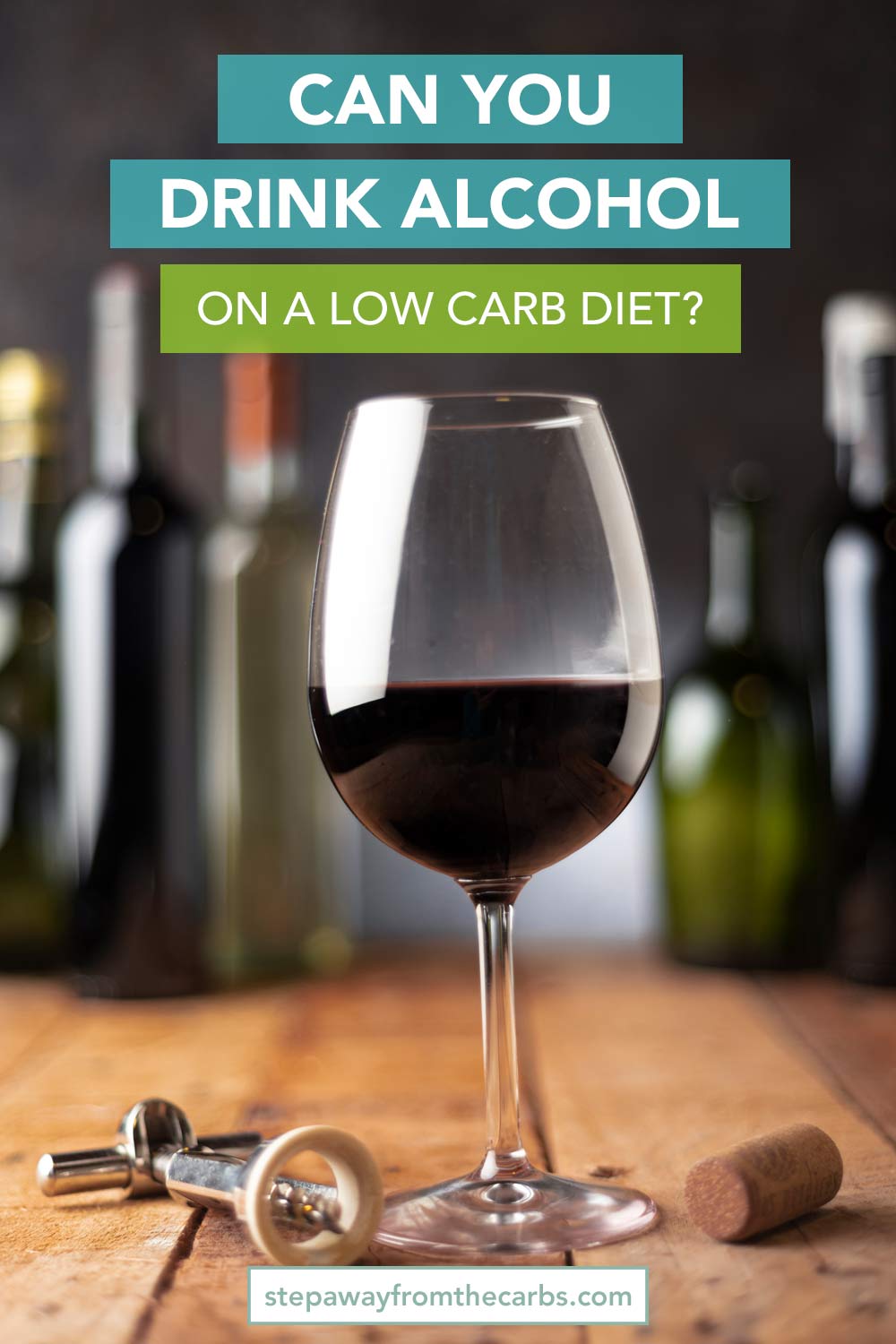 Zero Carb Alcohol
The alcohol options are the "clean spirits" as follows:
*Whiskey is technically 0.3g net carbs for 1 fl oz – so unless you're a zero carb purist you'll say that this doesn't count. 🙂
Zero Carb Mixers
Next, let's look at mixers. What you include on this list will probably depend on whether you drink diet soda, but even if you don't there are many options. They key is to avoid anything with sugar, and that includes fruit juice.
Club soda
Seltzer water / sparkling water
Diet tonic water
Diet soda (eg diet Coke, diet Sprite, diet ginger ale)
Zero carb flavored water (eg Crystal Light, Sparkling ICE, La Croix)
Heavy cream
Zero Carb Sweeteners
And finally to sweeteners. Always a controversial subject with low-carbers! But the key here is to look for liquid options.
So there are the main three components. There are, of course, some basic cocktails that just use the first two ingredients: gin and diet tonic, rum and diet coke, whiskey and soda, and so on. It's important not to forget about these popular combinations!
Note: Don't be fooled into thinking that alcohol-only cocktails like martinis are zero carb – Vermouth contains 3.5g net carbs per ounce. It's not a lot, but it isn't ZERO.
For more complicated cocktails, let's look at some ideas for LOW carb cocktails:
Zero Carb Cocktail Recipes
That margarita sounds good, right? The ingredients are lime, salt, tequila, low carb simple syrup, and orange extract. Easy!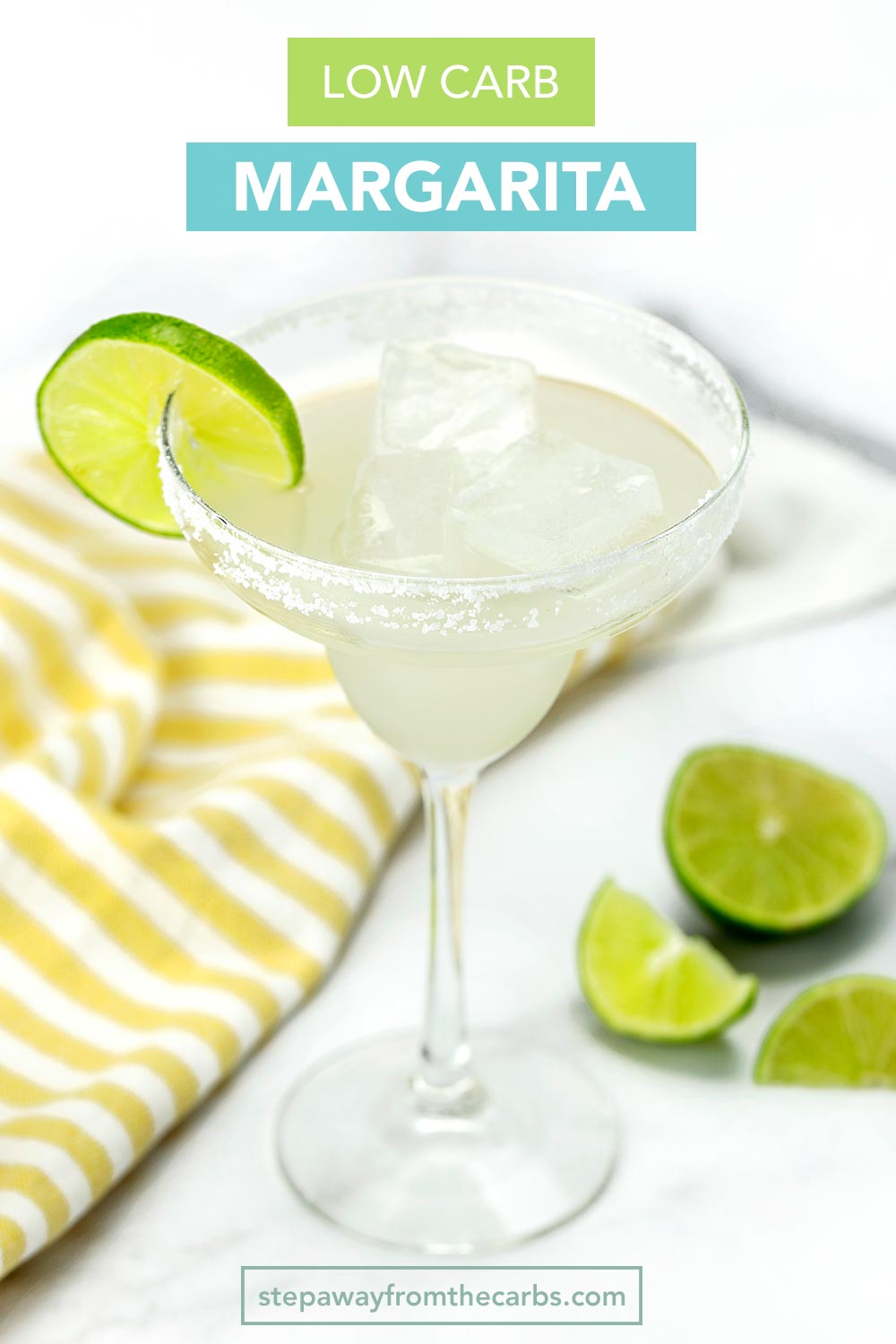 If you're a gin fan, try this Low Carb Singapore Sling – it's 0.3g net carbs per drink – plus I've suggested an option to make it truly low carb!
And how about a Moscow Mule: traditionally it contains vodka, ginger beer and lime, but switch out the ginger beer for diet ginger ale, and you have yourself a zero carb Moscow mule! Well, the lime contains a TEENY amount of carbs (it's 0.4g net carbs per teaspoon) – but hardly worth counting! And don't forget to get a traditional copper mug for serving! Scroll down for a printable recipe card for this wonderful cocktail!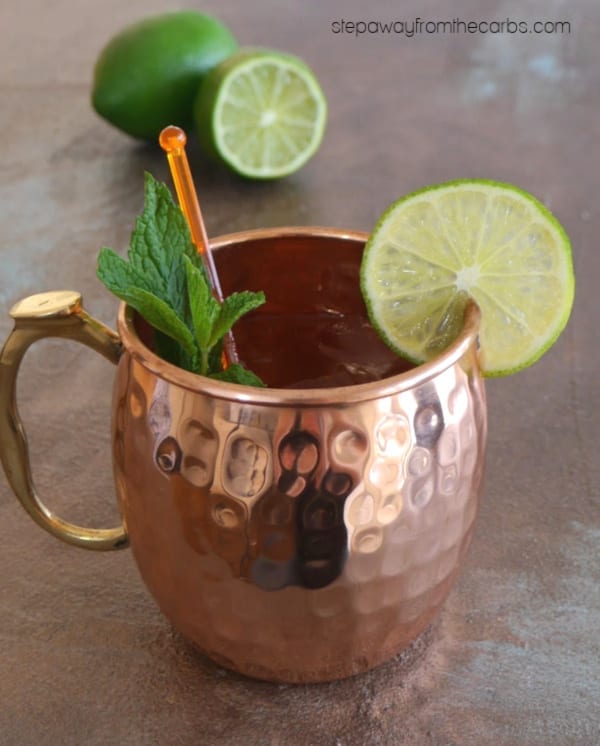 Note: You could also try the ginger beer flavor of Zevia instead of the ginger ale – available at Netrition!
Remember that Walden Farms strawberry syrup I mentioned? Here's a quick and easy cocktail for you: equal parts syrup and vodka (about 2 tbs each per drink), shake together with ice, pour into a glass, then top up with seltzer water. I'm going to call it zero carb strawberry cooler. The syrup is available in different flavors, too, so you could get very creative with your cocktails!
And finally, how about a chocolate creamy cocktail? In my recipe for Low Carb Chocolate Peppermint Cocktail, the carb count is 5.4g net. But when I looked again, the carbs were due to a fancy decorated rim that I had added. With that removed (although it DOES look good!), the carb count is just 0.4g net. So here's my new revised version of a Zero Carb Chocolate Cream Cocktail: 2 tbs rum (or vodka, if you prefer), 1 tbs heavy cream, 2 tbs Da Vinci sugar free chocolate syrup. Shake them in a cocktail shaker and serve over ice.
You can find all my low carb cocktail recipes HERE – or check out how to host a low carb cocktail party!
And as promised, here's that recipe card for the Zero Carb Moscow Mule!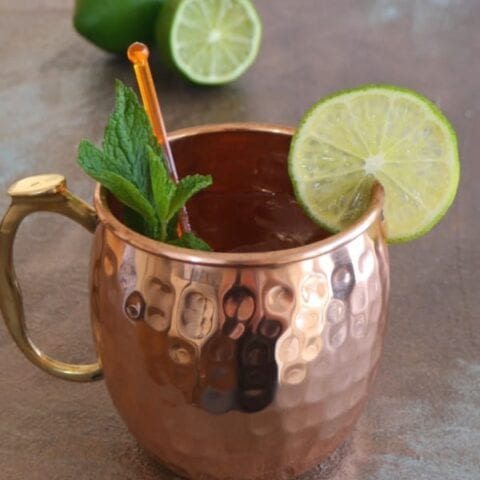 Zero Carb Moscow Mule
A quick and simple sugar free recipe for a Moscow Mule!
Ingredients
2 tbs vodka
1 tsp lime juice
6 oz diet ginger ale
ice
lime slice and mint leaves, to garnish
Instructions
Combine the vodka, lime and ginger ale together in a copper mug.
Top up with ice, and decorate with lime and mint.
Notes
0.4g net carbs per serving (whole recipe)
Recommended Products
As an Amazon Associate and member of other affiliate programs, I earn from qualifying purchases.
Nutrition Information
Yield

1
Serving Size

Whole recipe
Amount Per Serving
Calories

73
Total Fat

0g
Saturated Fat

0g
Sodium

5mg
Carbohydrates

0.4g
Net Carbohydrates

0.4g
Fiber

0g
Protein

1g
Don't need zero carb? Head on over and see all my low carb drinks or check out my recommendations for low carb mixed drinks!
Do you have any zero carb cocktails that you want to share? Leave a comment below!
Zero Carb Cocktails - recipes, information, and top tips! #zerocarb #lowcarb
Click To Tweet
Save
Save
Save
Save
Save
Save
Save
Save
Save
Save
Save
Save
Save
Save
Save