Here's my collection of red, white, and blue recipes that are all low carb and keto-friendly! Perfect for your next patriotic celebration!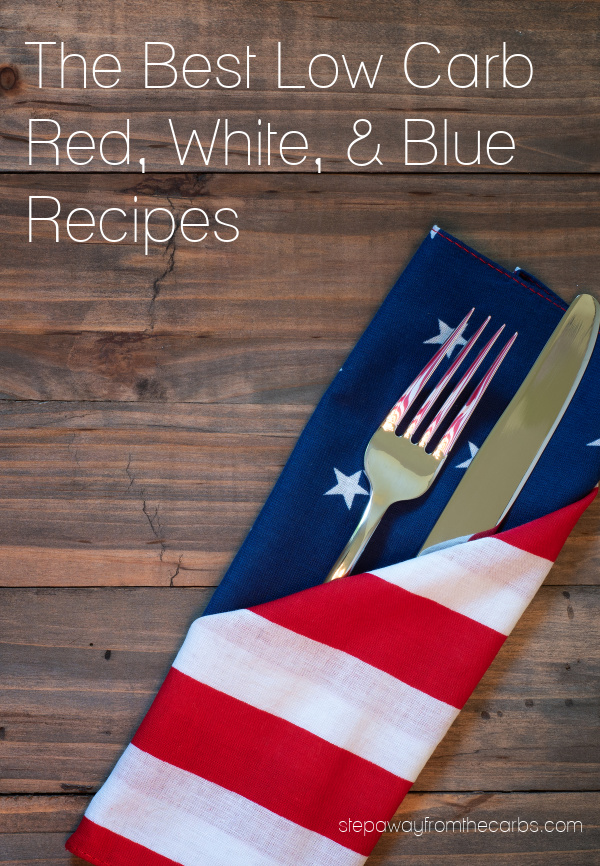 This post may contain affiliate links.
Whether you want to celebrate Memorial Day, Independence Day, Veteran's Day, or any other patriotic event – providing some fun themed food will make everyone smile! And if those dishes are low carb and keto-friendly, you can relax and enjoy the celebrations, knowing that you aren't messing up your diet.
As I mentioned in my guide to eating a low carb rainbow, blue foods are somewhat limited – basically to just blueberries and blue cheese! Luckily there are lots of ways to use these ingredients, or just provide red and white food on a blue plate, or adorn it with some patriotic decorations!
Red White & Blue Party Essentials
Red, White & Blue Recipes – Low Carb & Keto
Red, White & Blue Appetizers
Keto Red, White, & Blue Salsa – Jicama, red bell pepper, and blueberries are tossed in a light vinaigrette to create this colorful salsa!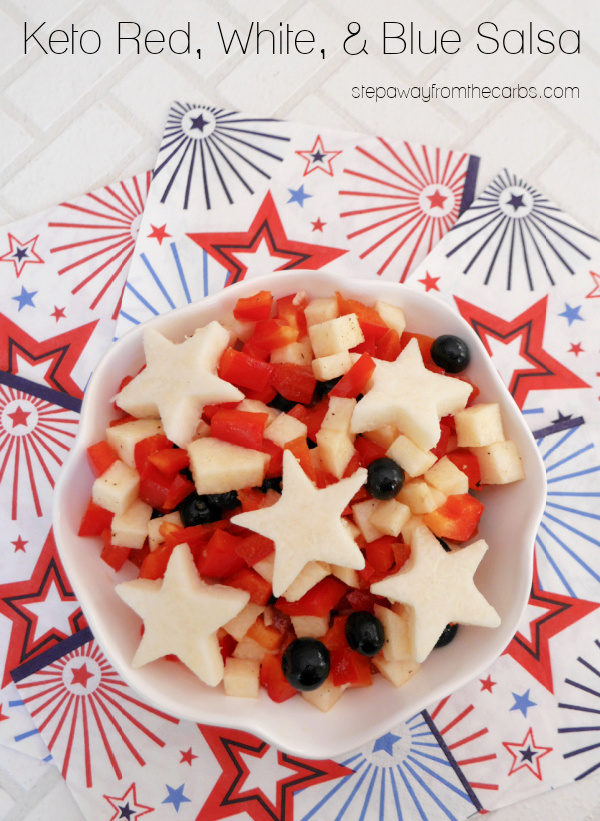 Blueberry Cream Cheese Dip – This blueberry cream cheese dip is a fantastic combination of flavors: blueberries, basil, cream cheese, and a dash of balsamic! Just add a few red bell pepper strips for dipping!
Patriotic Charcuterie Board – This American Flag Meat and Cheese Board is a patriotic-themed charcuterie board that is perfect for the Fourth of July or any time you want to serve a red, white, and blue appetizer.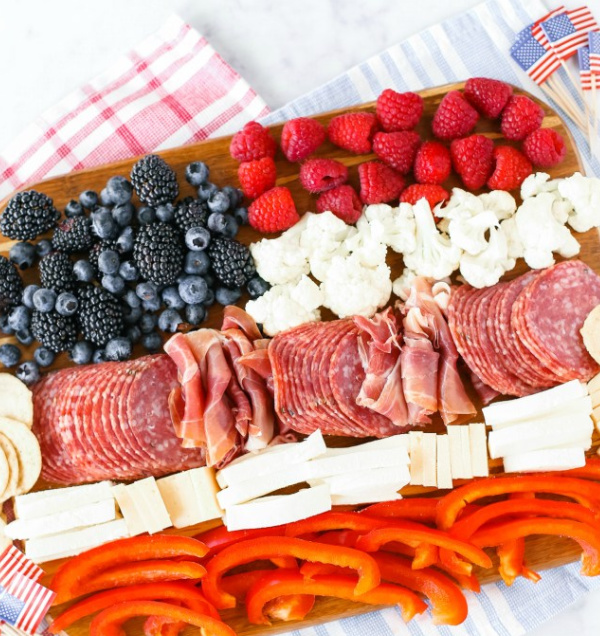 Red, White and Blue Deviled Eggs – These deviled eggs are perfect for Fourth of July celebrations: they are red, white and blue, and so easy to make!
"Caprese" Skewers – no recipe needed! Just grab some of these sparkly blue star skewers and add cherry tomatoes, mozzarella balls (I used ciliegine size), and a grind of black pepper! Although you'll need to make more than shown below – this type of appetizer goes fast in my experience!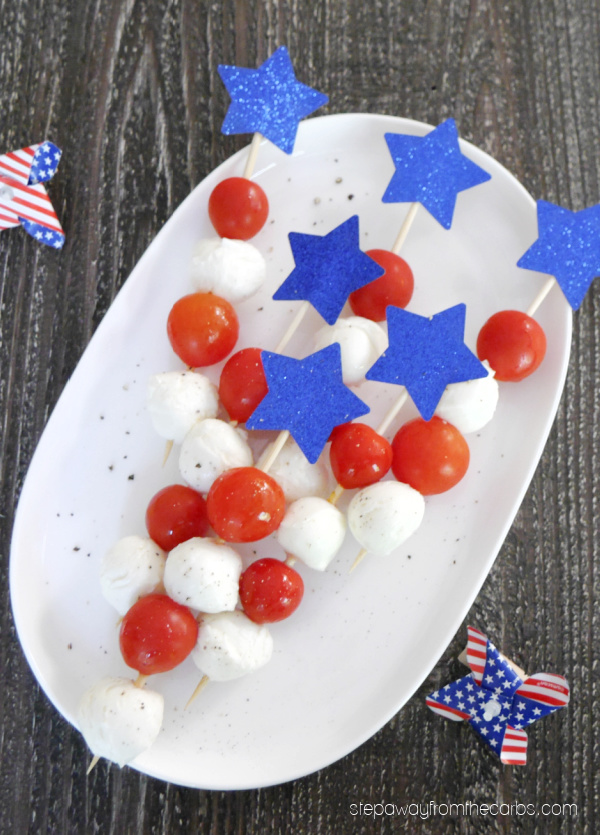 Red, White & Blue Desserts
Low Carb Berry Chocolate Bites – SUPER easy to make, and tasty too!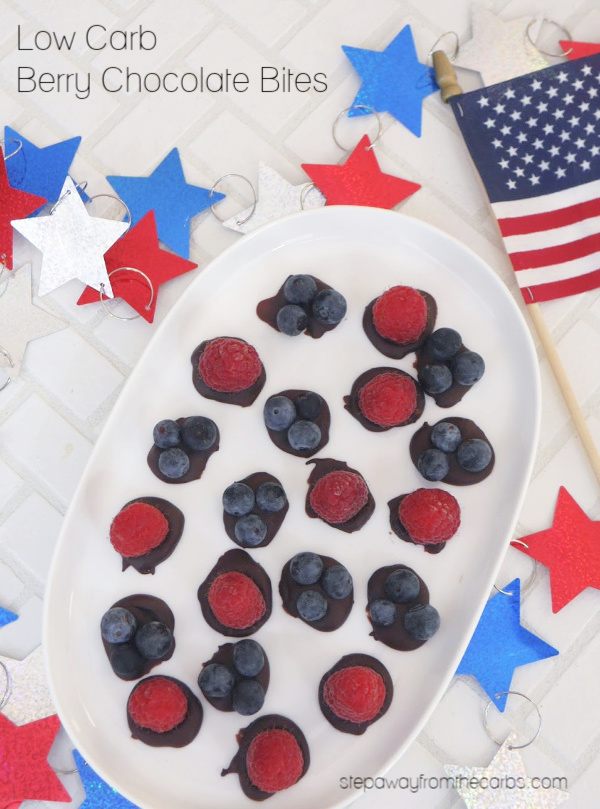 Low Carb Eton Mess – This low carb Eton Mess is a twist on the English classic dessert. Sugar free and keto friendly recipe.
Red White & Blue Jello Dessert – Try this red white & blue no-bake dessert with layers of gelatin and topped with a cheesecake cream cheese layer.
Strawberry Blueberry Pie – A buttery low carb pastry makes this delicious strawberry and blueberry pie.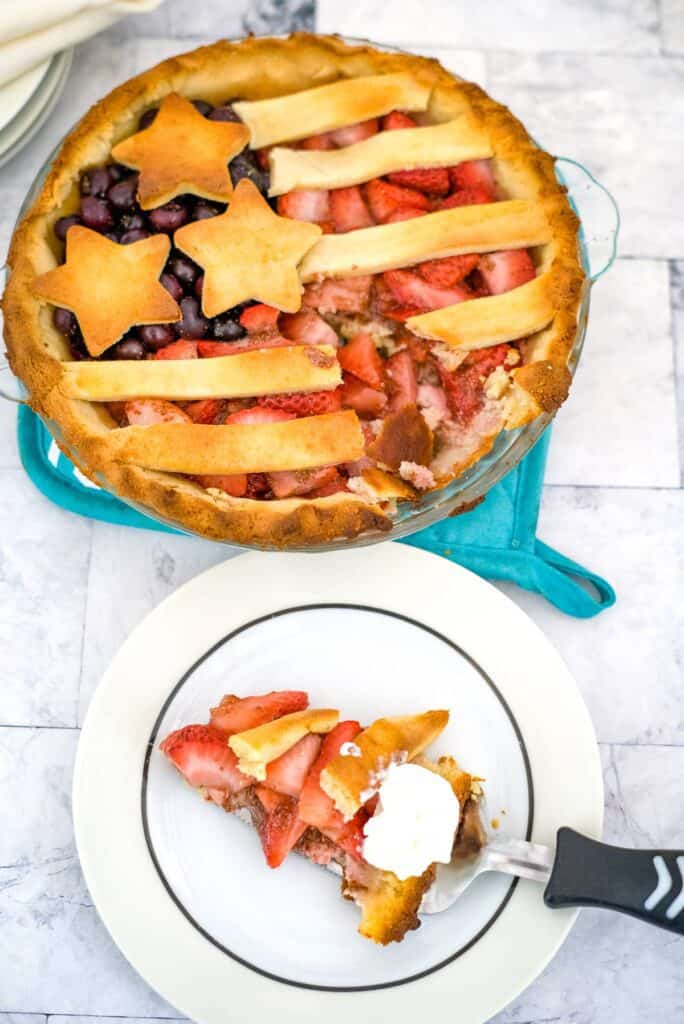 Low Carb Berry Cream Dessert – This berry cream dessert is a wonderfully fruity low carb treat. LCHF, keto, and sugar free recipe.
Keto American Flag Cake – This festive patriotic cake tastes every bit as good as it looks! Creamy vanilla frosting sits on top of a moist and fluffy vanilla sour cream cake.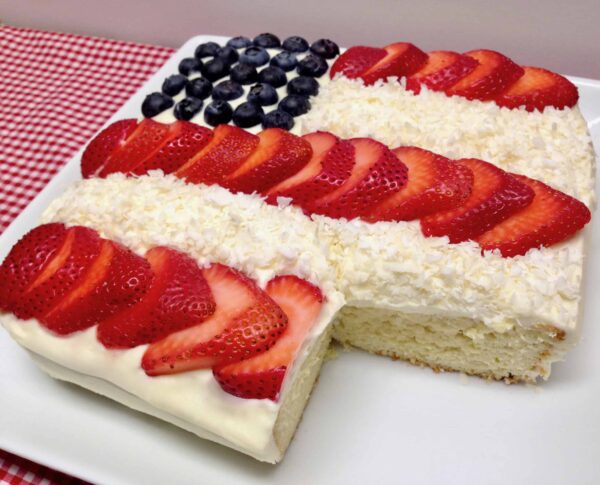 Keto Berry Bundt Cake – This low carb buttery Bundt cake is topped with sugar free white chocolate and red and blue berries to make a show stopping patriotic dessert.
Healthy Fruit Pizza Cookies – Keto fruit pizza cookies are a great way to get the kids helping in the kitchen. They are easy and delicious!
Mascarpone Mousse and Berries – This delightful Mascarpone Cream Mousse Dessert is a simple and yummy treat that's perfect for patriotic holiday celebrations!
Red, White & Blue Drinks
Low Carb Patriotic Sangria – A wonderful blend of dry white wine, vodka, sugar-free sparkling water, and berries!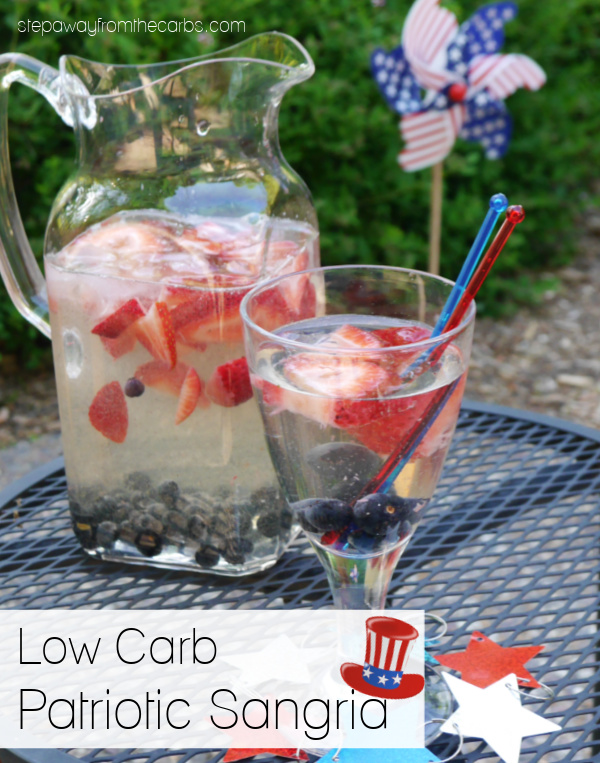 Red, White, & Blue-tiful: A Keto Tequila Cocktail – If you're looking for the perfect low carb fourth of July cocktail recipe or the perfect red, white, and blue cocktail to celebrate your Patriotism, look no further!
Do you know of any other low carb recipes that are red, white, and blue? Let me know in the comments!