These Zucchini Lasagna Rolls are packed with flavor from ground beef, creamy ricotta, and tangy marina. They are a great low carb alternative to traditional lasagna. And you won't believe how easy it is to throw together for a weeknight dinner!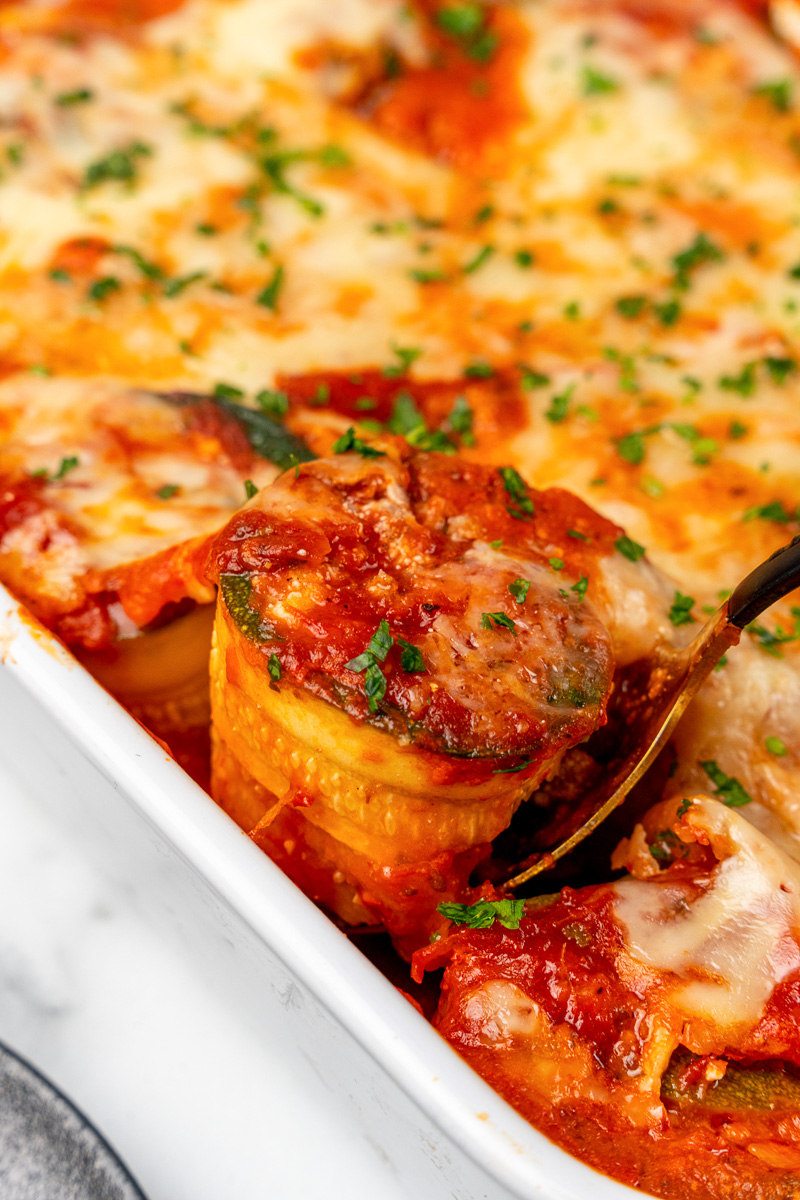 As an Italian, I grew up with lasagna as a staple for pretty much every holiday meal. So it's a real comfort food for me. But of course, it's also super heavy and high in carbs. So I created a lower carb alternative in these zucchini lasagna roll ups.
Simply replace the pasta with thin zucchini slices and roll them around a cheesy ricotta filling before baking in tomato sauce and topping with cheese. The result is a mouthwatering, low-carb dish that never fails to impress.
These Zucchini Lasagna Rolls are:
An easy weeknight dinner idea.
A low-carb meal that the whole family will love!
Easy to make in just 40 minutes.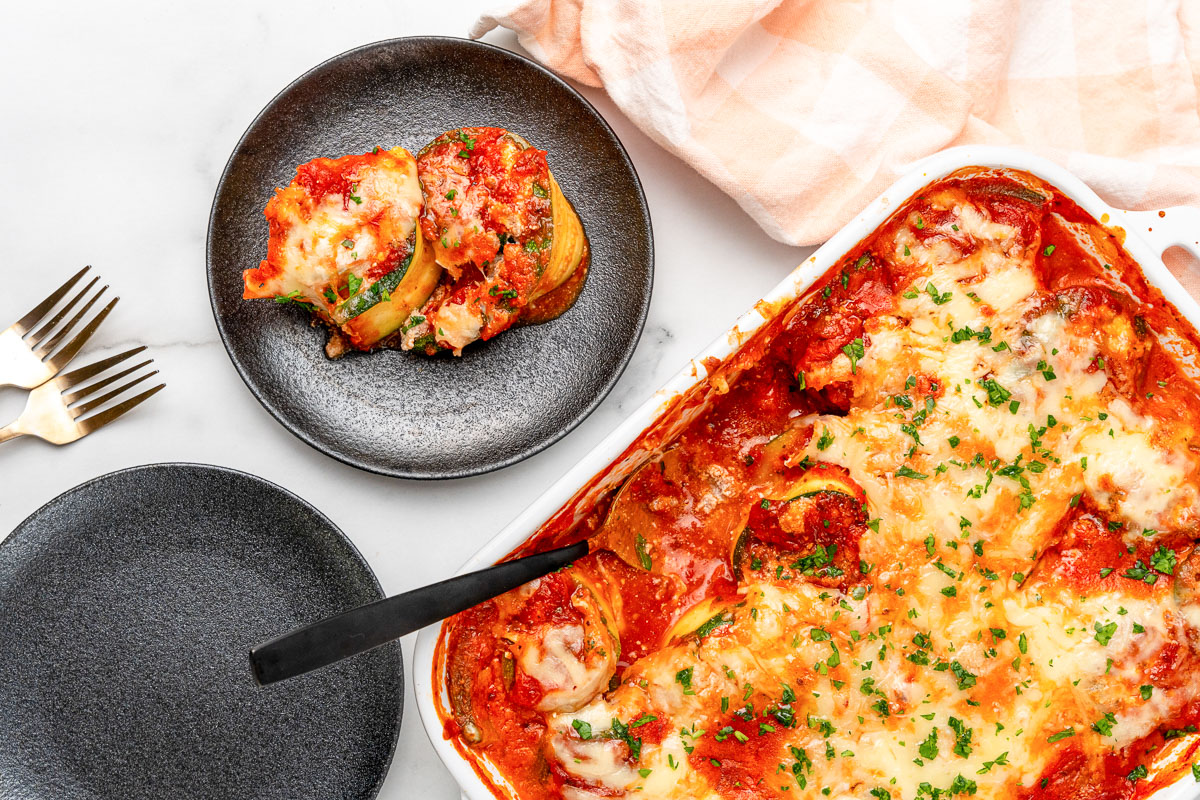 These Zucchini Lasagna Roll Ups have recently become a family favorite in our home. They're super easy to prepare, healthy, low carb, and my kid will eat them. What more could you ask for?
I especially love that they are easy to customize with everyone's favorite fillings. So I can make a vegetarian version for me, a beef version for my husband, and even an herb-less one for the kiddo. (If I knew how to insert an eye roll emoji, this is where I'd put it.)
And if you love these zucchini rolls, be sure to check out these Zucchini Rolls with Goat Cheese too!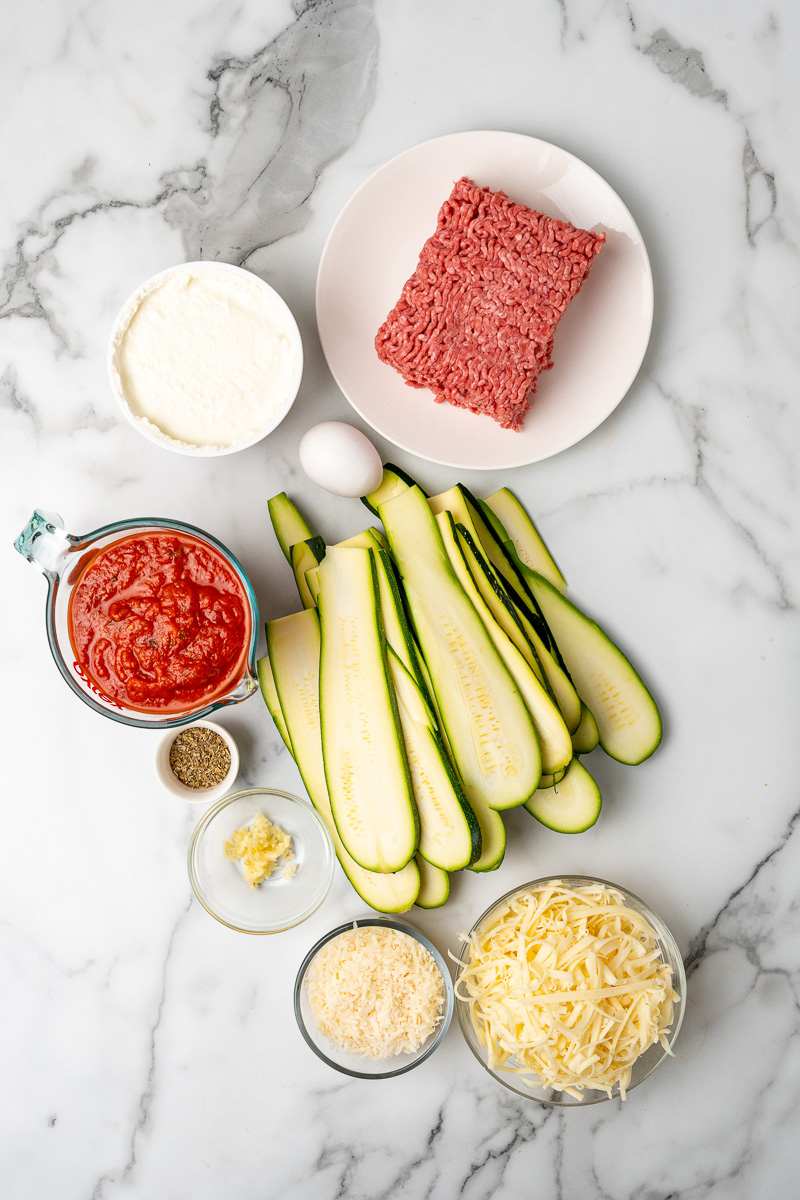 Ingredients & Supplies You'll Need
Here's what you'll need to make these zucchini roll ups:
Zucchini. Obviously!
Ground Beef. Or you could use pork instead.
Garlic.
Italian Seasoning
Salt and pepper.
Ricotta cheese.
Mozzarella Cheese.
Parmesan Cheese.
Egg.
Tomato Sauce
Parsley. Optional, but recommended.
In addition to these tasty ingredients, there are a few essential supplies:
A cutting board.
A vegetable peeler or a mandoline slicer.
A large skillet.
A mixing bowl.
A baking dish.
A spoon or spatula for stirring and spreading.
How to Make Zucchini Lasagna Rolls
I started by preheating my oven to 400 F. Next, I sliced the zucchini lengthwise into ⅛" thick slices and arranged them on a paper towel. I sprinkled salt on top to draw out excess moisture, then let them sit for 20 minutes.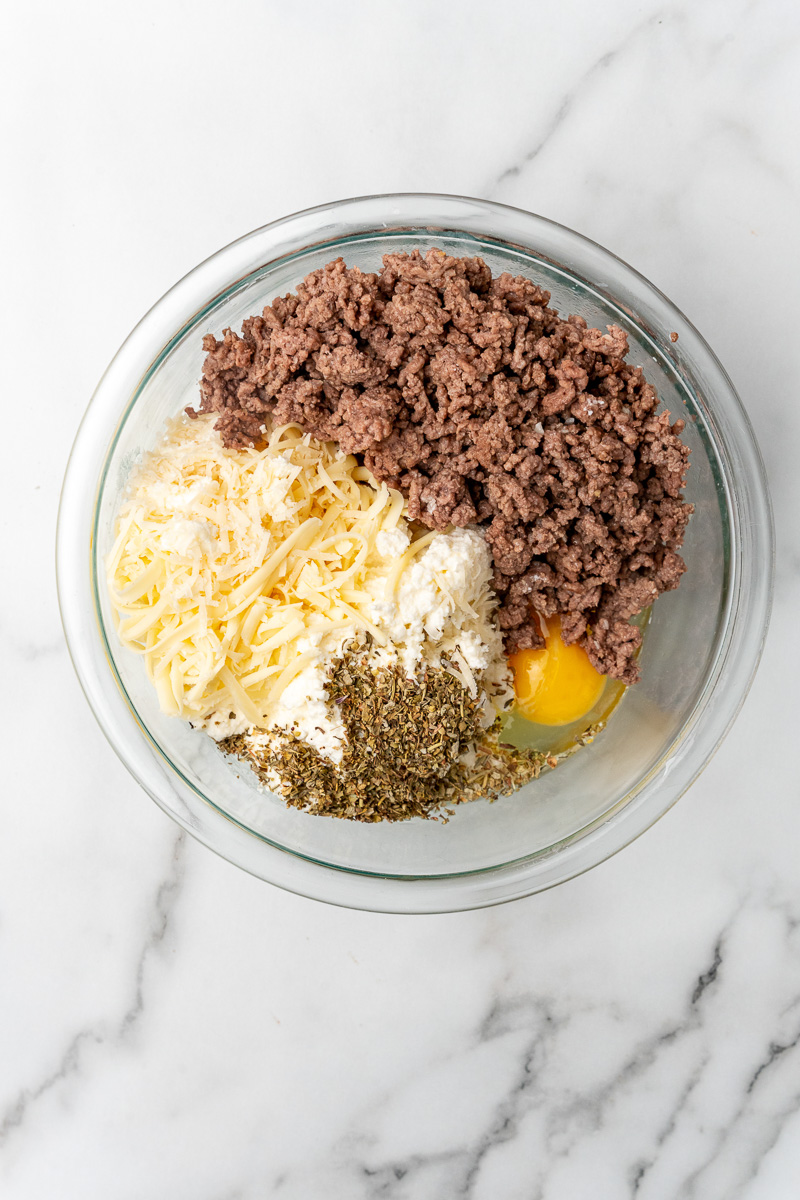 While waiting for the zucchini, I browned the beef, garlic, Italian seasoning, salt, and pepper in a large skillet over medium heat. Once fully cooked, I drained the mixture and let it cool. In a large bowl, I mixed together the ricotta, cooked beef, 1 cup of mozzarella, ½ cup of parmesan cheese, and the egg until fully mixed.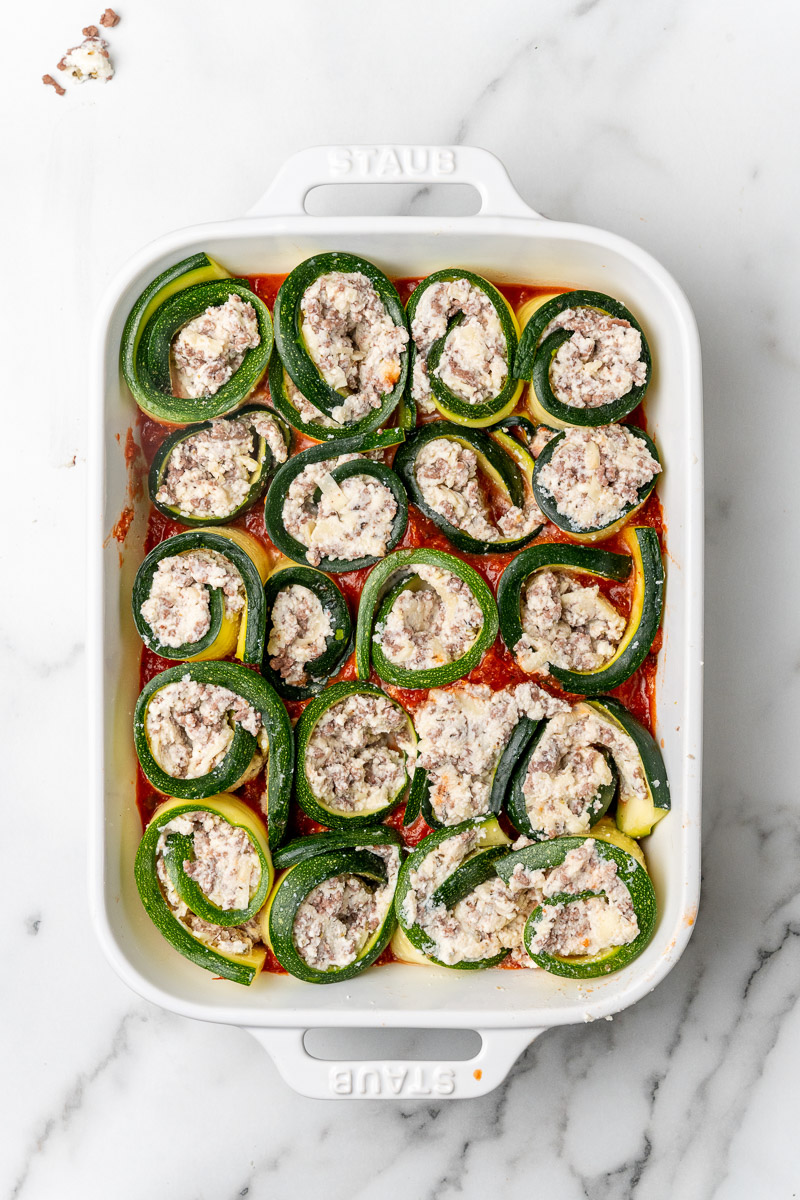 I then added half the tomato sauce to the bottom of a casserole dish. After blotting the excess moisture off the zucchini slices, I spread the ricotta mixture in an even layer along each slice. I rolled each zucchini slice into a tight spiral and arranged them on top of the sauce in the casserole dish. I repeated this until all slices were rolled.
Next, I added the remaining sauce on top of the rolls, followed by the rest of the mozzarella and parmesan cheeses. I covered the dish and baked it for 30 minutes. Afterward, I removed the cover and baked for an additional 10 minutes. Finally, I let the zucchini lasagna rolls cool for 10 minutes, sprinkled them with fresh parsley, and served them to enjoy my delicious creation!
(As always, you can find detailed instructions, measurements, and step-by-step images in the recipe card below.)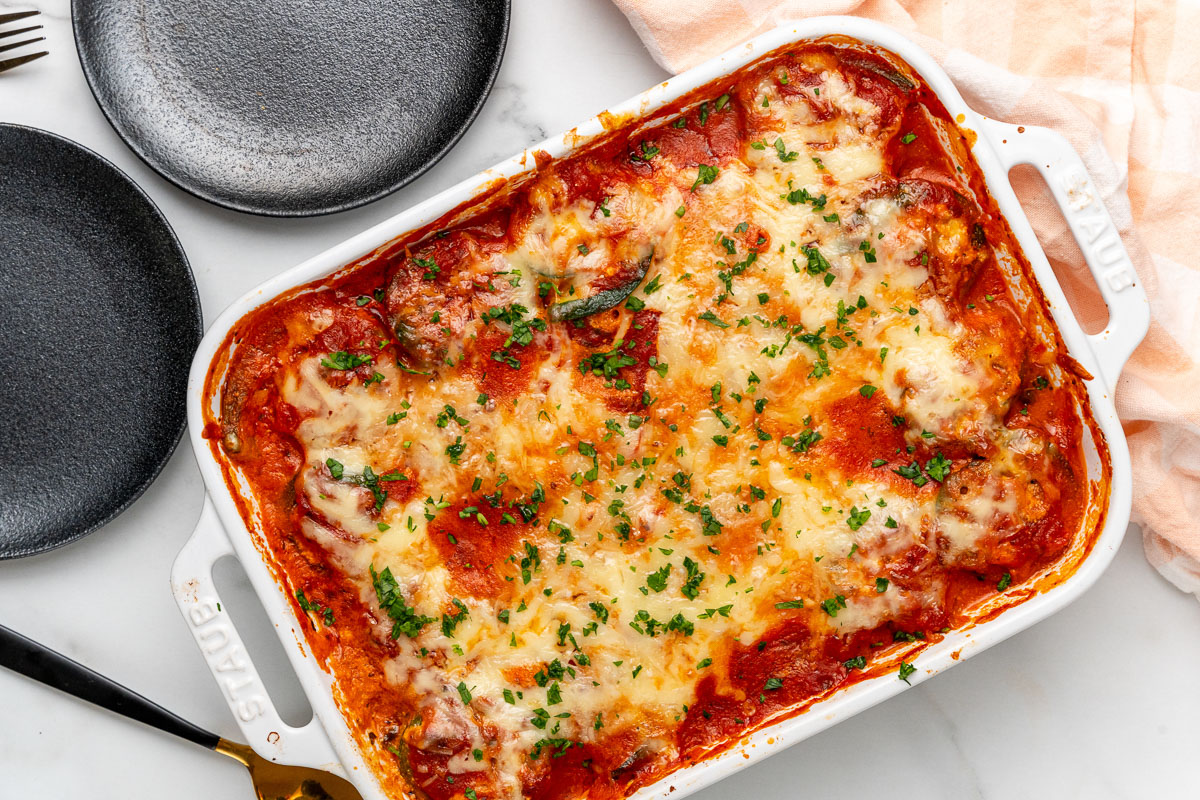 Helpful Tips & Tricks
Slicing the Zucchini.
It's essential to slice your zucchini as thin as possible. I find that having malleable zucchini slices makes them easier to roll. I usually use a mandolin slicer to achieve those long, thin strips. Be careful, though – mandolins can be quite sharp!
Avoid the un-roll.
Be sure to lay the zucchini rolls seam side down in the baking dish. This helps to minimize the chance of them unrolling during the baking process.
Variations & Substitutions
Add more veggies!
Try adding some sautéed mushrooms, olives, and spinach to my rolls. This not only boosted the flavor but also the nutritional content. You can also try other vegetables like bell peppers, onions, or even thinly sliced eggplant.
For the meat lovers.
I found that mixing up the protein can create a whole new dish! While ground beef is a classic choice, you can use ground chicken, Italian sausage, pork, or a combination of pork and beef for a deeper flavor. If you're vegetarian, try using a plant-based meat substitute or adding some extra veggies.
Try different cheeses.
Replacing mozzarella or Parmesan with fontina or provolone cheese adds a unique flavor twist. Try your own favorite cheeses!
Use homemade tomato sauce.
Instead of store-bought marinara, try your hand at making homemade tomato sauce or even try these roll ups with a creamy Alfredo sauce, which adds a richness that complements the zucchini rolls perfectly.
Feel free to play around with these suggestions and make this recipe your own! Remember, the more you make it, the more ideas you'll get for future variations. Happy cooking!
More Tasty Recipes
If you love these Zucchini Lasagna Roll Ups, check out these other low carb ideas: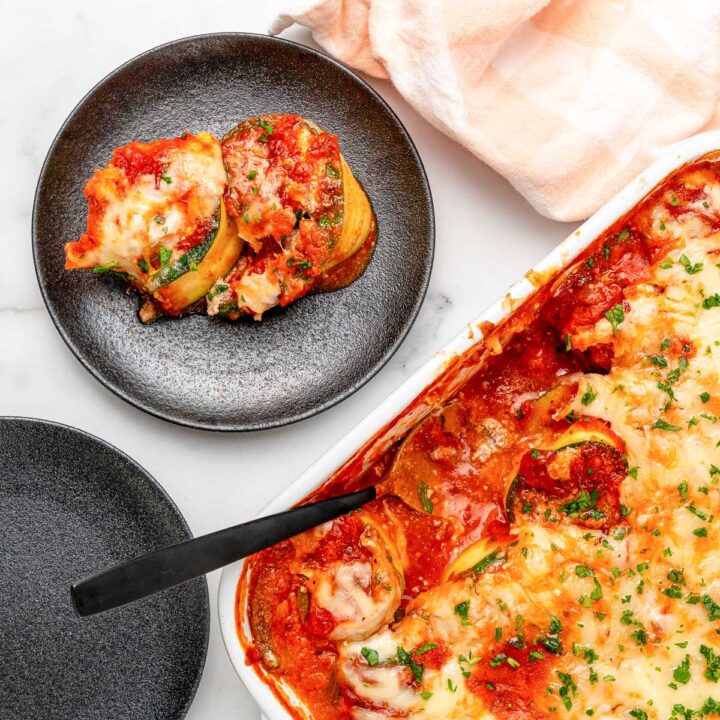 Zucchini Lasagna Roll Ups
Total Time:
1 hour
10 minutes
These Zucchini Lasagna Roll Ups are a great low carb alternative to traditional lasagna. And you won't believe how easy it is to throw together for a weeknight dinner!
Ingredients
4 large zucchini
1 lb ground beef (or pork)
2 cloves garlic, minced
2 teaspoons italian seasoning
Salt and pepper to taste
1 15 oz. tub ricotta
2 cups mozzarella cheese, divided
¾ cup parmesan cheese, divided
1 large egg
2 cups tomato sauce
Fresh minced parsley for garnish (optional)
Instructions
Preheat oven to 400 F
Slice the zucchini lengthwise into ⅛" thick slices, arrange onto a paper towel and sprinkle with salt to draw out excess moisture; allow to sit for 20 minutes
In a large skillet over medium heat, brown the beef, garlic, italian seasoning, salt and pepper until fully cooked, drain and allow to cool
In a large bowl, mix together the ricotta, cooled beef mixture, 1 cup of mozzarella, ½ cup of parmesan cheese, and the egg until fully mixed
Add half the tomato sauce to the bottom of a casserole dish
Blot excess moisture off the zucchini slices, then spread the ricotta mixture in an even layer along the zucchini
Roll the zucchini into a tight spiral, then arrange on top of the sauce in the casserole dish; repeat until all slices have been rolls
Add the sauce to the top of the rolls
Followed by the remaining mozzarella and parmesan cheeses
Cover and bake for 30 minutes, then remove cover and continue baking for an additional 10 minutes
Allow to cool for 10 minutes, sprinkle with fresh parsley and serve