Are you on the hunt for zero carb vegetables? Here's what you need to know about the vegetables with the lowest amount of carbohydrates!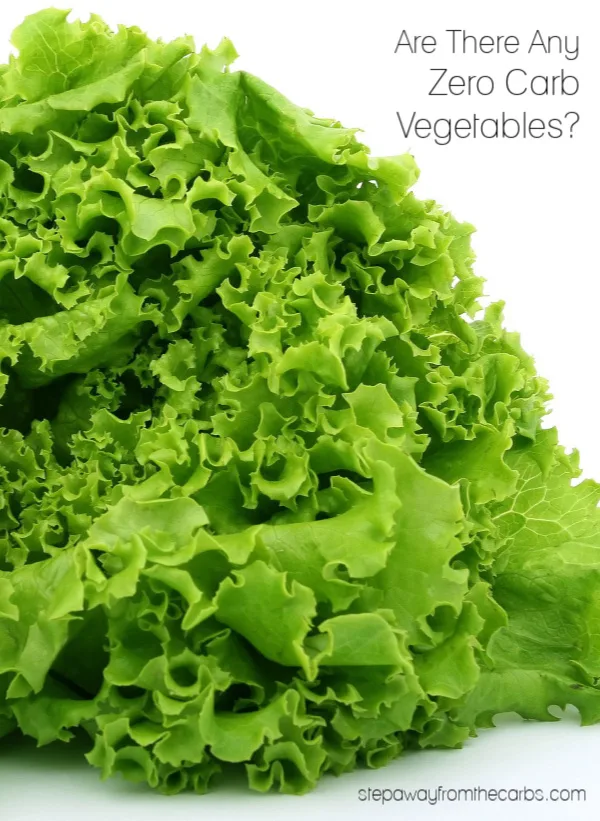 This post may contain affiliate links.
A while ago I posted an article about the best low carb vegetables – which I know that a lot of you found super helpful.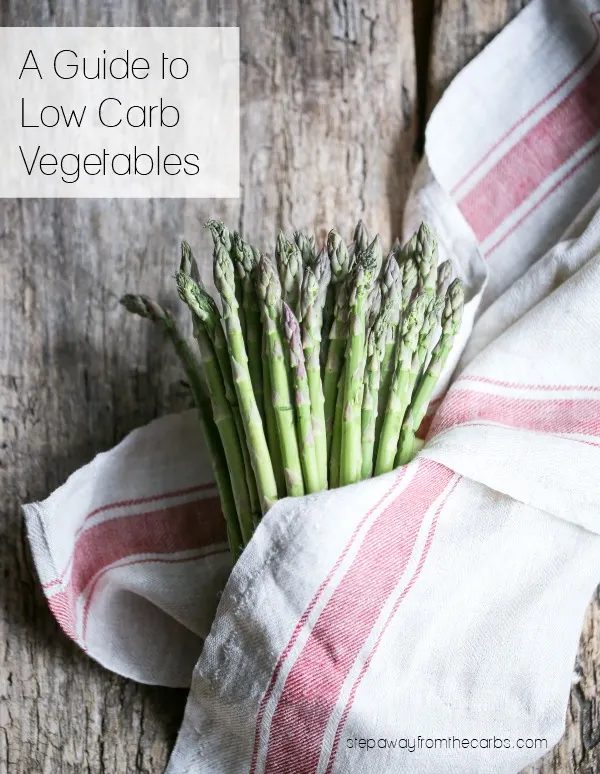 But what about NO carb vegetables? Do they even exist? The short answer, if you see zero carb as ACTUALLY zero, is no. But there are some vegetables that are ALMOST zero – and because of their health benefits they are definitely worth considering.
We're really looking at the leafy greens: watercress, lettuce, spinach, arugula, and bok choy all contain less than 1g of carbohydrates per serving.
So let's look at this a little deeper and see those almost zero carb vegetables in more detail. Please note, the vegetables listed here are all RAW, and the data is accurate as possible.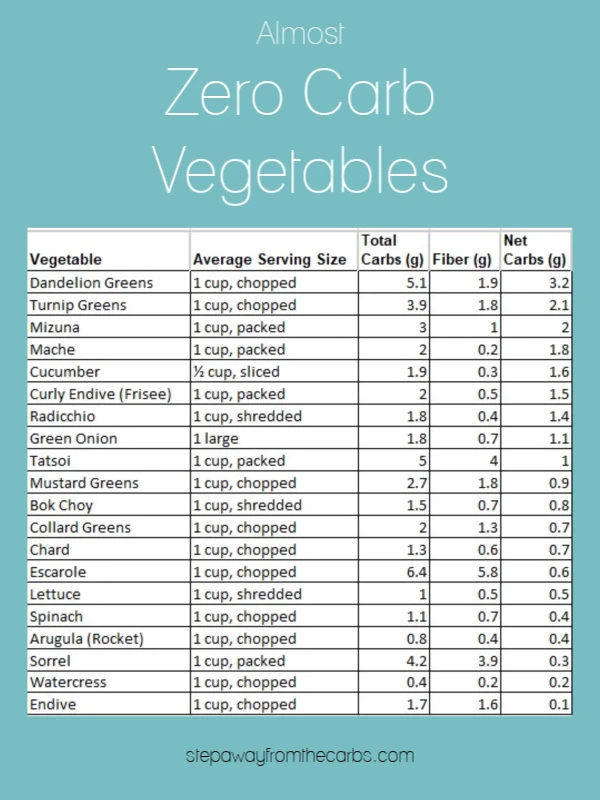 If there are some unfamiliar names on there, here's some extra information:
Bok Choy – also known as pak choi or Chinese cabbage. You can read more about it in my recipe for Spicy Bok Choy.
Mache – also known as lamb's lettuce or corn salad. It's absolutely loaded with vitamins A, B and C, and a ton of iron!
Mizuna – a Japanese superstar of leafy veggies, it is often featured in spring mixes. It tastes like a cross between mustard greens and arugula.
Sorrel – also known as spinach dock. It can be used as a salad vegetable or herb.
Tatsoi – also known as spoon mustard. It can be used in place of spinach in most recipes!
Oh and if you're confused about the whole chicory / escarole / endive/ frisee thing – it might depend which you're country you're from! There's an excellent explanation on The Spruce Eats that will help you.
So, which vegetables have no carbs?
As you can see from the chart above, there are some vegetables that are SERIOUSLY close to zero. When I made my list of 43 Zero Carb Foods (with a handy printable!) I knew that some people considered under 1g net carbs to be low enough, and some people (not unreasonably) thought that zero should mean zero!
Now, I haven't mentioned herbs yet. Typically herbs are listed at zero carbs, but that's because usually the quantity consumed is relatively small. If you're looking for a zero carb vegetable as a side dish, then a tablespoon of fresh parsley isn't exactly a good alternative!
If you're looking for some recipe ideas that use these almost no carb vegetables, I've got you covered! But please remember that the carb count of the final dish is usually more than 1g net carb!
Low Carb Watercress and Cauliflower Soup
Salmon, Avocado and Arugula Salad with Lemon Dressing
Low Carb Spinach and Cheese Squares
Low Carb Gnocchi with Spinach and Ricotta
Chicken Guacamole Lettuce Wraps
Nutritional data from Nutrition Data and Fat Secret
Main lettuce image from FreeRange