Here is a list of 43 zero carb foods, including meat, seafood, dairy, vegetables, drinks, oils and condiments.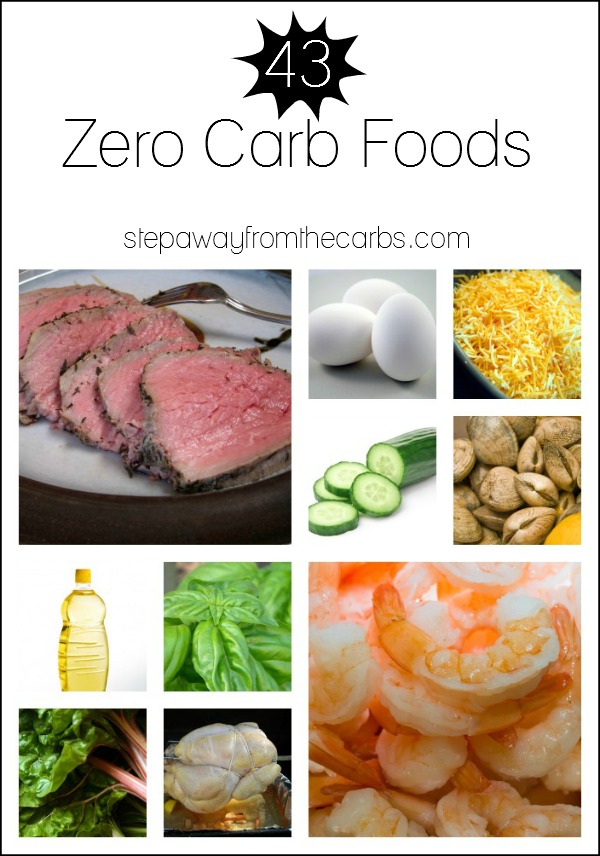 The following post contains affiliate links, which means that at no extra cost to you I can make a tiny bit of money to help support this blog. Thank you!
Apparently there is such a thing as a no carb diet. Although this way of eating a little too extreme for me, I still find it useful to know what can be considered "free" food in terms of carbohydrates.
Note: I realize that some of these foods aren't 100% lacking in carbs – but I consider under 1g net carbs per serving to be almost as good as zero. If this idea or any of the individual items don't fit with your way of eating low carb, please disregard this list or the item in question. Please check nutritional data labels on food before purchasing.
These foods do not naturally contain carbohydrates, apart from those in the vegetable list which contain between 0 and 1g net carb per serving, and heavy cream which is also exceedingly low. For meats and seafood, the key is to go for unprocessed food. As soon as someone processes the meat or fish (think ham, bacon, jerky, burgers) there is a higher chance that they have also added some carbs!
Want to grab this list of zero carb foods in a handy printable? It's FREE in my store!
Meat:
Chicken
Beef (check out Omaha Steaks for amazing deals!)
Turkey
Duck
Veal
Lamb
Pork
Organ meats
Goose
Pork rinds (an exception to the processed rule – and see below for lots of ways to use them!)
Seafood:
Dairy:
Butter
Margarine
Most types of cheese
Heavy cream (very very low carbohydrates)
Eggs
Click the NEXT PAGE button to see the rest of the zero carb foods!
(Photos for the main image courtesy of
Free Range Stock
and
Clker
)
Save
Save
Save
Save
Save
Save
Check out my Low Carb Starter Pack Ebook!
Are you just beginning your low carb journey? Check out my starter pack of printables!