Here is a list of 43 zero carb foods, including meat, seafood, dairy, vegetables, drinks, oils and condiments.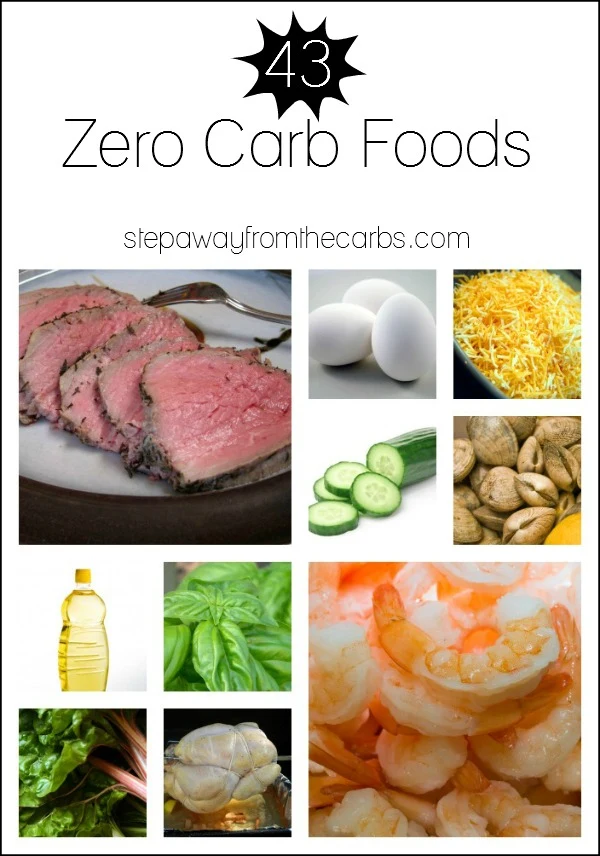 This post may contain affiliate links.
Did you know that there is such a thing as a no carb diet. Although this way of eating a little too extreme for me, I still find it useful to know what can be considered "free" food in terms of carbohydrates.
Note: Some of items listed here aren't 100% carb free – but they ARE all either zero or under 1 gram of net carbs per serving. If this idea or any of the individual items don't fit with your way of eating, please disregard this list or the item in question. Always check nutritional data labels on food before purchasing.
These foods do not naturally contain carbohydrates, apart from those in the vegetable list which contain between 0 and 1g net carb per serving, and heavy cream which is also exceedingly low. For meats and seafood, the key is to go for unprocessed food. As soon as someone processes the meat or fish (think ham, bacon, jerky, burgers) there is a an increased chance that they will be high in carbs – especially once manufacturers start adding sugar! If you want to see my new and revised list of actually zero carb foods, check out my new Guide to Carb Free Foods!
Want to grab this list of zero carb foods in a handy FREE printable? Scroll down for a link!

So which food have no carbs?
I've divided the list into the following sections: meat, seafood, dairy, eggs, oils, veggies, drinks, condiments, and other assorted products and foods with no carbs!
Zero Carb Meat:
Zero Carb Seafood:

Fish – sooo many varieties to choose from!
Seafood – shrimp, clams, mussels, crab – but make sure you stay away from manufactured "crab" fish sticks!

Zero Carb Dairy:

Eggs

Try my zero carb Spicy Buffalo Deviled Eggs or my Egg Wraps!

Oils:

Coconut oil
Olive oil – check out my review of the Fresh Pressed Olive Oil Club and get yourself a bottle of EVOO for just $1 (if you're in the US!)
Sunflower oil
Sesame oil
Safflower oil
Corn oil
Peanut oil

Almost Zero Carb Vegetables (most contain between 0 and 1g net carb per serving):

Leafy greens (lettuce, arugula, spinach, swiss chard, mustard greens, bok choy etc)
Cucumbers
Fresh herbs
Chicory family (endive, escarole, radicchio) – a great source of vitamins and minerals!

(You might also like to check out my guide to low carb veggies!)

Zero Carb Condiments:

Vinegar (NOT balsamic – Update – check out my recipe for zero carb balsamic vinegar!)
Mustard (avoid honey varieties)
Salt
Many types of hot sauce
Regular (full fat) mayonnaise

Zero Carb Drinks:

Water
Tea (no milk or sugar)
Coffee (no milk or sugar)
Diet soda
Herbal tea
Drink mix powders (eg Crystal Light)

Check out Amazon's selection of zero carb products:


And don't forget about zero carb Shirataki Noodles!! Get 10% off when you order from Miracle Noodles direct! Use coupon code "AFF10" on checkout to get your discount!

And as an extra bonus, here are some zero carb recipes:

Check out my new guide to No Carb Meals!

Do you eat a zero carb diet? Or do you just eat as low as possible? Read what happened when I tried having a Zero Carb Day! It's actually much harder than you think – well it was for me! Although I'm should mention that I'm not advocating eating a zero carb diet long term – especially without consulting a health professional – but it was a really interesting experiment. I'd love to hear about your reasons for looking for zero carb food!

Want to grab this list of zero carb foods in a handy printable? It's FREE in my store!

(Photos for the main image courtesy of Free Range Stock and Clker. Coffee photo by Ozgu Ozden, Water photo by rawpixel – both on Unsplash)

Save

Save

Save

Save

Save

Save