Are you looking for a crowd-pleasing appetizer that's easy to make and bursting with flavor? Look no further than bacon-wrapped green beans! This delicious and savory dish combines the smoky goodness of bacon with the fresh crunch of green beans, making it the perfect addition to any party or gathering.
So I've been on a bit of a bacon-wrapped kick lately. I've recently posted bacon wrapped sausages, bacon wrapped pork chops, bacon wrapped chicken tenders, and even bacon wrapped pickles. Let's call it a phase. A delicious phase.
The first time I made these bacon-wrapped green beans I had to wonder why I hadn't been making them my whole life. The combination of salty, crispy bacon and fresh, crunchy green beans is simply irresistible. I can't think of a more fun way to get your veggies!
One of the things I love about this recipe is how easy it is to make. With just a few simple ingredients and a little bit of prep work, you can have a delicious low carb appetizer that will impress your guests and have them coming back for seconds (and maybe even thirds!).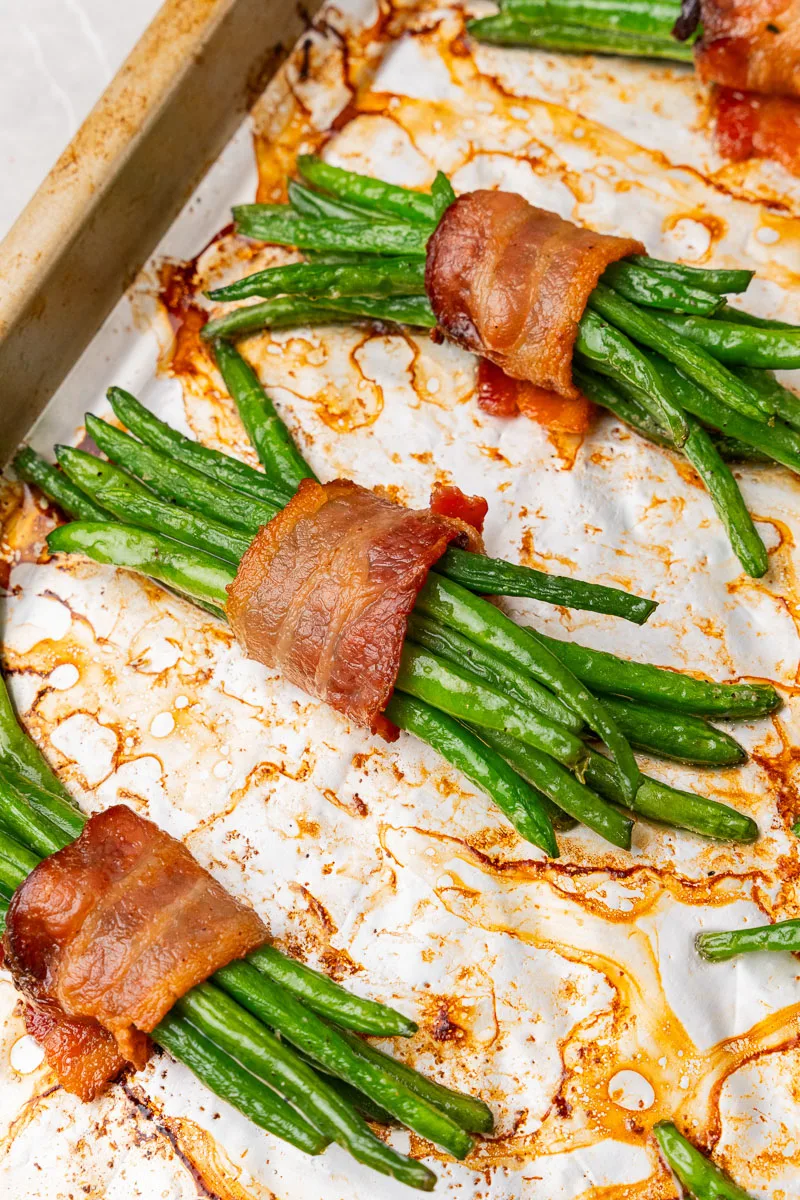 Plus, the fact that it's wrapped in bacon automatically makes it a crowd-pleaser – who doesn't love bacon?
Another great thing about bacon-wrapped green beans is how versatile they are. You can serve them as a party appetizer, a side dish for dinner, or even as a snack on their own. They're perfect for casual game day parties or even fancy holiday gatherings. And because they're so easy to make, you can whip them up at a moment's notice if you need to bring a dish to a potluck.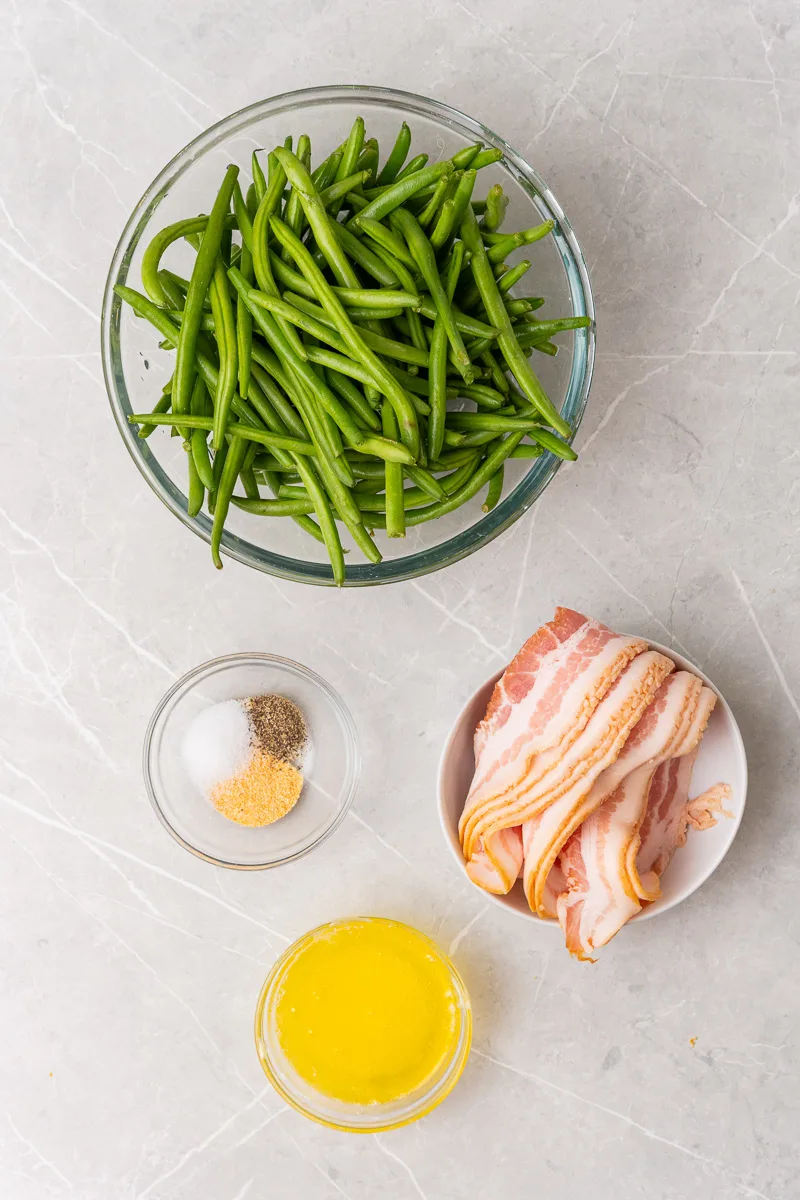 Making Bacon Wrapped Green Beans
This recipe is so simple it can barely even be called a recipe. There are just a few basic steps:
1. Pre-cook the bacon (until cooked but not yet crisp!).
2. Blanch the green beans in hot water, and then cool them down.
3. Toss the green beans in seasoning, wrap them in bacon, and bake them!
(Detailed instructions and images are in the printable recipe card below.)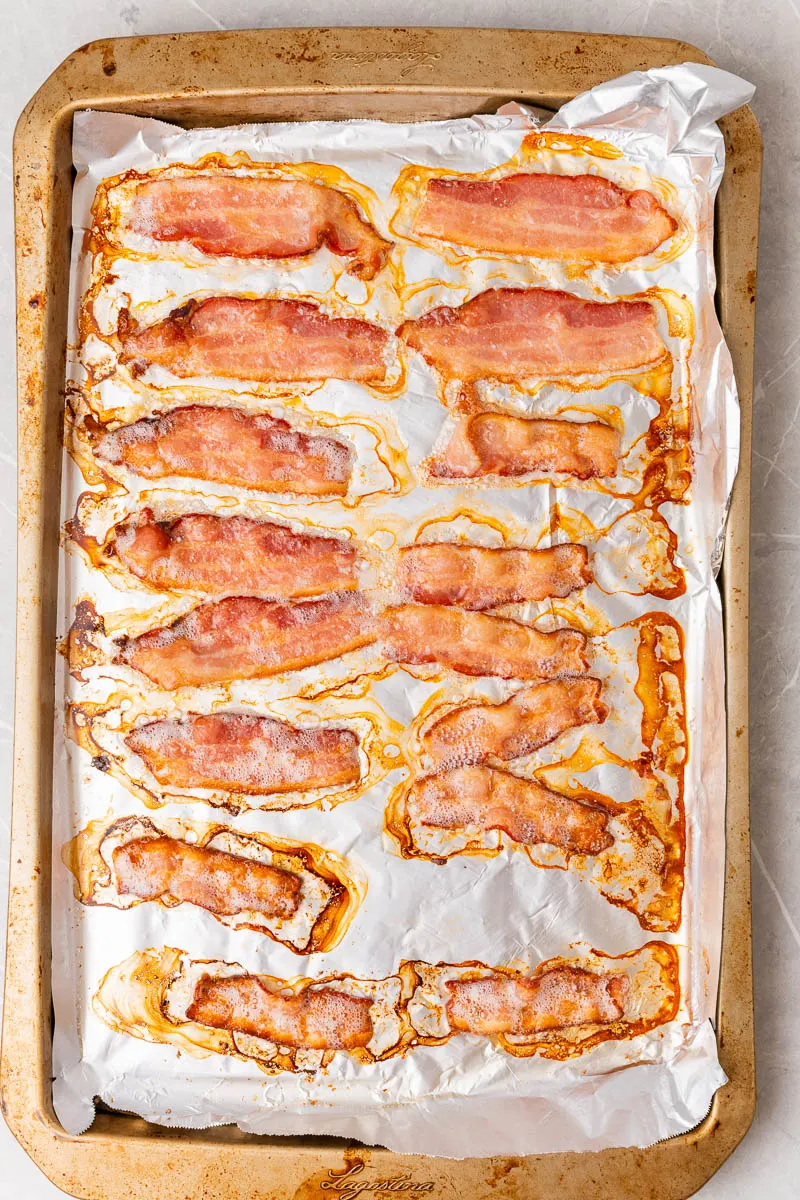 Helpful Tips & Tricks
Pre-cook the bacon
It's important to pre-cook the bacon before wrapping the green beans. This pre-cooking step removes excess fat from the bacon, allowing it to crisp up nicely without overcooking the delicate green beans.
Blanching the green beans
Before wrapping the green beans, it's important to blanch them briefly in boiling water and then transfer them to a bowl of ice water to stop the cooking process. This blanching step helps to maintain the vibrant green color and ensures a crisp-tender texture for the cooked beans. Once blanched, make sure to dry the green beans well before wrapping them in the bacon strips.
Prep them ahead of time
If you're making these green beans as a party appetizer, they can be prepared in advance. Just follow the instructions through assembling the bacon wrapped green beans. Then refrigerate and pop in the oven to finish when you're ready to party. You'll need to add a few minutes to the cook time since you'll be starting with cold food.
Using frozen green beans
I think these come out best with fresh green beans, but you can frozen if that is more convenient. You will want to let the beans defrost and then dry them well. You will not need to blanch frozen green beans. I do recommend avoiding canned green beans – they will come out soggy.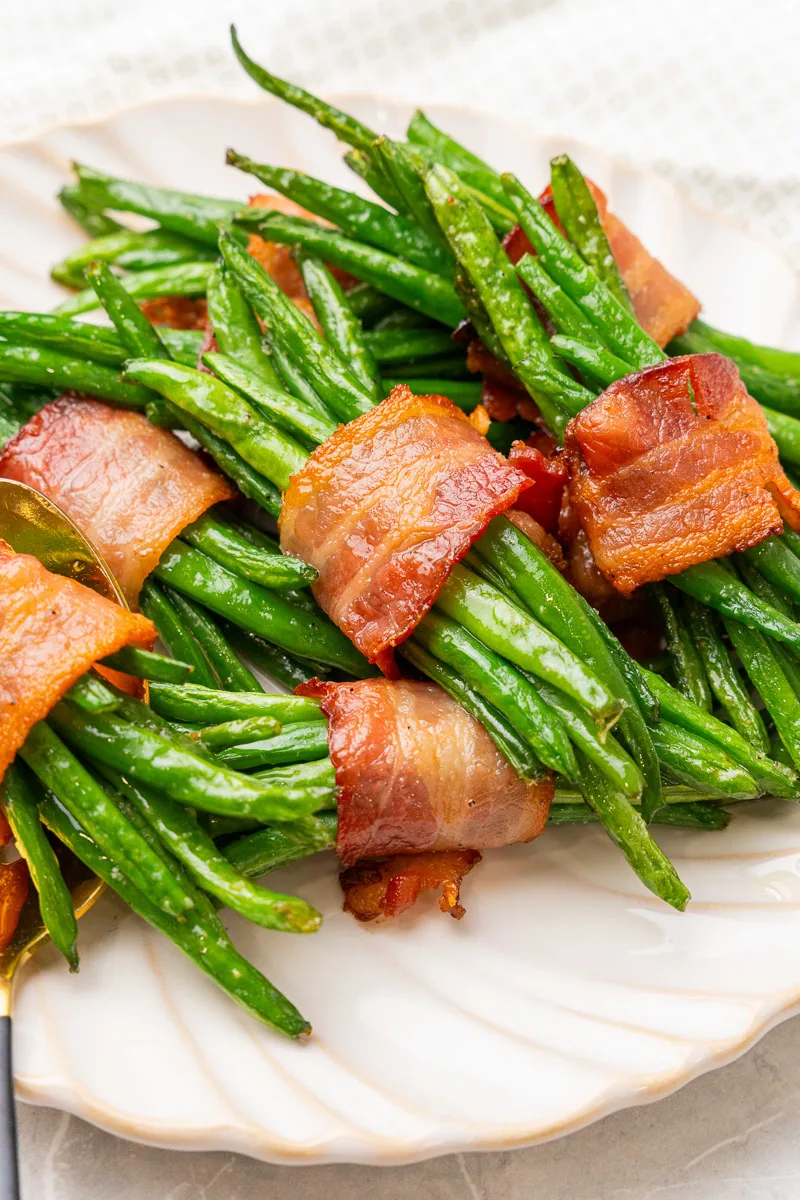 Variations
Mix up the seasoning
I used a simple combination of garlic, salt, and pepper on my bacon wrapped green beans, but you can experiment with the spices of your choosing. For an Italian twist, try adding a sprinkle of Italian seasoning or some grated Parmesan cheese before baking. If you're feeling adventurous, add a kick of Cajun spices for some spice. For a refreshing citrus touch, zest some lemon and sprinkle it over the bacon-wrapped bundles before baking.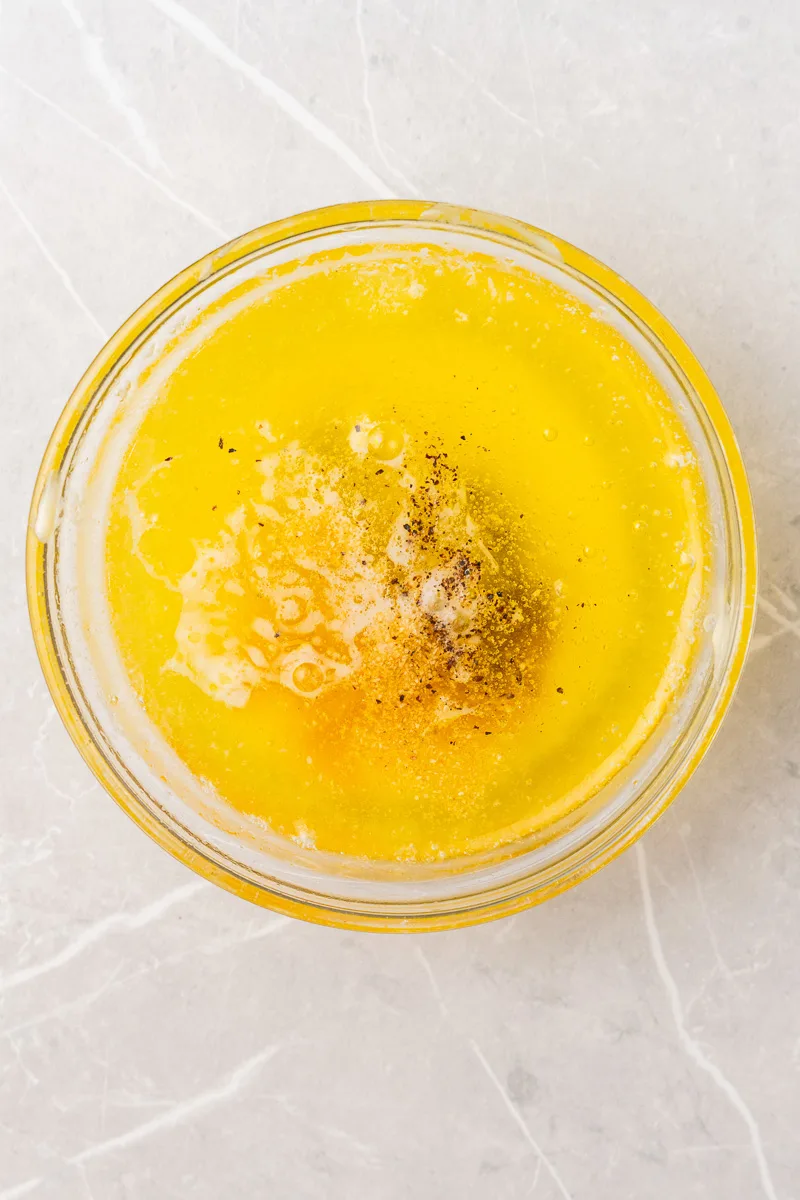 Add a dressing or dipping sauce
You can also experiment with different dressings, such as balsamic glaze or honey mustard. If you're looking to make your green bean bundles sweet and spicy, try adding a sweet chili glaze or this low carb tamarind dipping sauce. For a smoky flavor, consider using smoky bacon or adding a sprinkle of smoked paprika.
Add some cheese
Because cheese makes everything taste better, right? Adding different cheeses, such as crumbled blue cheese or shredded cheddar, can also take your green bean bundles to the next level.
Use the air fryer
Try crisping up the bacon wrapped green beans in the air fryer, which produces a similar result in less time.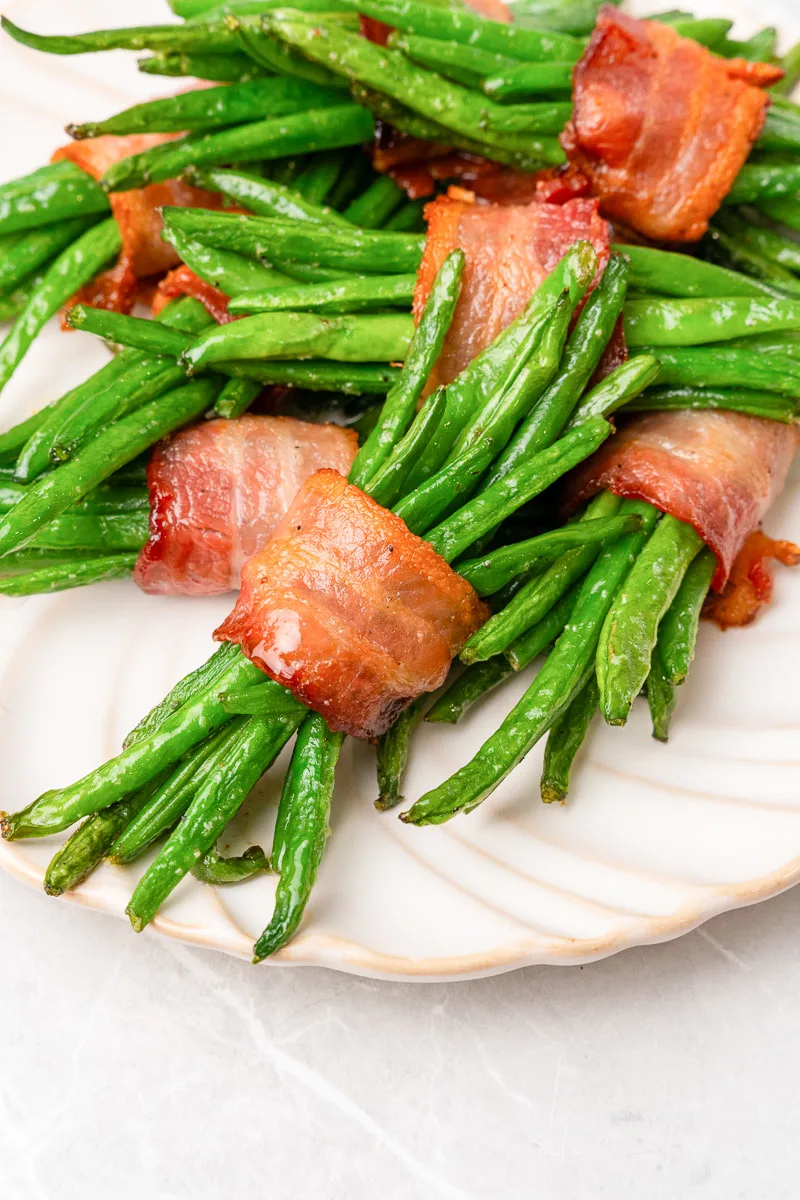 More Low Carb Ideas
If you love these Bacon Wrapped Green Beans, be sure to check out these other delicious keto friendly ideas: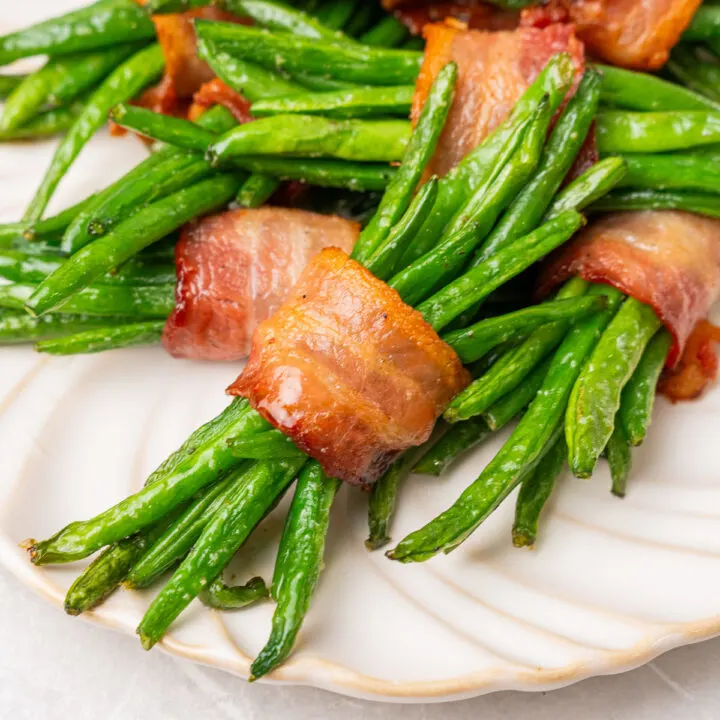 Bacon Wrapped Green Beans
This delicious and savory Bacon Wrapped Green Beans recipe combines the smoky goodness of bacon with the fresh crunch of green beans - a perfect way to get your veggies!
Ingredients
8 slices bacon, cut in half
12 oz thin French green beans, or haricots verts
2 tablespoons butter, melted
½ teaspoon salt
½ teaspoon garlic powder
¼ teaspoon cracked pepper
Instructions
Preheat the oven to 400 F. Line a baking sheet with aluminum foil and set aside.
Place the bacon halves on the prepared baking sheet and bake for 6-8 minutes, or until just cooked, but not crisp.
Meanwhile, blanch the green beans in a large pot of boiling salted water for 2 minutes. Then drain and plunge the green beans into a bowl of ice water to stop the cooking process. Drain them again and set aside.
Mix together the melted butter, salt, garlic powder, and pepper. Place the green beans in a mixing bowl. Pour the butter mixture over the green beans, stir to coat well.
Once the bacon is cool enough to handle, wrap a bacon piece around a small bunch of green beans. I got 6-10 green beans in each bundle, depending on size.) Place the bacon wrapped green beans back on the baking sheet with the ends of the bacon facing down (so they don't unwrap!). Repeat until you have used all the bacon and green beans.
Return the baking sheet to the oven and roast for an additional 5 minutes, or until the green beans are at the desired tenderness and the bacon is crispy.