These Keto Fried Pickles are salty, crunchy, and perfectly crispy – and they're easy to make in just 20 minutes! Perfect for a low carb snack or party-worthy appetizer.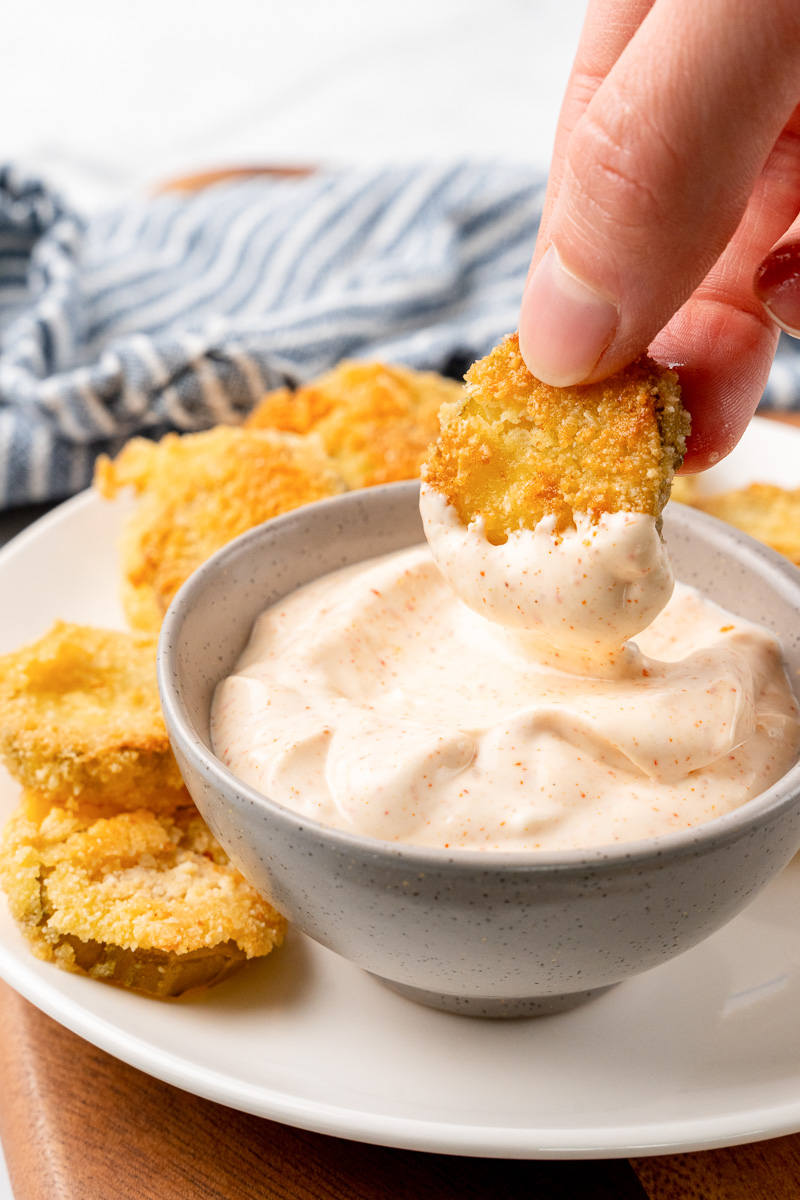 I absolutely love fried pickles. I mean – what's not to love? You take one tasty little morsel like a pickle and fry it in a crunchy batter – it can only be amazing.
But of course traditional fried pickles are loaded with carbs from that heavy batter. So I decided to try my hand at this keto friendly version, using a combination of almond flour and parmesan cheese to replace the traditional flour.
And I have to say it came out pretty amazing. These were a big hit in my home – and I think they're destined to be my new go-to appetizer for parties.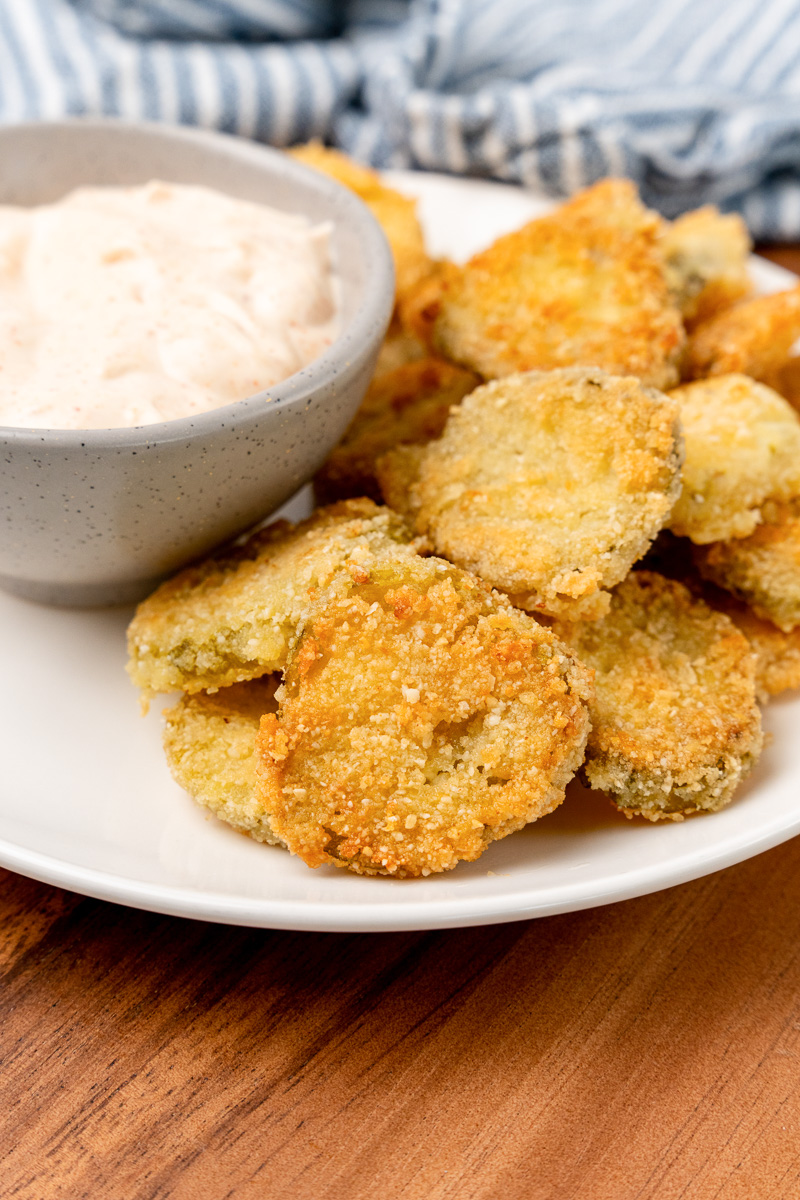 These Fried Pickles are:
A totally delicious appetizer or party snack.
Easy to make in just 20 minutes.
Low Carb & Keto Friendly
These keto-friendly pickles (also sometimes called "pickle chips") are perfect as a low carb snack or appetizer for any occasion. Plus, with only a few simple ingredients, they're easy to make and customize to your own taste. Let's get cooking!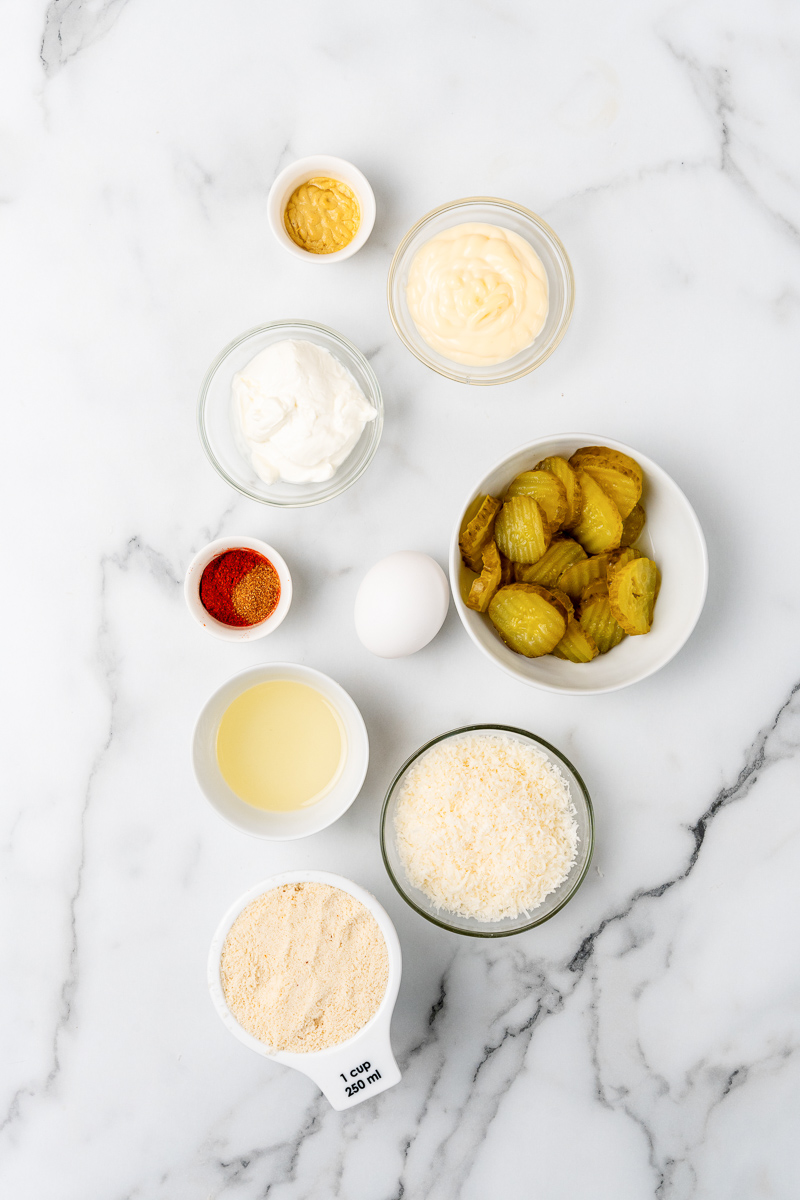 Ingredients & Supplies
Here's what you'll need to make perfect fried pickles:
Dill Pickle Slices – Obviously the star ingredient!
Almond Flour – For our low carb breading.
Parmesan Cheese – Pre grated will be easiest to work with.
Egg – For dredging the pickles in an egg wash.
Canola Oil – Or your oil of choice for frying.
Mayonnaise
Sour Cream
Dijon Mustard
Paprika
Cayenne Pepper – Optional, but recommended.
You will also need some mixing bowls and a deep sided frying pan for frying up the pickles.
How to Make Keto Fried Pickles
First, pat dry the pickle slices with paper towels to remove any excess moisture. Then, mix together the almond flour and parmesan cheese in a large, shallow bowl for the breading.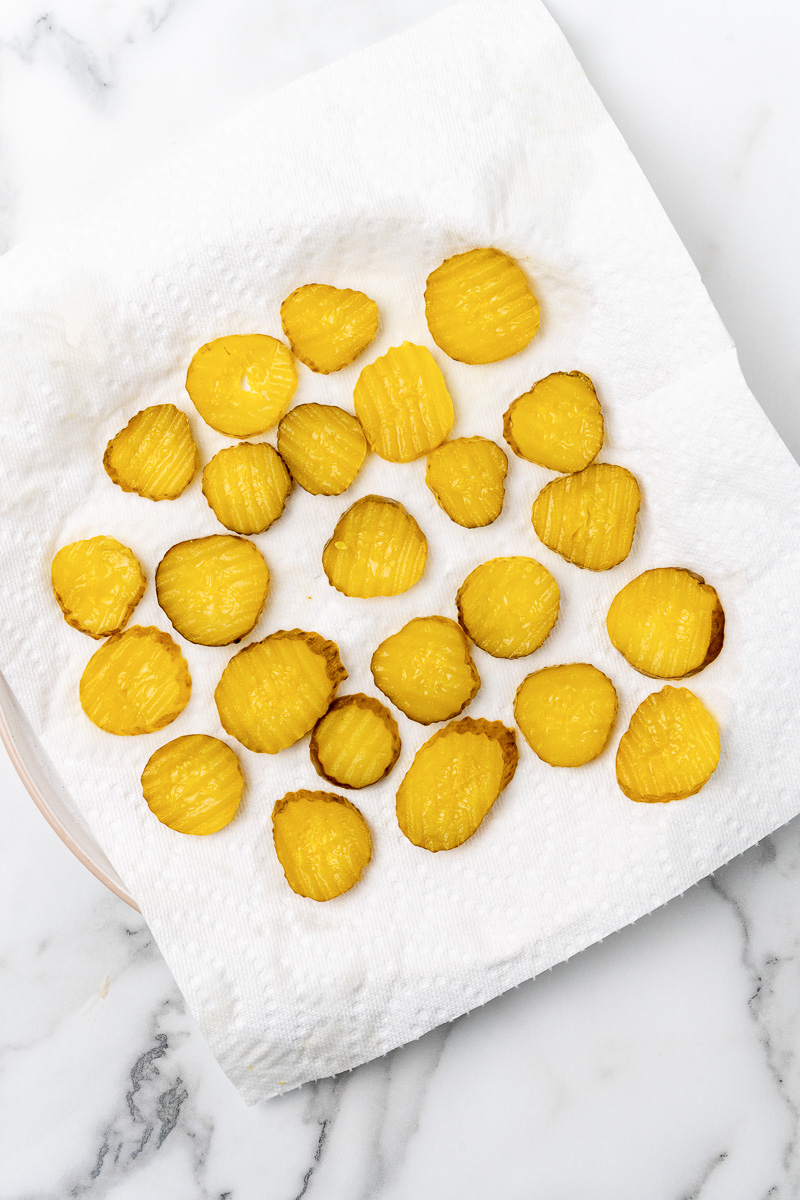 Next, beat an egg in another shallow bowl. Dip each slice of pickle into the egg, then coat it in the almond flour mixture. Repeat the process for each pickle slice.
Heat some oil in a large skillet over medium heat. Fry each pickle slice for 3-4 minutes on each side or until golden brown. Once cooked, remove from the skillet and place them on a baking sheet lined with paper towels to remove excess oil.
While the pickles are frying, prepare a dipping sauce to complement the crispy bites. Mix mayonnaise, sour cream, dijon mustard, paprika, and cayenne in a small bowl for the dipping sauce!
Serve the fried pickles hot with the dipping sauce and savor every crispy, crunchy bite.
(As always, more detailed instructions, measurements, and step-by-step instructions can be found in the recipe card below.)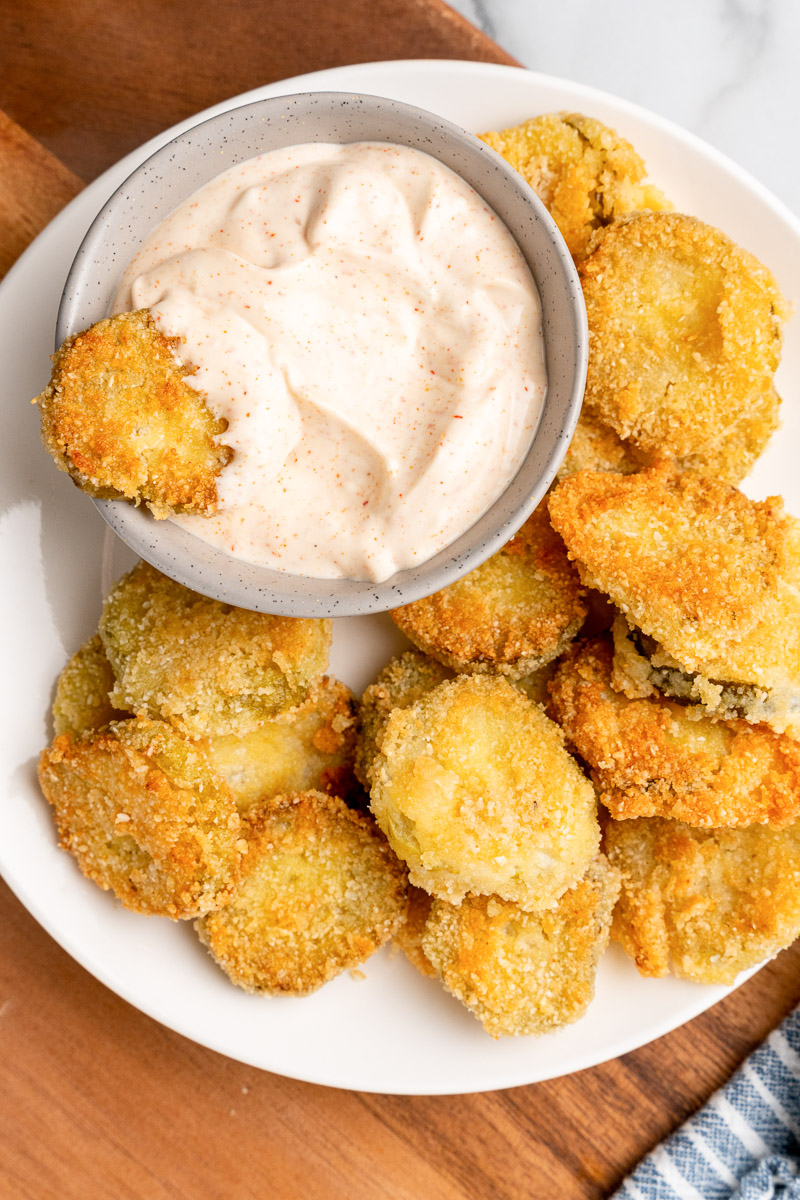 Tips & Tricks
Here are some helpful tips for making delectable keto fried pickles:
Use Dill Pickle Slices
Dill pickles can be purchased as whole pickles, spears, or slices. Slices work best for frying! The spears are just too large to work well with the breading and frying process.
Blot Excess Moisture from the Pickles
Drain the pickle slices to remove any excess moisture and then blot them dry with clean paper towels. This helps the coating to stick better and keeps them from getting soggy.
Create a Dipping Station
Dredging and breading the pickles is easiest if you build yourself a little dipping station. Get two shallow bowls: one for the almond flour and cheese mixture and one for the egg mixture. Much easier to work with and less messy.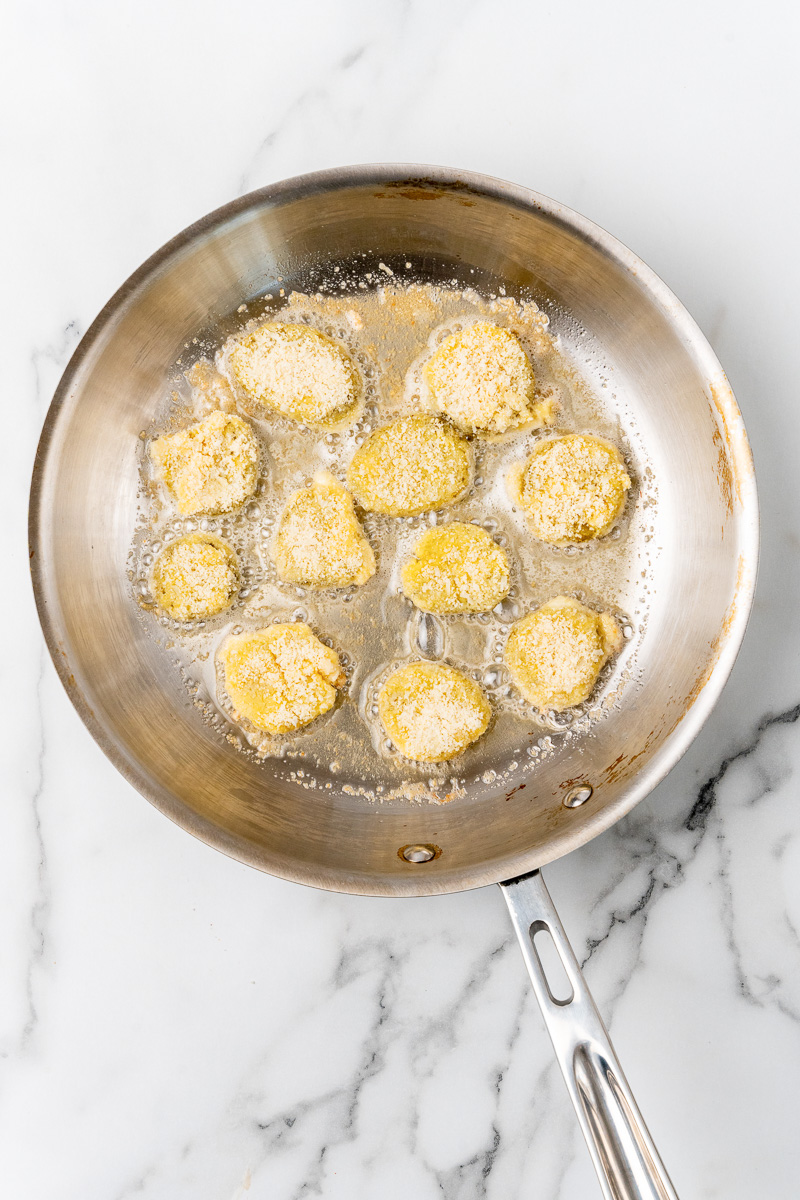 Frying Oil
I use canola oil for basically all my fried foods. It's generally a good choice because it's cheap, abundantly available, and doesn't add any particular flavor to the foods. But you can also use avocado oil or sunflower oil. They both have high smoke points, which make them good choices for frying.
Make in the Air Fryer
You can also make these fried pickles in the air fryer! Spray the air fryer lightly with a nonstick spray. Then add the batter coated pickles into the basket and air fry at 400 degrees Fahrenheit for 10-15 minutes, until golden and crispy. Flip the pickles halfway through.
Storing Leftover Fried Pickles
Store any leftovers in an airtight container in the refrigerator. To reheat, I suggest warming them in the oven or in an air fryer until they are warm and crispy again. They can be microwaved, but the breading tends to get soggy. Fried pickles are always best when served fresh!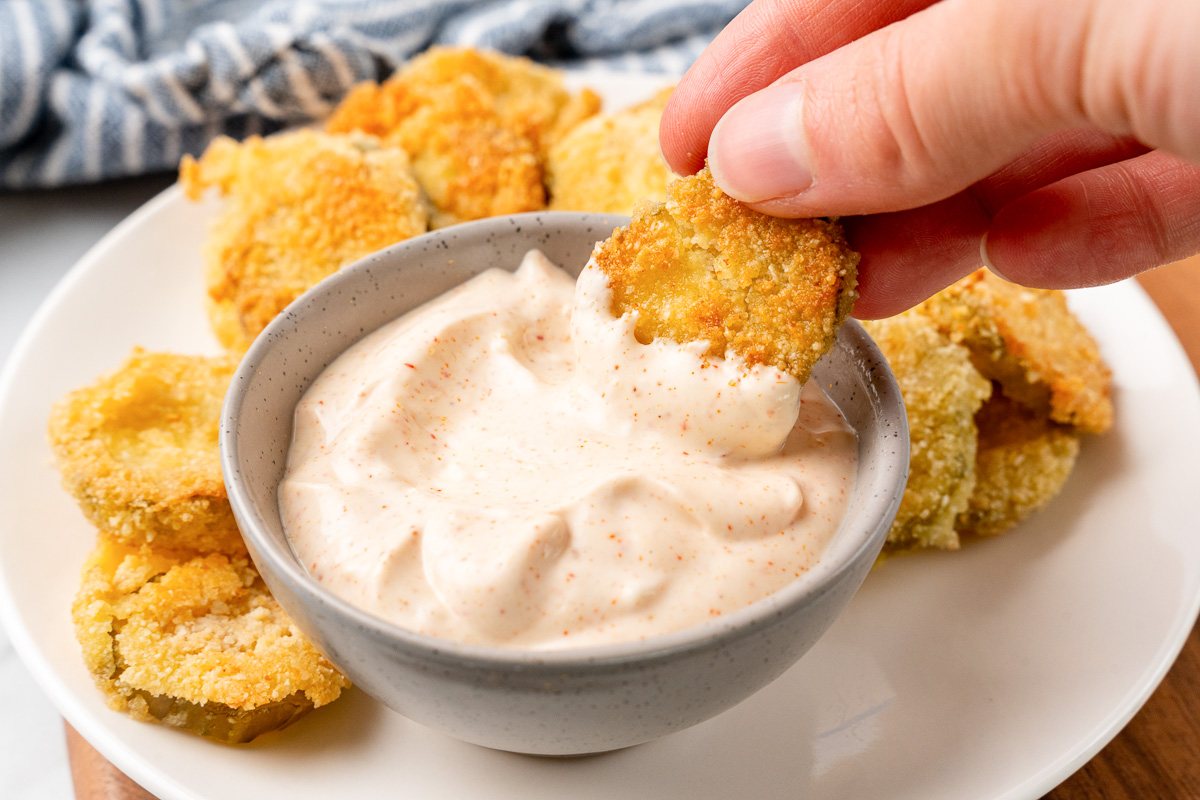 Variations
If you love the tangy flavor and crunchy texture of keto fried pickles, then you may be interested in mixing up your recipe with some fun variations. Here are some ideas to try out:
Dipping Sauces
I made a spicy mayo dip for my fried pickles. but you can dip them in any keto friendly dip of your choice. Try my Creamy jalapeno Sauce, this Carolina Mustard BBQ Sauce, or this Low Carb Thai Chili Sauce.
Spice Up the Breading
Add some cayenne pepper or garlic powder to the almond flour mixture for an added kick of flavor.
Substitute the Almond Flour
If you don't care for almond flour, coconut flour also works well in this recipe. And of course you can use a regular all-purpose flour if the carb count isn't important to you.
No matter which variation you choose, be sure to serve your keto fried pickles hot and crispy with your favorite dipping sauce!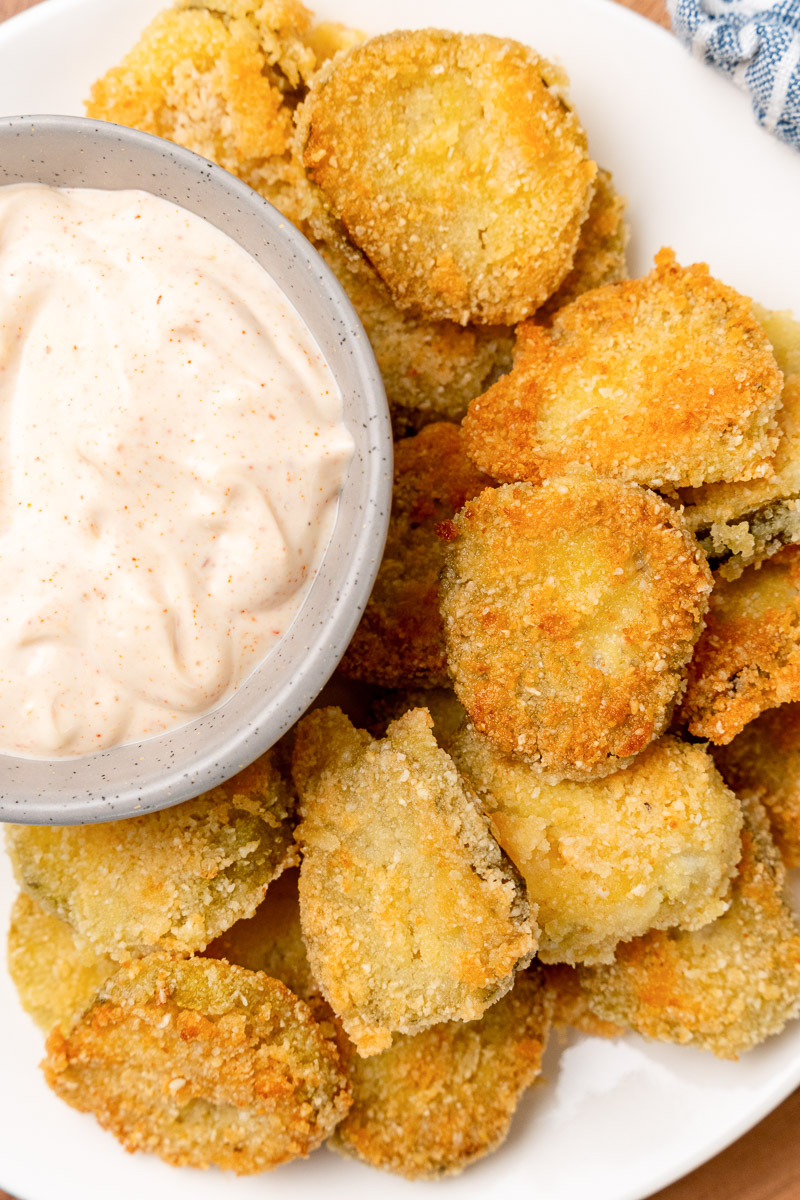 More Tasty Low Carb Ideas
If you love these low carb fried pickles, be sure to check out these other tasty ideas: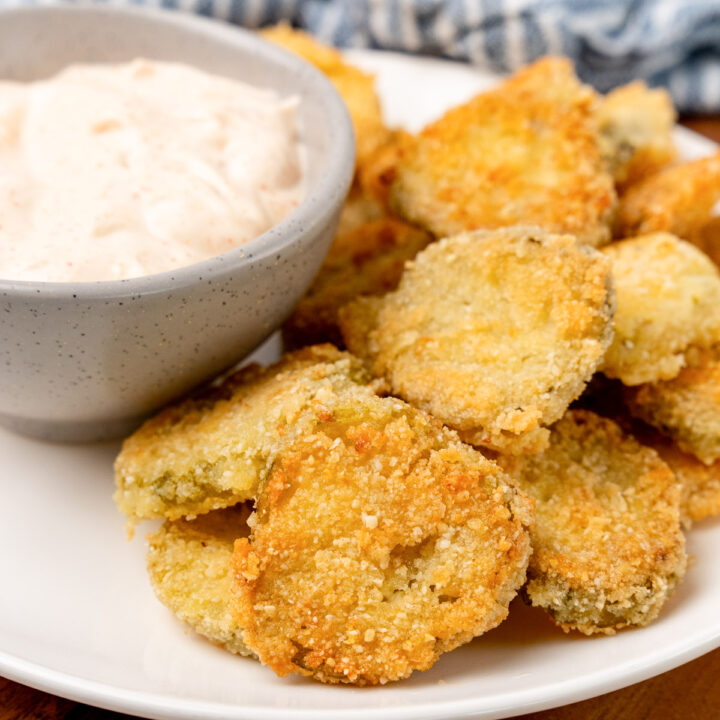 Keto Fried Pickles
These Keto Fried Pickles are salty, crunchy, and perfectly crispy - and they're easy to make in just 20 minutes! Perfect for a low carb snack or appetizer.
Ingredients
24 dill pickle slices
1 cup almond flour
¾ cup parmesan cheese
1 large egg, slightly beaten
3 tablespoons canola oil
¼ cup mayonnaise
¼ cup sour cream
1 teaspoon dijon mustard
1 teaspoon paprika
¼ teaspoon cayenne pepper or to taste
Instructions
Pat the pickle sliced dry with paper towels
Mix together the almond flour and parmesan cheese in a large shallow bowl
Beat the egg in a large shallow bowl
Dip each pickle round into the egg,
Then deep into the almond flour mixture
Heat the oil in a large skillet over medium, fry each pickle 3-4 minutes on each side until golden brown
Meanwhile prepare the dipping sauce by stirring together the mayonnaise, sour cream, dijon mustard, paprika, and cayenne
Serve immediately with the dipping sauce