This melt-in-your-mouth Butter Chicken is perfect for an easy weeknight dinner, thanks to the help of your slow cooker. Tender chicken, fragrant spices, and a rich, velvety sauce make this a must-try comfort food. Plus, it's low carb and keto friendly too!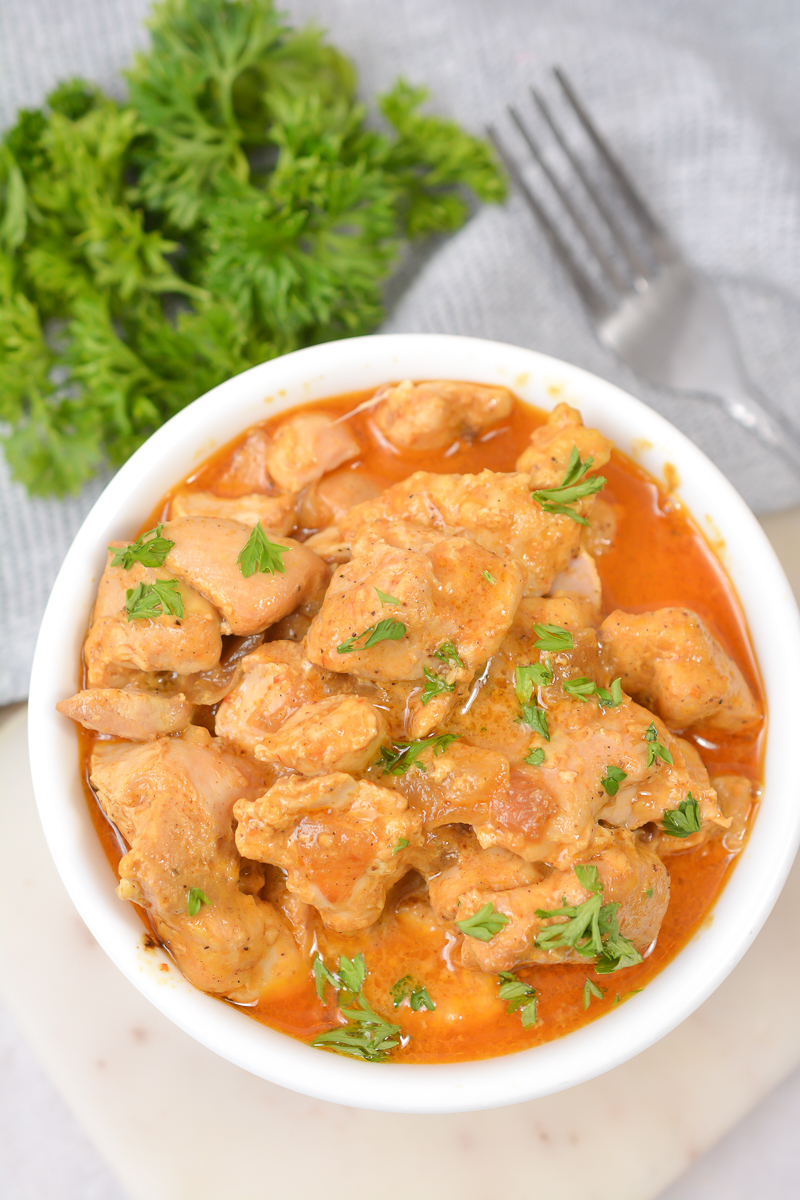 I can't help but share my love for slow cooker butter chicken, a dish that has become one of my go-to comfort meals. It's such a simple yet satisfying recipe. Perfect when you're craving those Indian flavors without the stress of slaving away in the kitchen or all the calories of the take-out version.
The beauty of slow cooker butter chicken lies in the way it melds tender, juicy chicken with a rich, creamy curry sauce infused with delectable spices. Prepping this dish takes less than 15 minutes, and then all you have to do is let your crock pot work its magic!
This slow cooker butter chicken is:
Rich and flavorful.
Easy to customize with your favorite veggies and spices.
An easy low carb dinner idea.
Keto friendly.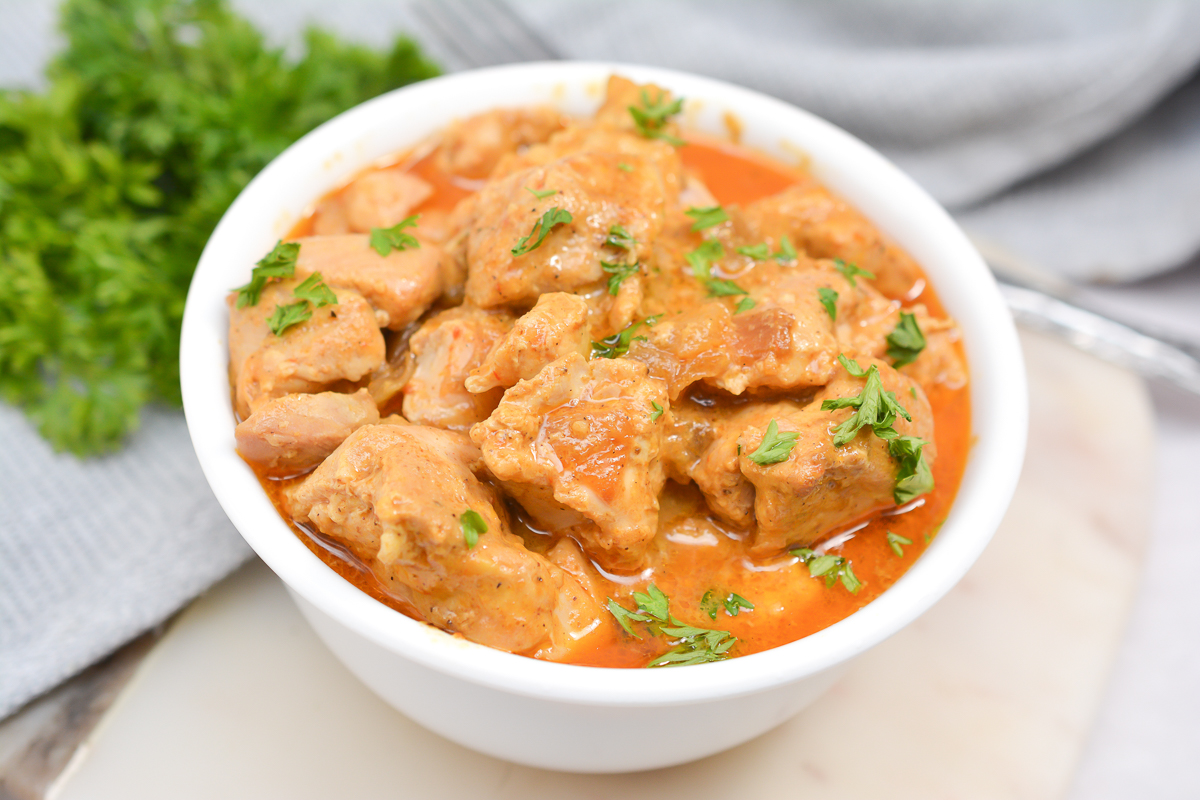 Tips & Tricks
I've gathered some tips and tricks to help you make the perfect slow cooker butter chicken. These pointers will ensure you get the most flavor out of your dish and make the cooking process a breeze.
Use fresh ingredients for the best possible taste. Fresh ginger, garlic, and onion really make a difference in the flavor profile. Don't skimp on these ingredients, as they serve as the backbone of your dish.
When it comes to the chicken, I recommend using boneless, skinless chicken thighs. They're more tender and flavorful than chicken breasts, and they hold up well in the slow cooker. You can also use chicken breasts, but be sure to adjust the cooking time accordingly to avoid overcooking.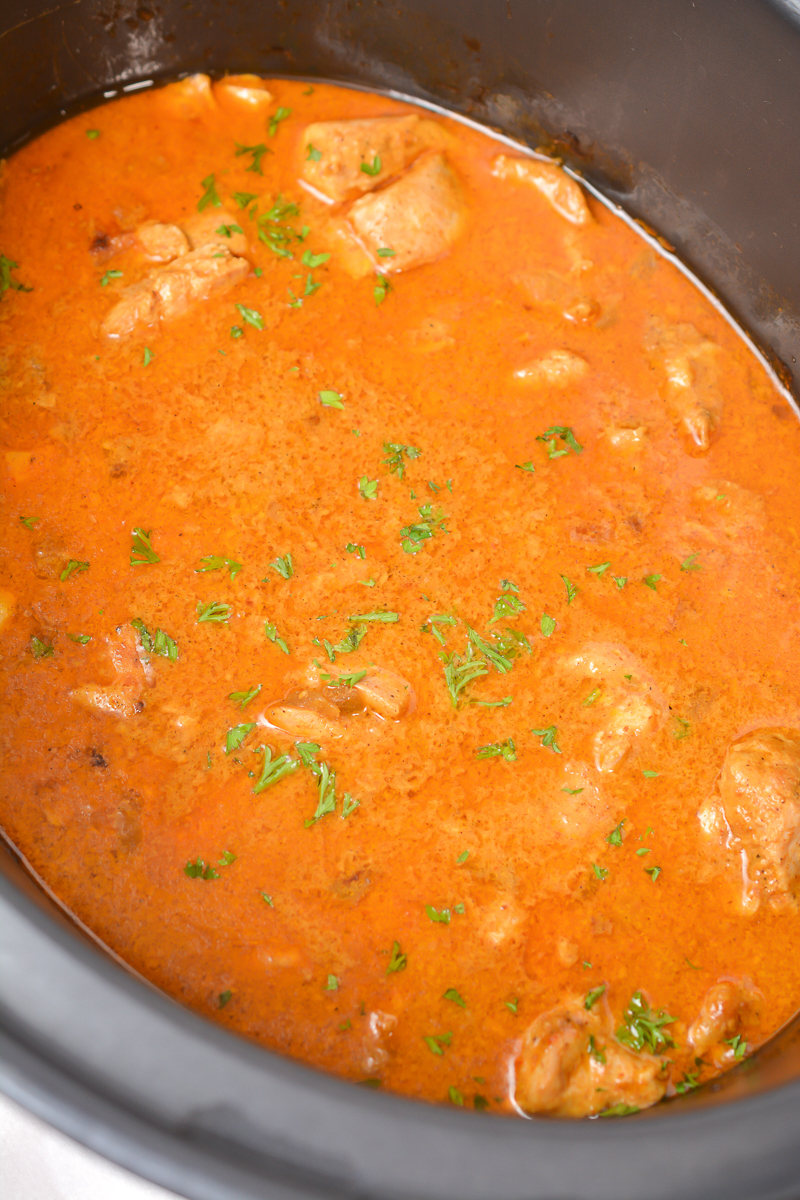 Adding the coconut milk is an essential step, but timing is key. Wait until the very end of the cooking process to stir it into the sauce. You can also substitute heavy cream or plain yogurt if you prefer.
Lastly, don't forget about the sides! Serve it up over cauliflower rice or with warm low carb naan bread on the side for the ultimate comfort food feast!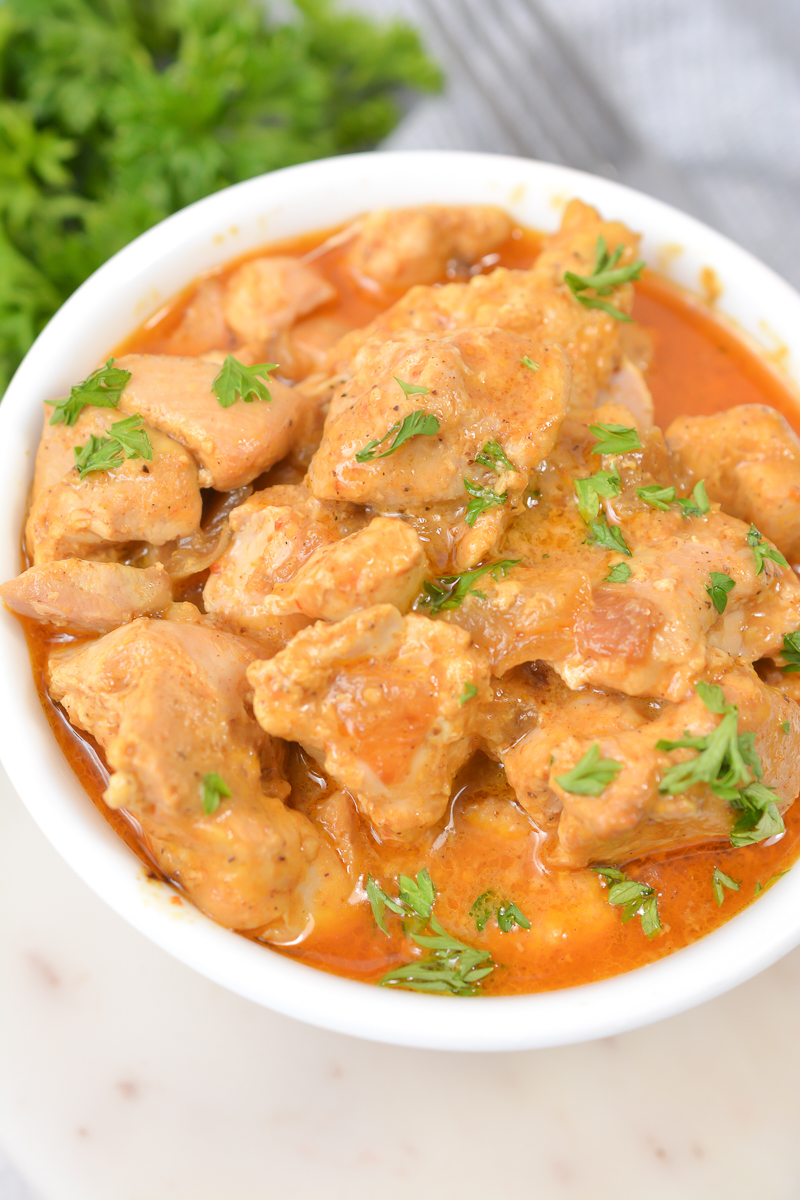 Variations
While I usually stick to boneless, skinless chicken thighs for their tenderness, I've also used chicken breasts when I need a leaner option.
Consider adding cauliflower florets to your slow cooker for a dose of healthy veggies. They pair well with the diced chicken and the creamy sauce, making for a wholesome and satisfying meal.
I used coconut milk for the base of the creamy tomato sauce, but you can also use cream or plain unflavored yogurt if you prefer.
Make a vegetarian version by substituting chickpeas or plant based "chicken" strips for the chicken.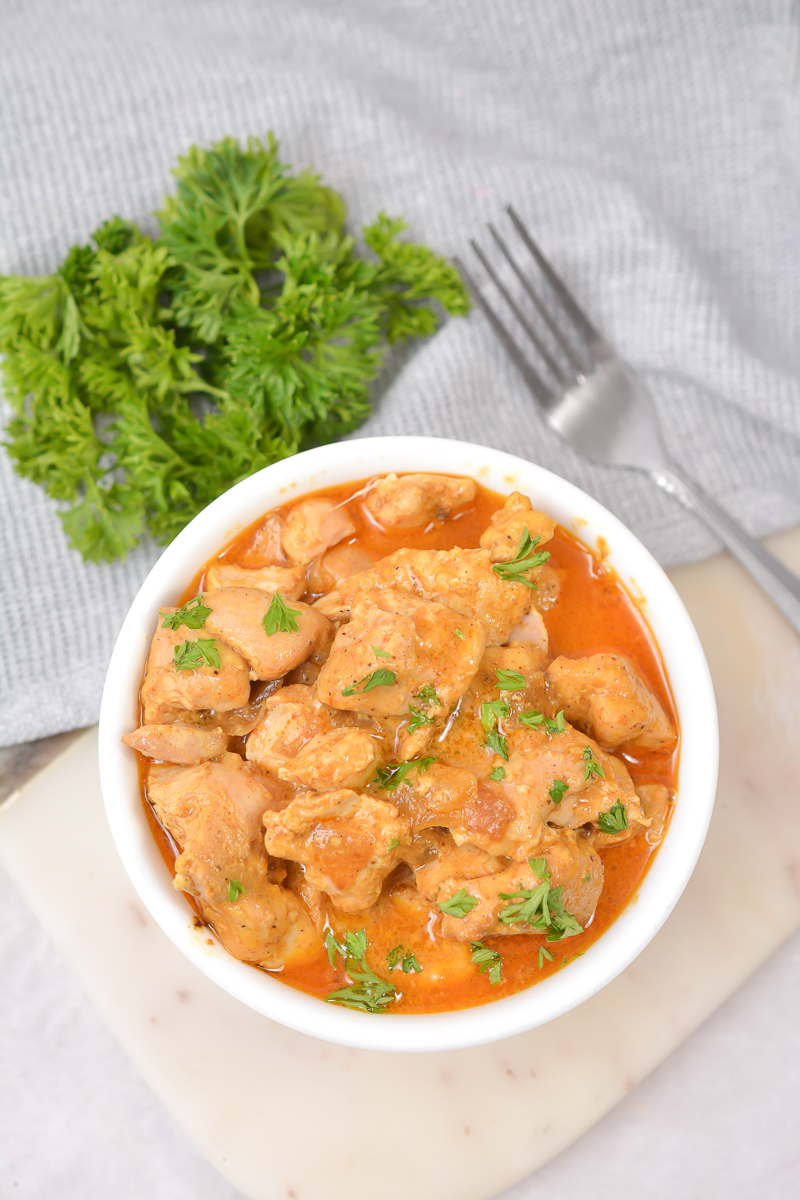 More Low Carb Recipes
If you love this slow cooker butter chicken, be sure to check out these other tasty keto-friendly ideas: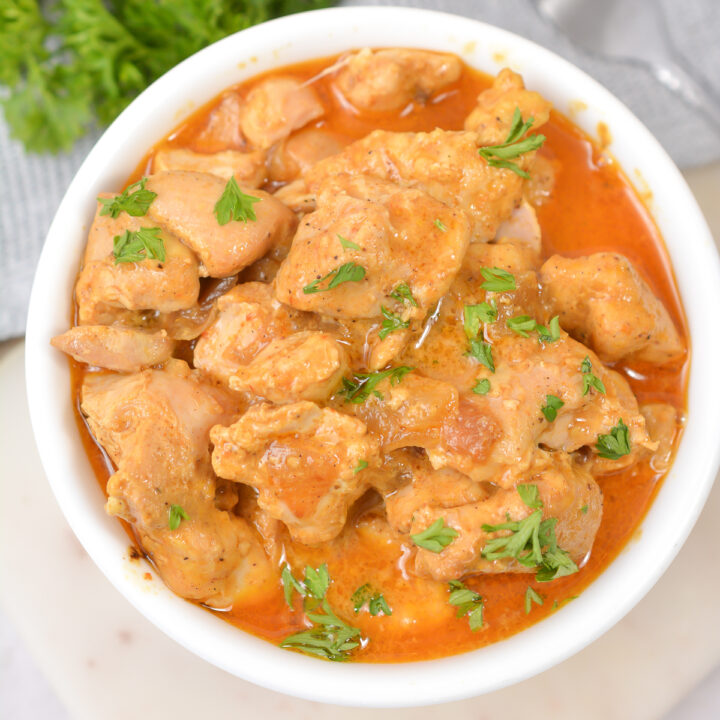 Slow Cooker Butter Chicken
Total Time:
4 hours
15 minutes
This melt-in-your-mouth Butter Chicken is perfect for an easy weeknight dinner, thanks to the help of your slow cooker. Plus, it's low carb and keto friendly too!
Ingredients
2 lb boneless skinless chicken thighs, cut into pieces
1 tbsp olive oil
½ onion, medium, chopped
3 tsp garlic, minced
2 Tbsp tomato paste
14 oz unsweetened coconut milk
2 tsp ginger, minced, fresh
2 tsp garam masala
1 tbsp curry powder
Salt and pepper, to taste
Instructions
Place the chicken in the bottom of the Crockpot.
Add the oil to a skillet over medium heat on the stove.
Saute the onions in the skillet until softened.
Stir in the garlic, tomato paste and seasonings, and saute another minute.
Slowly whisk in the coconut milk a little at a time.
Add salt and pepper to taste.
Pour the sauce mixture over the chicken.
Cook on high for 4 hours.