Check out this list of over 50 low carb gift ideas, including treats, subscription boxes, clothes, kitchenware, and more! UPDATED for 2019!
This post contains affiliate links, which means that at no extra cost to you I can make a tiny bit of money to help support this blog. Thank you!
Whether you're buying gifts for the low-carber in your life or adding things to your own wishlist (isn't Amazon the BEST for that?), you'll find a fantastic range of kitchenware, edible gifts, subscription boxes, and health and fitness gifts to choose from.
And if you really don't know what to buy for someone, then I'm sure they would LOVE a gift certificate from Netrition – an online store that features a TON of low carb goodies!
Low Carb Gift Packs
These days there are so many fantastic low carb products to try, that a variety gift pack is the best solution!
Keto Snacks Care Package $44.99 from Amazon
Great Low Carb Sampler Pack $35 from the Great Low Carb Bread Co (includes bread, pasta, bagels, and more!)
Pork Clouds Variety Pack of Gourmet Pork Rinds $36.00 from Amazon
Low Carb Keto Snacks Box $47.49 from Amazon
Simply Scrumptious Low Carb Variety Pack $31.75 from Amazon
Zero Carb Energy Rush Drink Mix Variety Pack $4.49 from Netrition
Miracle Noodles Variety Sampler Pack $21.99 plus 10% off when you use coupon code AFF10
7-Piece Low Carb Sampler Pack $9 from LC Foods – Included in the sampler pack are one each of LC-Cocoa Hot Chocolate, LC-Vanilla Frosting Mix, LC-Thick'n Saucy, LC-Thick'n Potatoes, LC-No Bake Chocolate Nut Clusters, LC-Milk, and LC-Granola Cereal.
Whisps Cheese Crisps Assortment $18.99 from Amazon (current offer, regular price $24.99)
Flex Flavors Instant Flavoring System Rainbow Pack $15.99 from Netrition
Low Carb Subscription Boxes
Give the gift that keeps on giving!
Keto Box– low carb snacks and goodies every month!
Dry Farms Wines – they test every wine to ensure that it is sugar free and low carb then deliver it to your door! See my full review of their low carb wine!
Diet To Go – Read my full review of this excellent low carb meal delivery service!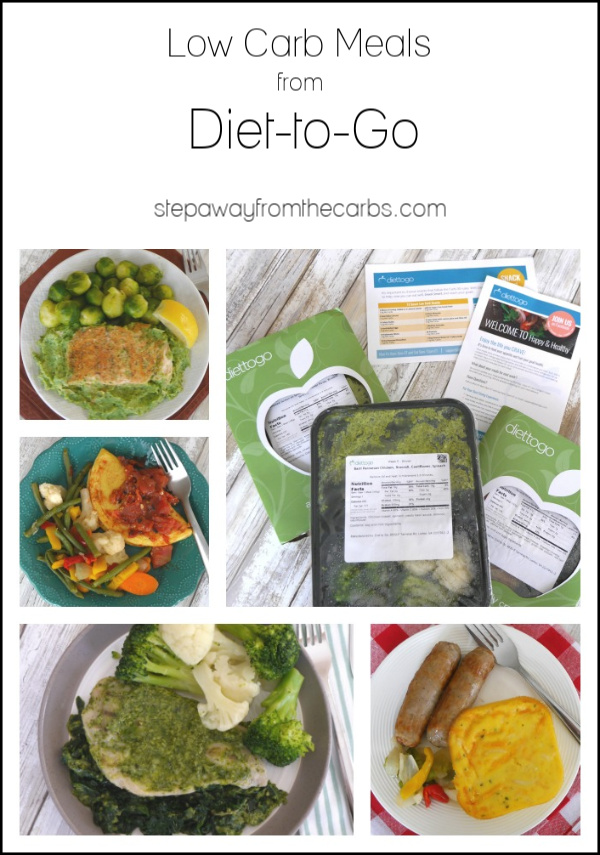 Fresh-Pressed Olive Oil – pay just $1 for your first bottle, then receive three fantastic bottles of extra virgin olive oil every quarter! Find out more about the benefits of olive oil for low carbers!
Green Chef – ready to cook keto meals delivered to your door! Check out my experiences with Green Chef!
Low Carb Treats
ChocZero Keto Bark Almond / Coconut / Hazelnut $14.99 from Amazon
Zero Carb SmartCakes and SmartMuf'ns! 10% off when you use coupon code StepAwayFromTheCarbs when you order direct from the Smart Baking Co!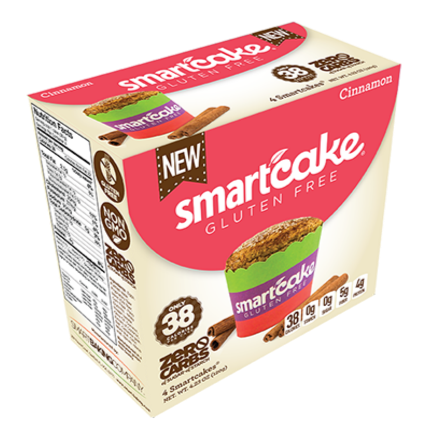 Decadent Low Carb Chocolate Bars (4, 5, or 6 assorted bars) from $14.96 at LC Foods
Know Better Cookies – available in cinnamon, chocolate chip, or a variety pack!
Low Carb Cocktail Mixers – get a six pack from Amazon (three flavors) for $21.99!
Healthwise Hot Chocolate – try the variety pack! $11.99 from Netrition
ChocoPerfection Bars – Sugar free and super delicious! Several flavor options!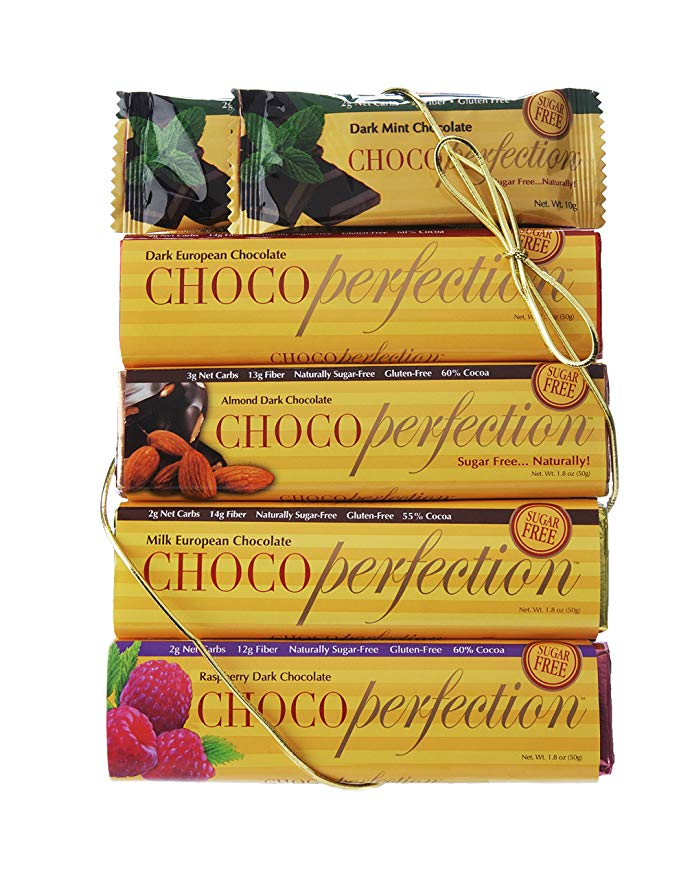 Omaha Steaks Treat yourself to some top quality meat!
Nush Organic Low Carb Cakes – six flavors! $16.49 from Netrition
Smart Sweets – gummy bears, gummy fish, sour candies – and more! You can also buy them in Whole Foods!
Low Carb Kitchenware and Gadgets
KitchenAid Stick Blender – $59.99
Silicone Baking Mats – $13.99
6 qt Instant Pot – $64.99 current offer price, regular price $79.95 (see all my low carb Instant Pot recipes!)
Spiralizer – $29.97 – great for making zoodles and coodles!
Egg Separator – $7.86 from Amazon – how cute is this?!?

Le Creuset Bakeware – from $79.95
Ninja Blender – Current offer price $73.95 on Amazon, regular price $99.99. I *love* this blender!
Silicone Muffin Cups – $7.99 – check out my low carb muffin recipes!
Aerogarden – From $97.91 (current offer price on Amazon, regular price $149.95) – grow herbs indoors all year round!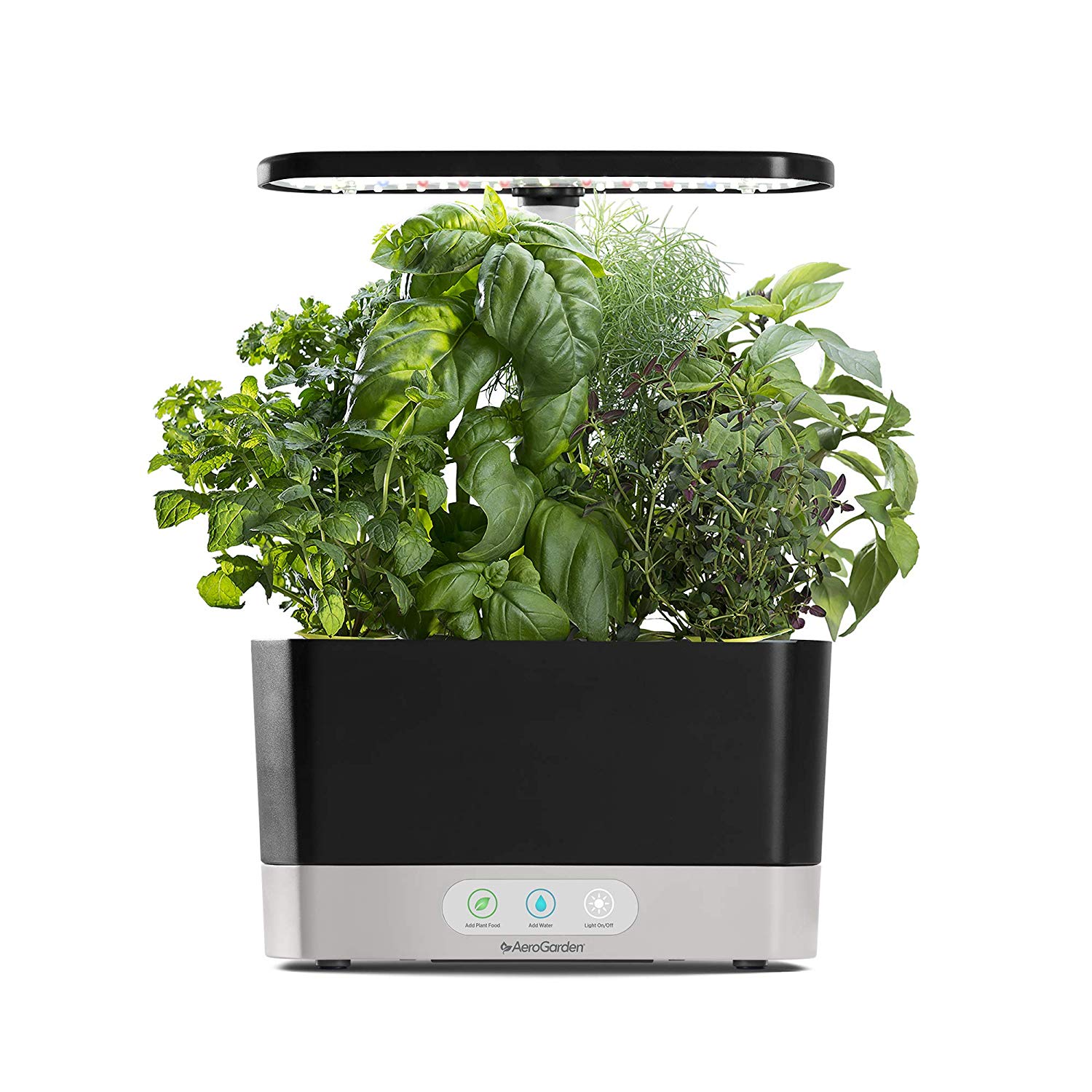 Bamboo Cheese and Charcuterie Serving Board – $39.99
Probe Meat Thermometer – $17.99 – ideal for grilling and roasting!
Portable Espresso Machine – $49.99 – coffee on the go!
Low Carb Clothes and Apparel
Keep Calm and Keto On Shirt – $18.99
I Love Keto Tote Bag – $14.99
Christmas Avocado Shirt – $19.95
Bacon Print Make-Up Bag $9.98 from Amazon
Health and Fitness Gifts
Fitbits! Check out this Fitbit Guide from our friends over at Lalymom for all the best options and prices!
Keyto – a breath sensor device (read my full review and watch my introductory video!)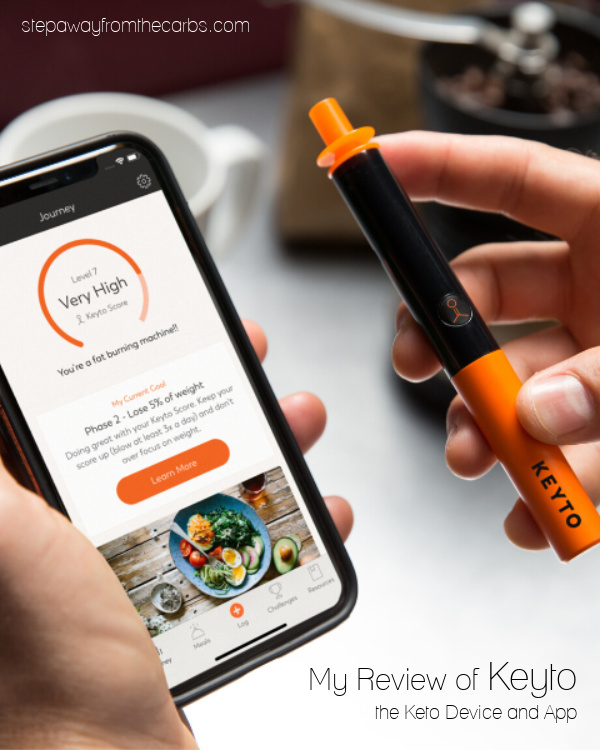 Vital Proteins Collagen Supplements (check out my introduction to dietary collagen!)
Low Carb Downloadable Starter Pack $12 from Ditch the Carbs – everything you need to get started!
Perfect Keto MCT Oil Powder $38.99 from Amazon (or buy direct! Use coupon code: stepawayfromthecarbs for 15% discount!)
Nutri-Align MultiVitamin for Low Carb Diets $25.99 from Amazon
And if you're looking for low carb books – click on the link to see my top recommendations!
Check out my Low Carb Starter Pack Ebook!
Are you just beginning your low carb journey? Check out my starter pack of printables!