Have you heard of zoodles? What are zoodles? Here's what you need to know about this low carb alternative to noodles.
The following post contains affiliate links, which means that at no extra cost to you I can make a tiny bit of money to help support this blog. Thank you!
The word "zoodles" is a contraction of "zucchini noodles" – long thin strips of zucchini that resemble pasta. I have tried to find out who first coined the phrase and have not been able to – but zoodle recipes are all over the internet now!
How to Make Zoodles
There are two main ways to make zoodles. A popular way is to use a spiral slicer like a Spiralizer. While I am super tempted by one of these, I just don't have counter space for it. They do so much more than make zucchini ribbons of course – you can make long strands from all kinds of vegetables! Plus I love the fact that one of their selling points is that it is non-electric and therefore "great for emergencies".
In the meantime I use a julienne peeler – a little handheld gadget that is actually quite fun to use! You just scrape it down the zucchini and it forms ribbons. It certainly takes up way less room in my kitchen AND it's also non-electric! 🙂
How to Cook Zoodles
The most popular way to cook zoodles is to saute them – either dry or in olive oil depending on the texture outcome that you would like. From then on they are the perfect vehicle for sauces, herbs, seasonings and spices. If you're particular about the texture of your zoodles and don't like them too wet, you can dry them before cooking by "sweating" them in the oven. I confess I have yet to try this because I like how they turn out when they are sauteed. If you try it, let me know!
How about this Steak with Creamy Chipotle Sauce with Zoodles? Or a Low Carb Pad Thai? And you'd better try this Zucchini Carbonara – it's such an amazing recipe that really highlights zoodles at their best!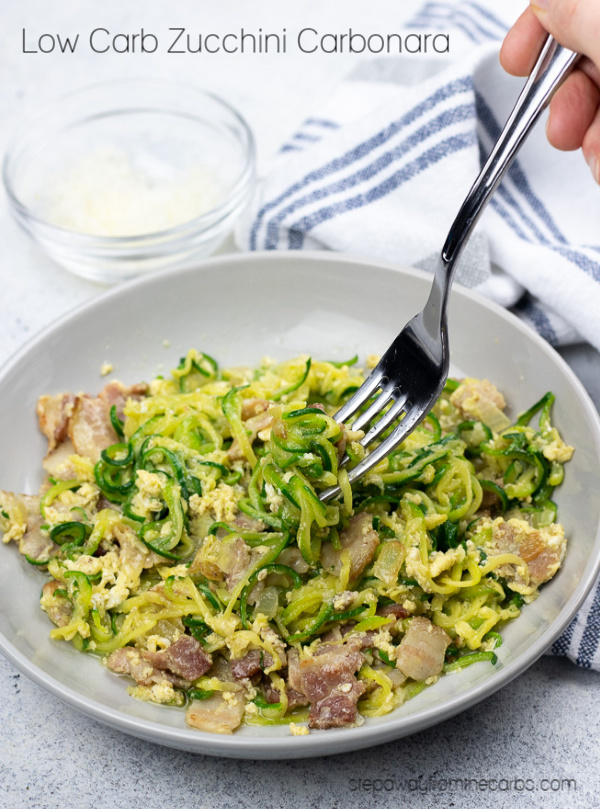 While I'm on the subject of zucchini dishes, these Low Carb Zucchini Fries that use almond meal for coating sounds amazing. Not really zoodles – but they sound very tempting! And how about a grilled zucchini lasagna? OK I really am digressing now…
Carbs in Zoodles
1 cup of sliced zucchini contains 2.4g net carbs (Source: USDA). Which makes it a very friendly veg to low carb dieters! It's also high in Vitamin A and Vitamin C. Many low carb diets recommend all kinds of supplements including a multi-vitamin – and although I'm no doctor I'd rather get my vitamins from natural sources if I can. So that's two off my list!
What Are Zoodles? #lowcarb #zoodles
Click To Tweet
Save
Check out my Low Carb Side Dish Recipes Ebook!
Need more easy low carb side dish recipes? My ebook features 18 dishes that need 5 ingredients or less!