Here are some low carb spaghetti and noodle alternatives for when you're craving pasta, but want to stay healthy!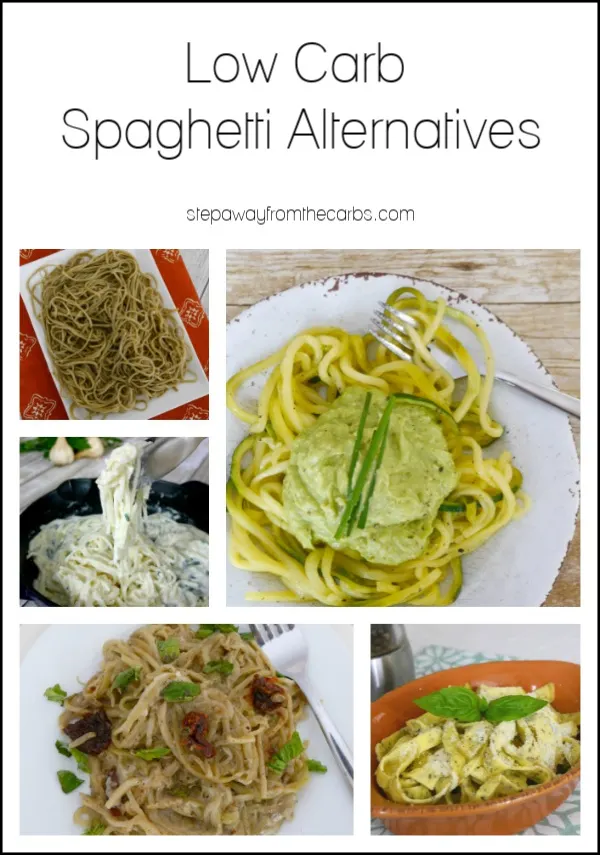 This post may contain affiliate links.
Along with bread, pizza, and sweet treats, finding good alternatives to pasta is one of the big issues that many low-carbers face. When it comes to a dish like lasagna, then there are other options like thinly sliced zucchini, cabbage, or low carb tortillas. But what about finding alternatives to spaghetti and noodles?
Keep reading for my favorite low carb suggestions (and some "healthy" alternatives that you'll want to avoid!). You might also like to check out my list of low carb rice alternatives!
Low Carb Spaghetti Alternatives
Spaghetti Squash
When cooked, this squash can be shredded into spaghetti-like strands. It's a super healthy alternative – the spaghetti squash carbohydrate amount is approximately 5.5g net carbs per cup. It's also a great source of folic acid, potassium, and vitamin A! There are various ways to cook it, so make sure that you check out my guide!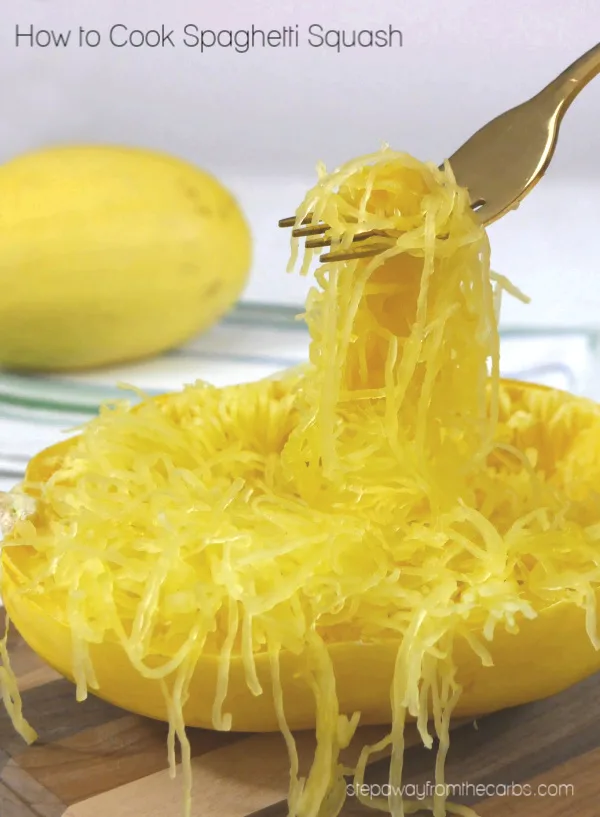 Recipes to Try: Spaghetti Squash all'Arrabbiata or Spaghetti Squash with Burrata and Roasted Cherry Tomatoes
Zucchini Noodles (Zoodles)
Making noodles out of vegetables (especially with a spiralizer!) has become so popular that it is now easy to buy them ready prepared! Zucchini is definitely the best choice for low carbers, as it contains around 4g net carbs per medium zucchini. They can get too watery, though, so when I'm preparing them I make sure I don't include the core.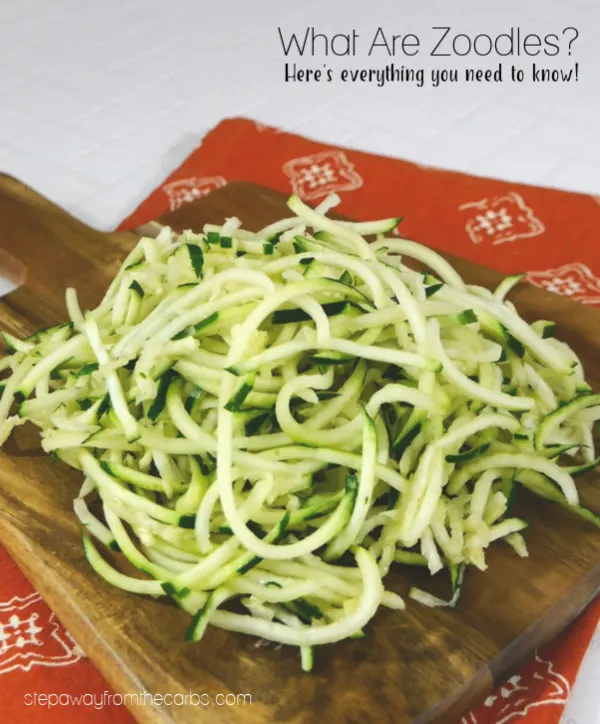 Recipes to Try: Zoodles with Avocado Sauce, Steak with Chipotle Sauce and Zoodles or Zoodle Bake
Shirataki Spaghetti
These zero-carb pasta alternatives come in a range of shapes – including spaghetti! They can be really useful for low carbers if prepared correctly – so check out my Ultimate Guide to Shirataki Noodles for my top tips!
Get 10% off when you order from Miracle Noodles direct! Use coupon code "AFF10" on checkout to get your discount!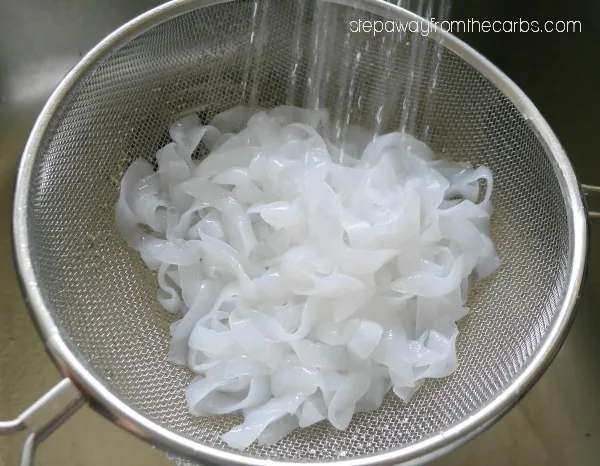 Recipes to Try: Lemon Garlic Shrimp with Shirataki Noodles or Low Carb Spaghetti and Meatballs
Eggplant Noodles
I only recently just tried these – and I loved the texture, If you find zoodles too watery, try eggplant instead!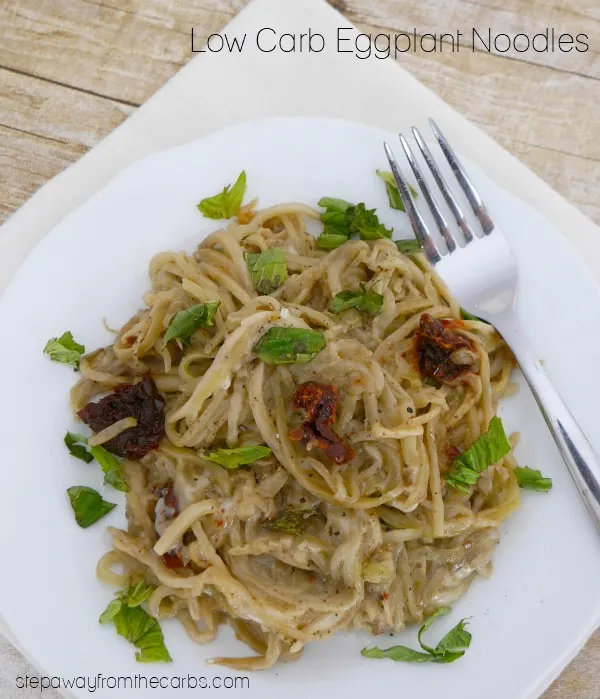 Recipes to Try: Eggplant Noodles or Low Carb "Soba" Noodles
Low Carb Pasta
There are SO many options here – my best suggestion is to head over to somewhere like Netrition, read the ingredients and carb count and try some out. One brand I *have* tried (and loved) is the penne from the Great Low Carb Bread Company. They don't make spaghetti, but they do make fettuccine, which is 7g net carbs per serving.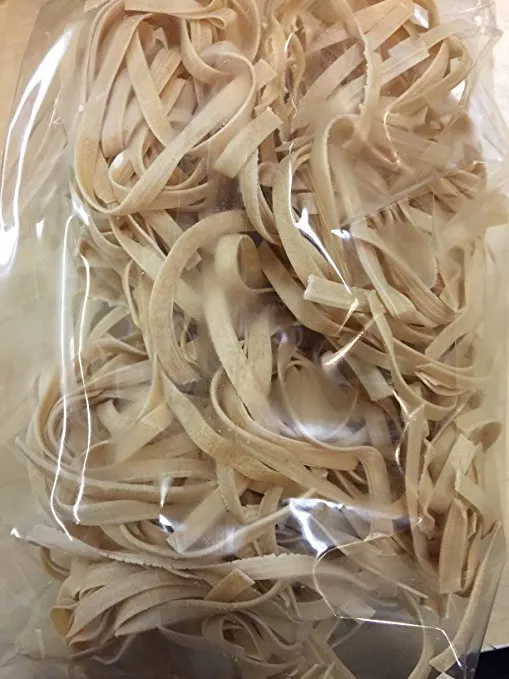 Recipe to Try: Low Carb Pasta Salad
Just a quick note on low carb pasta brands. Dreamfields is widely available but I'm afraid I don't endorse it. The stats make me very uneasy.
Egg Noodles
These are a great alternative if you'd rather make your own pasta – especially in small batches. You only need a few ingredients, and it's 3g net carbs for a whole serving!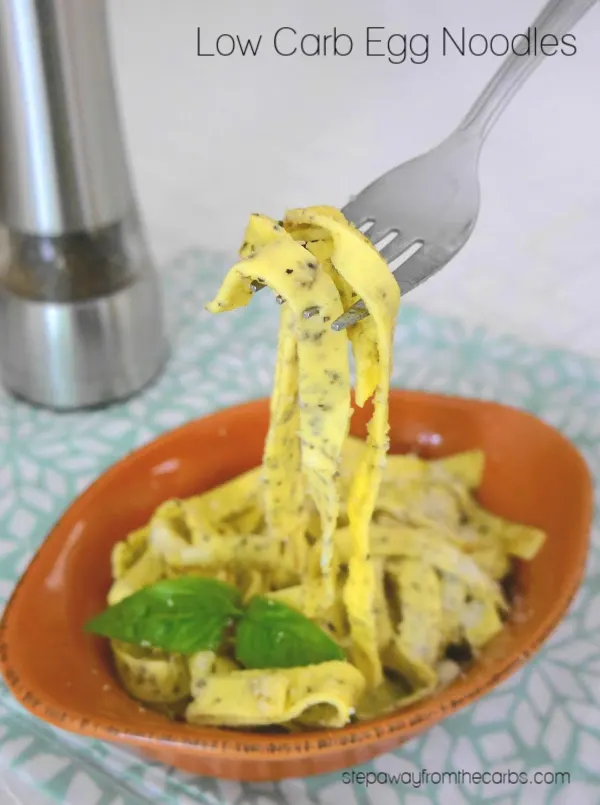 Recipe to Try: Low Carb Egg Noodles
Palmini Noodles
Read by review of Palmini Noodles which are made from hearts of palm. I was really impressed! I also made a fantastic Four Cheese sauce to go with them!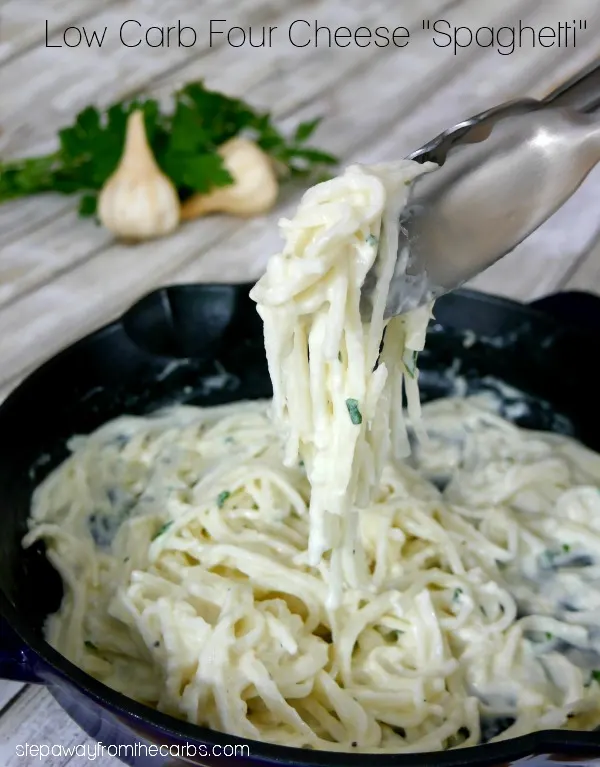 Zeroodles – Rebranding to Liviva
Yes – they're really a thing! They're made from mung bean and edamame, and you can buy them on Amazon in both spaghetti and fettuccine styles! They have a neutral taste and a texture like regular wholewheat spaghetti. Very good – and only 3g net carbs per generous serving! They'd be perfect with my Slow Cooker Bolognese Sauce!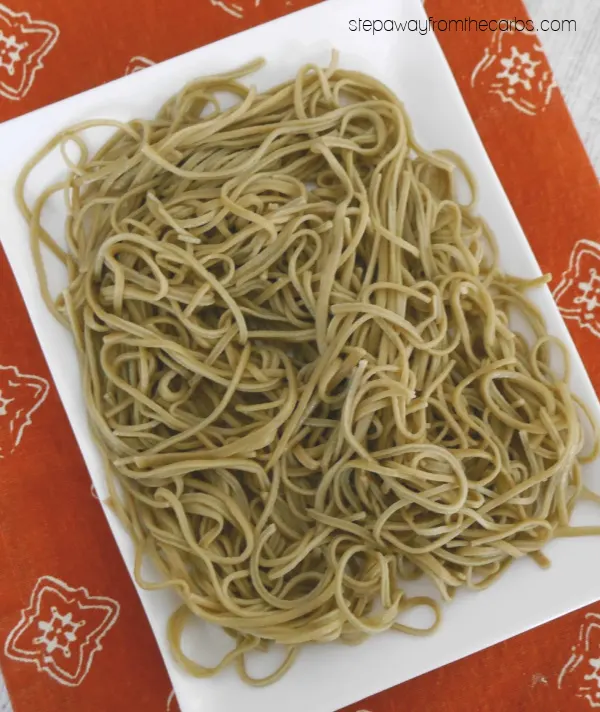 Update – I've just seen these Keto Asparagus Noodles from Low Carb No Carb – they're next on my list to try!
---
So what about the other low carb spaghetti alternatives that you hear about all the time? They may be OK for those trying to eat more healthily or anyone following a gluten free diet, but here's why I believe these options are *not* OK for us!
Soba Noodles
Made from buckwheat flour, soba noodles contain around 24g net carbs per cup.
Rice Noodles
Gluten free – yes. Low carb – no! 42g net carbs per cup!!
Sweet Potato Noodles
Although a great source of fiber, beta-carotene and vitamin C, these noodles contain about 24g net carbs per cup.
Black Bean Noodles
As you probably know, beans are generally high in carbs – and this pasta alternative weighs in at approximately 33g net carbs per cup.
Carrot Noodles
Now these might be borderline for some low-carbers, containing just 11g net carbs per cup. It's your decision with these – but too high for me!
---
Do you have any other low carb spaghetti alternatives that I've missed? Let me know in the comments!