Carb free chips are perfect for snacking! Here are five different keto chip recipes for you to try for delicious guilt-free munching!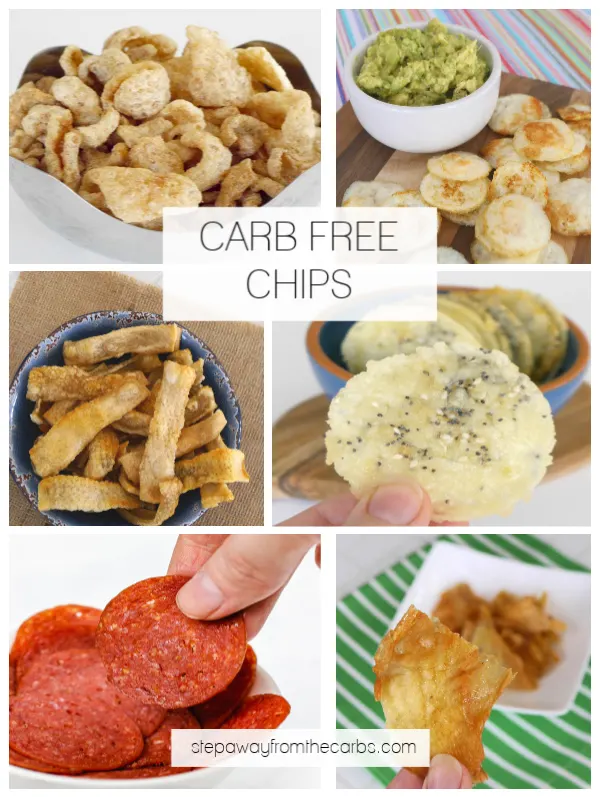 This post may contain affiliate links.
Whether it's no carb meals or zero carb desserts – I'm always on the lookout for ways to reduce my daily carbohydrate intake. Snacks are the downfall for many people – they can plan low carb meals, but then get hungry in between and reach for a high carb snack. It's why I wrote my book Low Carb Snacks!
So to combine these two ideas together, I started wondering about whether I could find no carb chips. Well, as it happens, there are several options!
Update – I have two zero carb products for you to try! The first is Flock Chips – made from roasted chicken. Great for savory snacking on the go!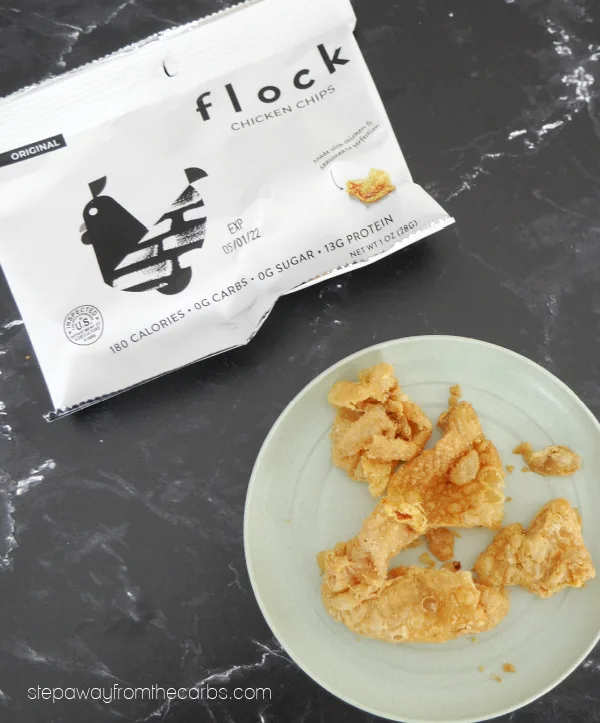 And the second is from Good Fish – made from crispy salmon skin! I highly recommend the variety pack.
Recipes for Carb Free Chips
First up is one of my oldest recipes – Microwave Pepperoni Chips! I've even made a video to show how easy it is to make this keto chips recipe!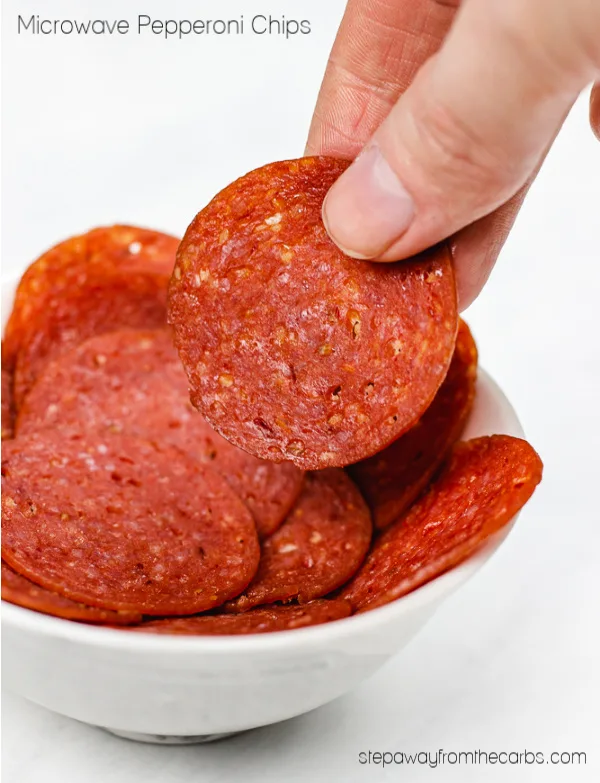 Pork rinds have long been a favored snack of low carbers – in fact I have over 16 uses for pork rinds, including toppings, breading, and more! But when left whole, they make the perfect low carb chip: there are several brands available, ranging from gas station basics to gourmet "pork clouds". Most of these products are very good.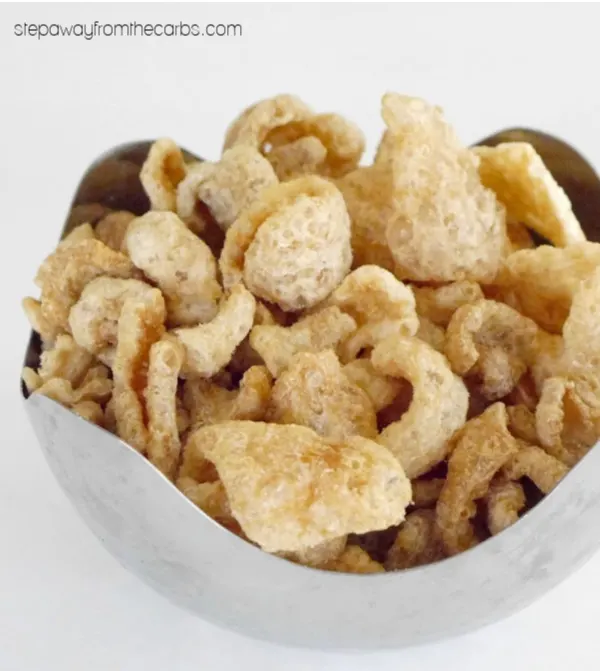 However, I would advise you to check the nutritional data for any flavor variations other than plain – manufacturers often start to add in sugar at this point which raises the carb count. I came up with my own BBQ Pork Rind recipe because of this!
You can, of course, make your own pork rinds. But you need a deep fat fryer for them to puff up like the store-bought ones – and I don't do deep fat frying!
So instead, I made super crunchy Pork Rind Chips! They're salty, moreish, and of course – zero carb!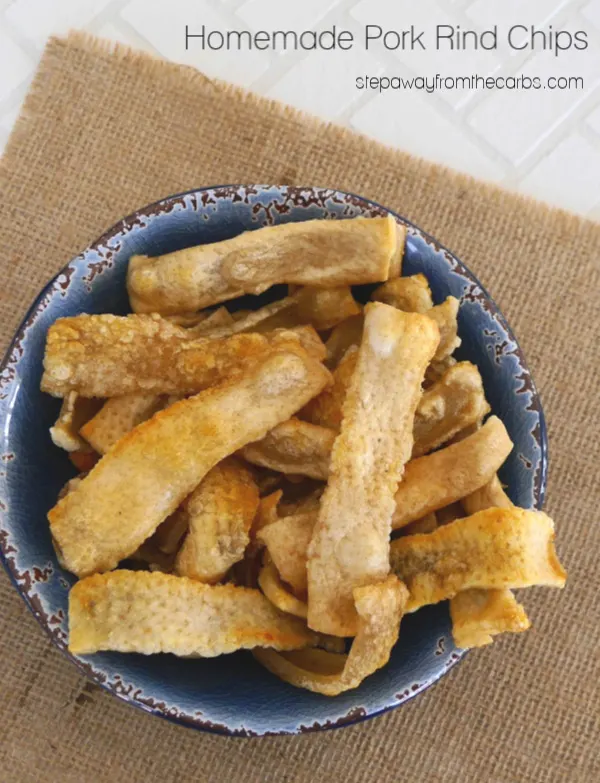 I've made Parmesan chips since I started low carbing – I love them on things like a low carb Caesar Salad. But my favorites are these "Everything" Parmesan Crisps. They are surprisingly easy to make and so full of flavor!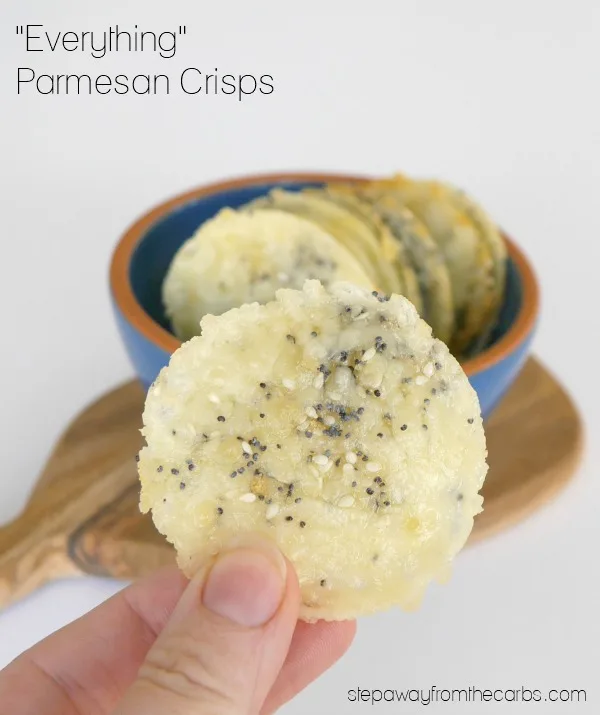 And have you tried Chicken Skin Chips? They're super easy to make. Just spread some raw chicken skin as thin as you can over a baking rack (the amount doesn't really matter – it could even be from just a couple of chicken breasts). Place it on a baking sheet and season with salt. Roast in the oven at around 375F until golden brown and crispy. Cut into smaller pieces and enjoy the salty, meaty, goodness!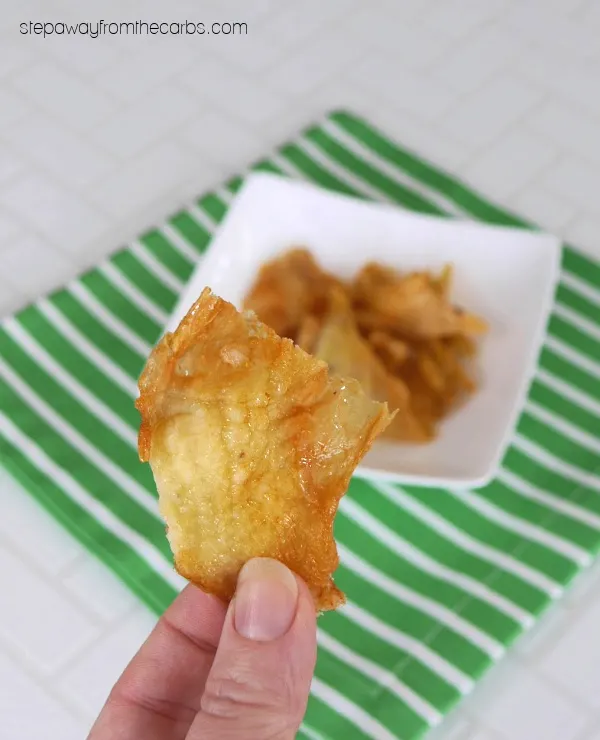 These Zero Carb Egg Chips are a new recipe! I tried several different ways of making them, and this is my favorite. They're a combination of egg whites and grated Parmesan, and then baked in a mini muffin pan.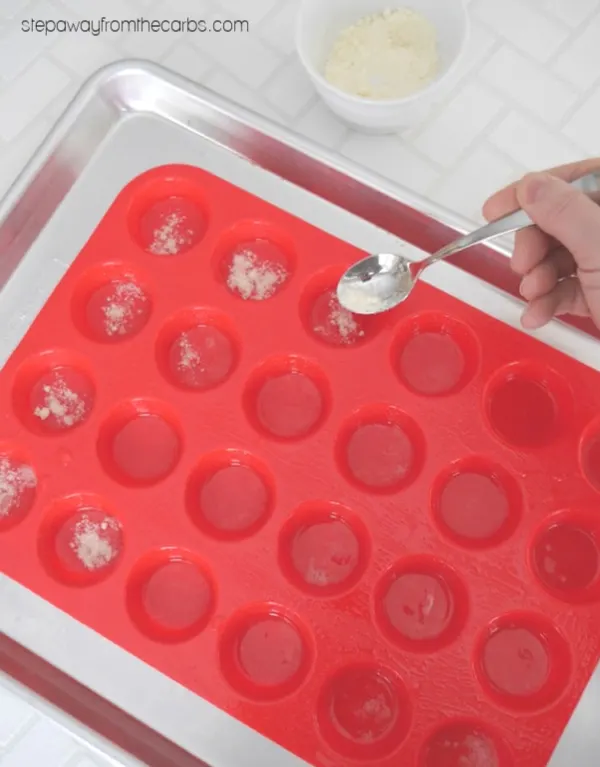 In the oven they crisp up, and then ta-da! With two simple ingredients you have some no carb chips!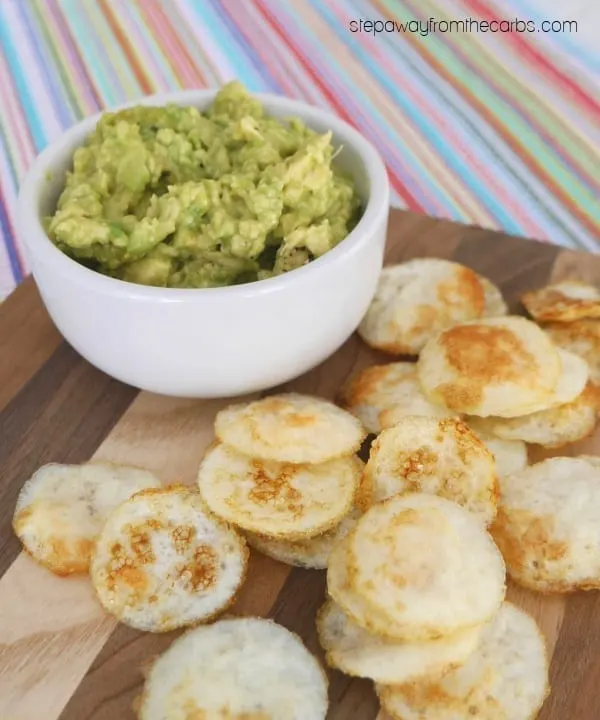 Here's the full recipe: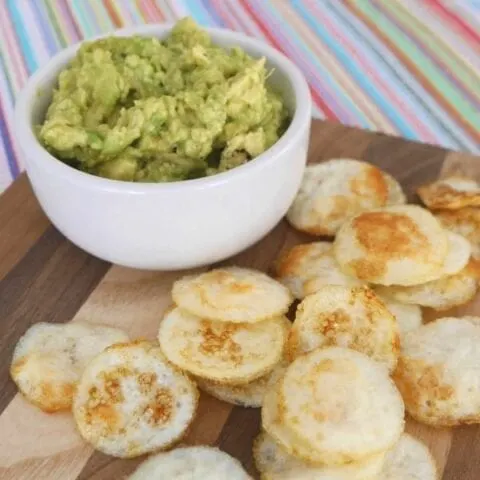 Zero Carb Egg Chips
These two-ingredient carb free chips are perfect for keto snacking!
Ingredients
non-stick spray
2 egg whites
1 tsp water
2 tbs grated Parmesan
Instructions
Preheat the oven to 400F. Grease a silicone mini muffin pan with non-stick spray.
Briefly whisk the egg whites and water together, then pour or spoon into the muffin pan cavities. You only need to just cover the base of each one. You may have a little of the mixture left over.
Sprinkle some grated Parmesan into each cavity.
Bake for 8-10 minutes until they have turned crisp. Note: They burn easily so keep an eye on them!
Recommended Products
As an Amazon Associate and member of other affiliate programs, I earn from qualifying purchases.
Nutrition Information
Yield

2
Serving Size

12 Chips
Amount Per Serving
Calories

41
Total Fat

2g
Saturated Fat

1g
Trans Fat

0g
Unsaturated Fat

0g
Cholesterol

5mg
Sodium

156mg
Carbohydrates

0g
Fiber

0g
Sugar

0g
Protein

5g
Nutritional information for this recipe is provided as a courtesy and is my best approximation. I cannot guarantee completely accurate data due to variations in ingredients and cooking methods. Carbohydrates from sugar alcohols are not included in net carb counts as it has been shown that they do not impact blood sugar. Net carbs are the total carbs minus fiber.
Do you have any more ideas for carb free chips? Let me know in the comments!