These no carb desserts are perfect for when you're in the mood for a sweet treat, without the carbohydrates!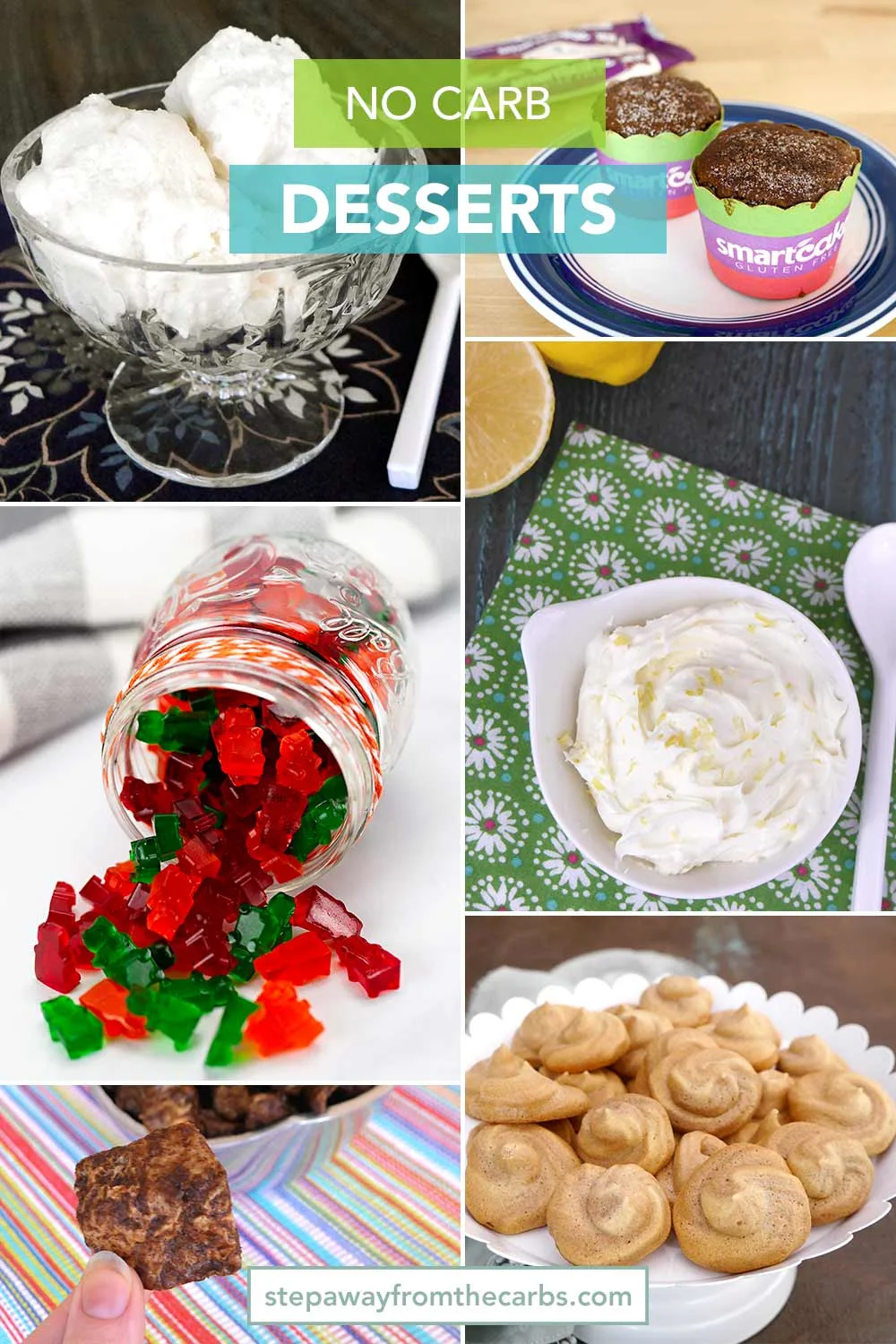 This post may contain affiliate links.
No carb desserts. If you've ever searched for those three words on Google or Pinterest, I'm sure you've found the same as I have: "oh look at this zero carb dessert! Just combine heavy cream, unsweetened cocoa powder, and a sweetener together – perfect". Heavy cream and unsweetened cocoa powder are NOT zero carb ingredients – however, they *are* super low carb ingredients.
So it probably depends how pedantic you want to be. Is a dessert that is 0.5g net carbs per serving near enough zero for you? Or do you literally want zero? A long time ago when I wrote my popular post 43 Zero Carb Foods – I considered under 1g net carbs per serving to be near enough zero (after all, it works for the USDA). But I soon realized that many people wanted *actually* zero. Since then, I've written these related posts:
And a few others! Everyone has their reason for looking for these zero carb options – and I'm happy to do the research for you! But – a word of warning! Like my "zero carb" example above – just because it says it's no carb, doesn't mean that it is. But there are other things to look out for – this zero carb caramel looks absolutely genuine – and delicious – but serving size is one tablespoon. With this recipe, it totally depends on what you want to use it for – but would obviously not be anywhere near a dessert on its own.
If you're looking for dessert recipes, let's assume that you want something sweet. A cheese board, for instance (without crackers) is pretty much zero carb, but I don't think that's what you have in mind if you're reading this post. If you want sweet, you need a sweetener – natural or otherwise. And as you may remember from my guide to low carb fruit, there just aren't any zero carb options.
Let's look at alternatives. Sweeteners are a hot topic among anyone who follows a low carb or keto diet. For every person who senses an unpleasant cooling effect, another person doesn't notice it. And then there are the sweeteners that have unpleasant digestive side effects on pretty much everyone (I'm looking at you, maltitol!).
Zero Carb Sweeteners
When it comes to sweeteners, it's assumed that you don't count sugar alcohols. In every single one of my recipe cards, this text is at the bottom: "Carbohydrates from sugar alcohols are not included in net carb counts as it has been shown that they do not impact blood sugar." I'm not a dietitian. But not including sugar alcohols when counting carbs is accepted wisdom. (Quick version: it's basically about the way the body processes them).
Gone are the days of Splenda (which was pretty much the only available low carb sweetener when I started low carbing in 2008), and now we have awesome options. Erythritol and monk fruit are the popular favorites. Xylitol is great – but because it is toxic to dogs, it has understandably lost favor now that there are many more alternatives available. So here are MY favorites:
Liquid stevia – great for sauces or cocktails – not for baking
Lakanto – This is my go-to granular sweetener these days and you can get 20% off everything in their store if you use coupon code SAFTC!
Confectioner's Swerve – the only powdered sweetener that I use!
Brown Swerve – it's relatively new on the scene – but so far I'm loving it! I used it in my recipe for Pecan Pie Brownies (note – not a zero carb dessert!)
No Carb Desserts
(Including some almost zero carb options!)
If you're OK with sugar free Jello on your diet, it opens up some great options! Check out my zero carb gummy bears or my low carb layered Jello dessert!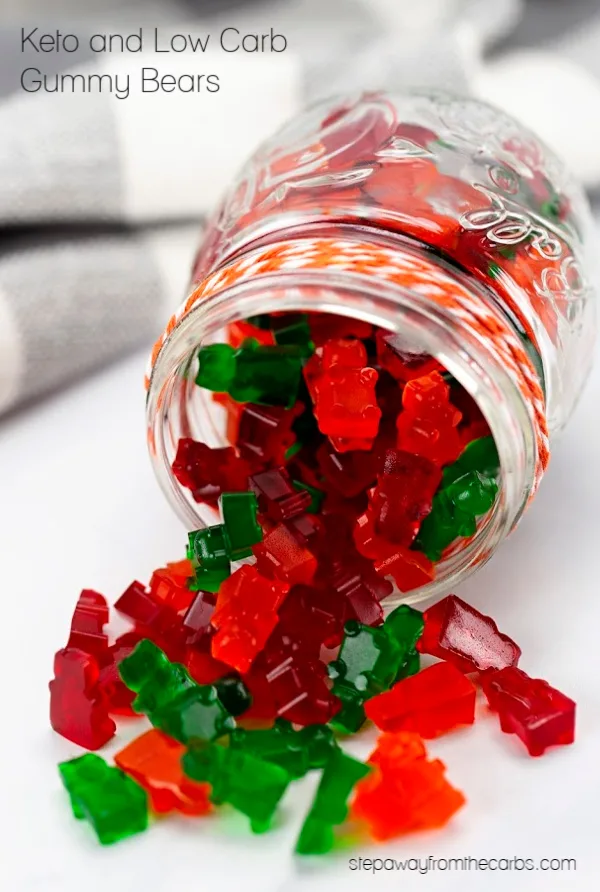 Or how about these ready-made sugar free Jello cups? They're zero carb!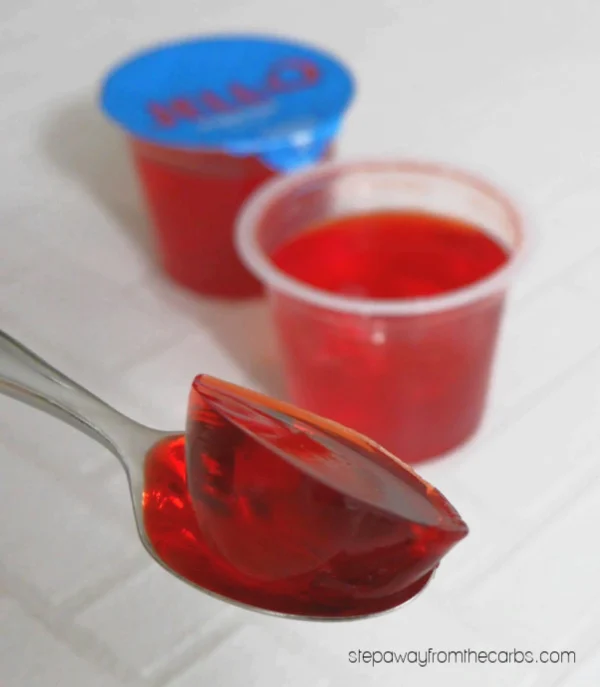 Update: Try Simply Delish Jel Desserts instead – they are aspartame free, gelatin free, and don't contain any artificial flavors or colors! Plus you can get one of these super cute honeycomb jel molds!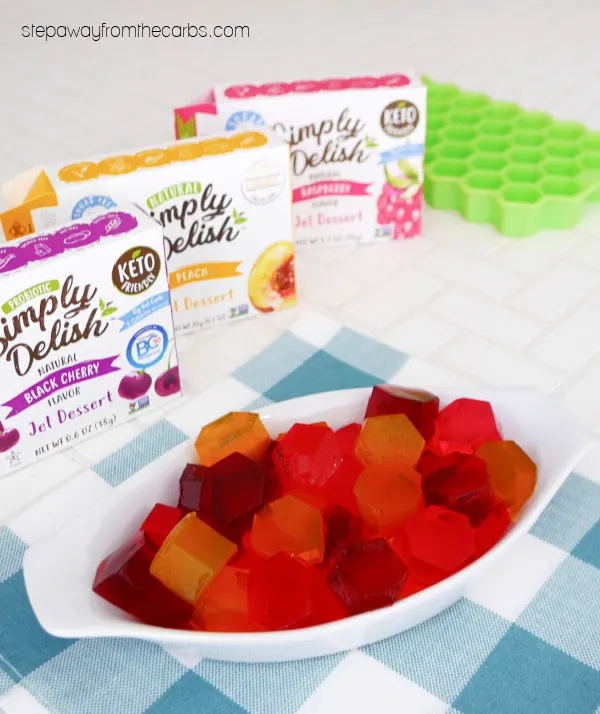 These Low Carb Meringues contain 0.2g net carbs for a serving of four small meringues. I've even added a cocoa swirl to them!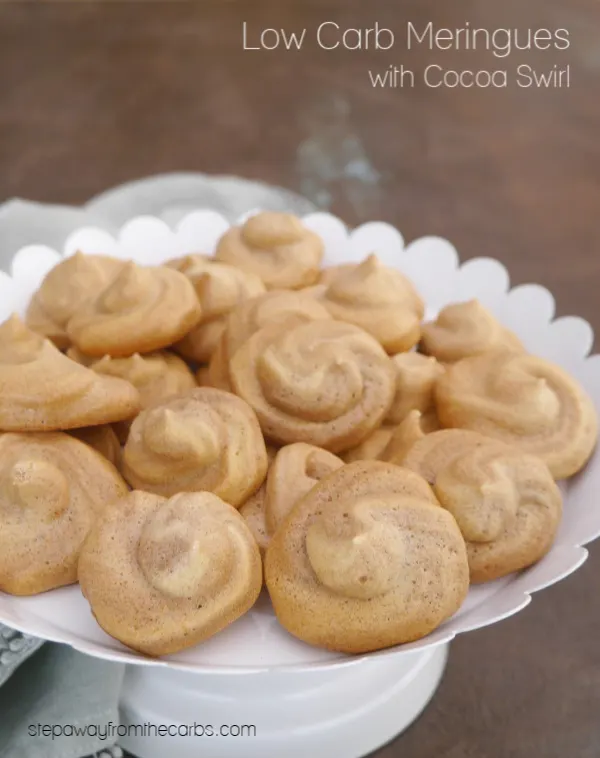 One of my latest recipe developments is this No Carb Ice Cream! It contains just 0.2g net carbs for a generous one cup serving!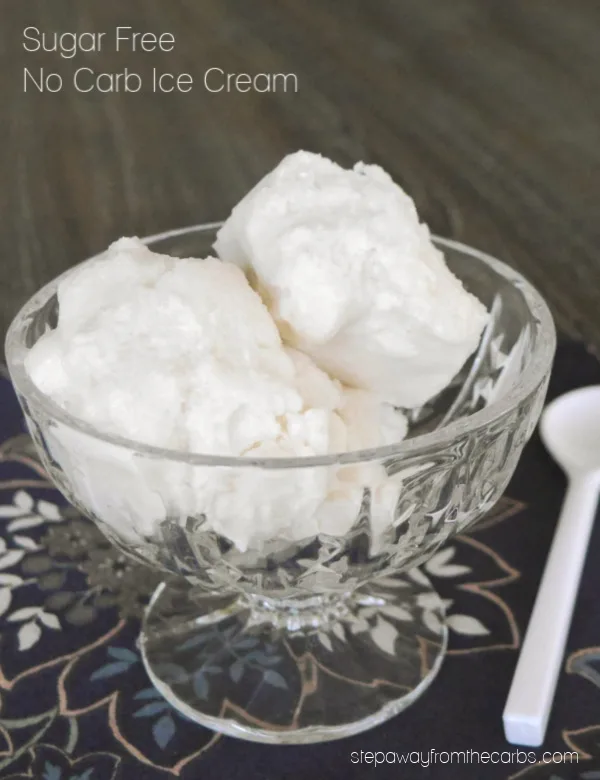 OK – so I'm going to need you to trust me on this one… Sweet Pork Rinds. I recently developed this recipe and although it is definitely NOT a traditional dessert, if you like the sweet and salty combination in foods then you should try it! And it IS a no carb dessert: believe it or not they actually taste like giant cocoa puff cereal pieces!!!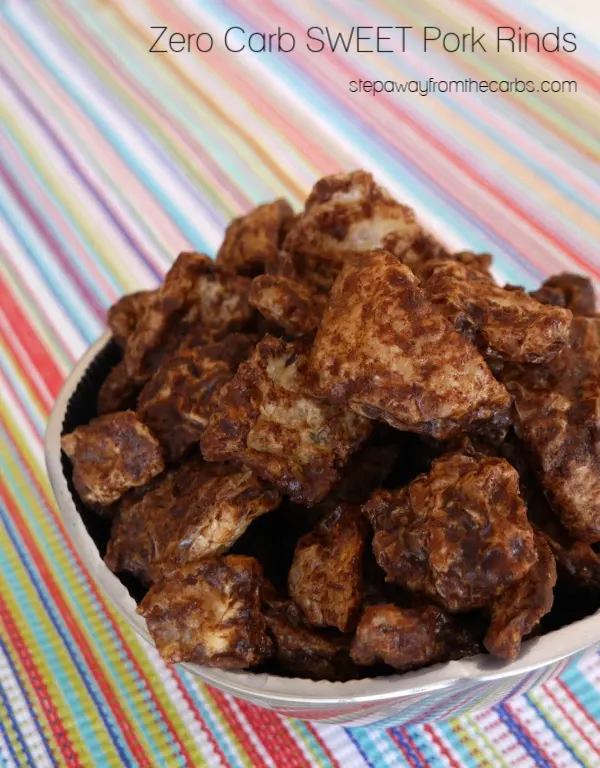 Mascarpone is an almost-zero-carb slightly-sweet soft cheese. Check out my Lemon Mascarpone Dessert – 0.8g per serving!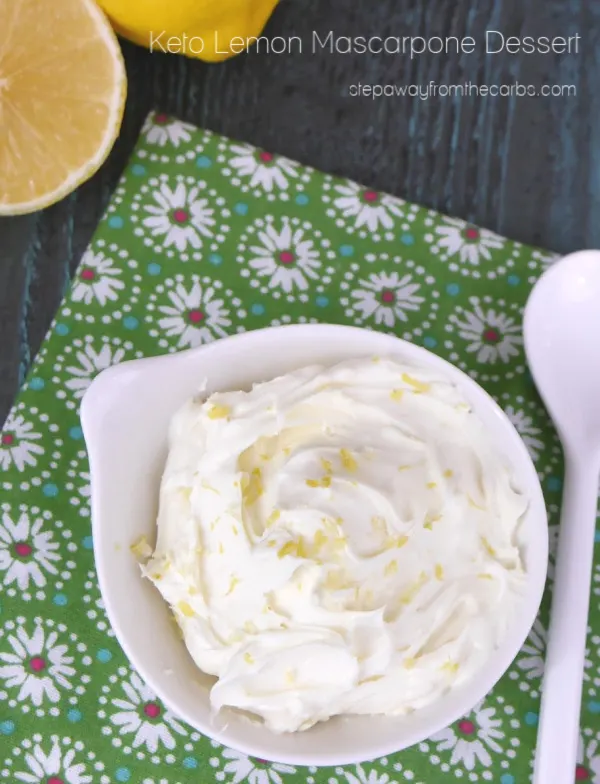 Does a zero carb cheesecake recipe exist? Because the first few that I looked at contain cream cheese, eggs, lemon juice, and sweetener. Three out of the four of those ingredients contain carbs – so unless the nutritional data isn't being calculated correctly, the portion size is REALLY small. In fact, 1 oz of regular (or light!) cream cheese contains 1.2g net carbs. One of the so-called recipes for no carb cheesecake that I saw contains five *bricks* of cream cheese – and at 8oz each, so the whole cheesecake already contains 64g carbohydrates before you add anything else! So just making it crustless really doesn't make it carb free. If you want a cheesecake hit – you could try something like my Keto Almond Cheesecake Bites, but they're still 1g net carb for two bites! And if you've found a genuine no carb cheesecake recipe – please let me know!
Don't want to make your dessert? Try SmartCakes! They're zero carb cakes available in a range of flavors, available from Netrition. Or, buy them from Smart Baking Company direct, and get 10% off when you use coupon code "StepAwayFromTheCarbs".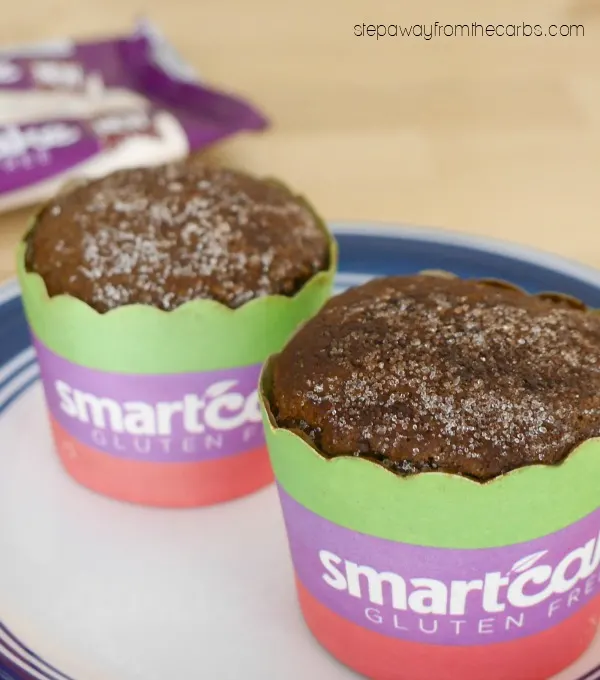 You might also like:
And hey, remember, if you can't find a zero carb dessert that you like – you can always have zero carb cocktails!