If you're looking for low carb rice alternatives – I have an awesome list for you that isn't just cauli rice!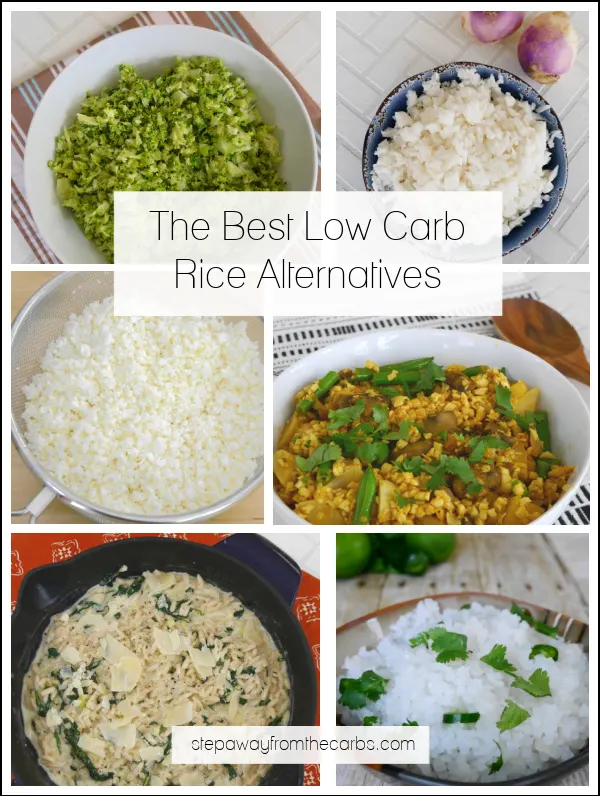 This post contains affiliate links, which means that at no extra cost to you I can make a tiny bit of money to help support this blog. Thank you!
One cup of white rice contains nearly 45g net carbs. So it's no surprise that low carbers need alternatives! Rice is a key ingredient for so many cuisines whether as an integral part of the dish or on the side. Rice is cheap, filling, and it absorbs flavors very well.
So I decided to collect together all the best alternatives and substitutes to rice – there's more than you might think!
The Best Keto Rice Substitutes
---
Cauliflower Rice
So I'm going to start with cauliflower rice. It's a fantastic and versatile low carb rice alternative – one cup contains just 3g net carbs! When I started low carbing back in 2008 I found it very hard to get used to the amount of cauliflower that was suddenly in my diet. But I realized that for most people, it needs some bold flavors with it. I wasn't going to just make mashed cauliflower – it would be Horseradish Cauliflower Mash.
I have used cauli rice in SO many ways since then – so I'm going to drop a link here for how to make cauliflower rice.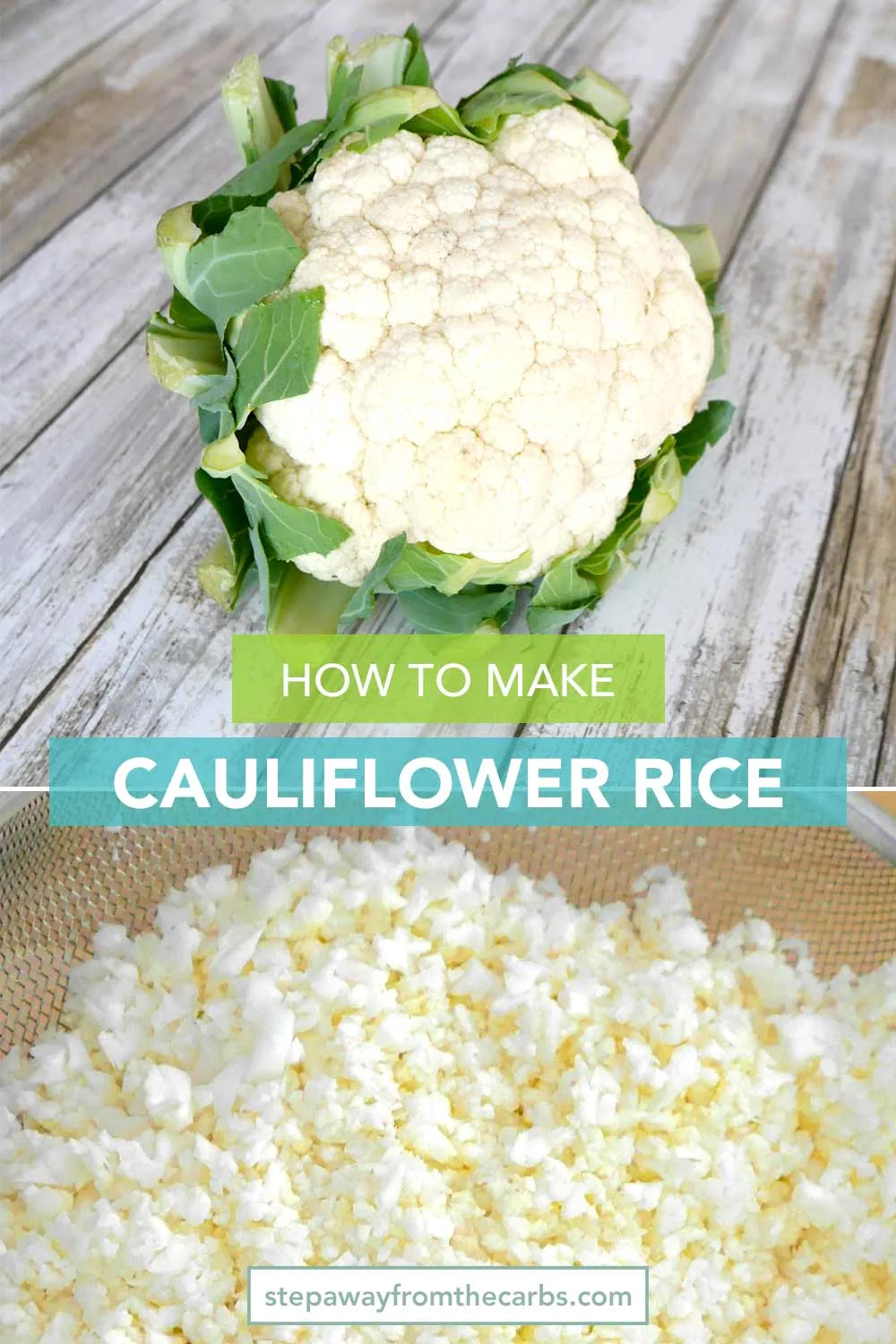 Although it's SO easy to buy it ready-riced these days – buying it frozen is SO convenient because you don't have to defrost it before cooking. Before we move onto other options, here are a few recipes that you can make with cauliflower rice:
---
Broccoli Rice
OK so next up – riced broccoli. Similar to cauliflower and yet OHHH so different!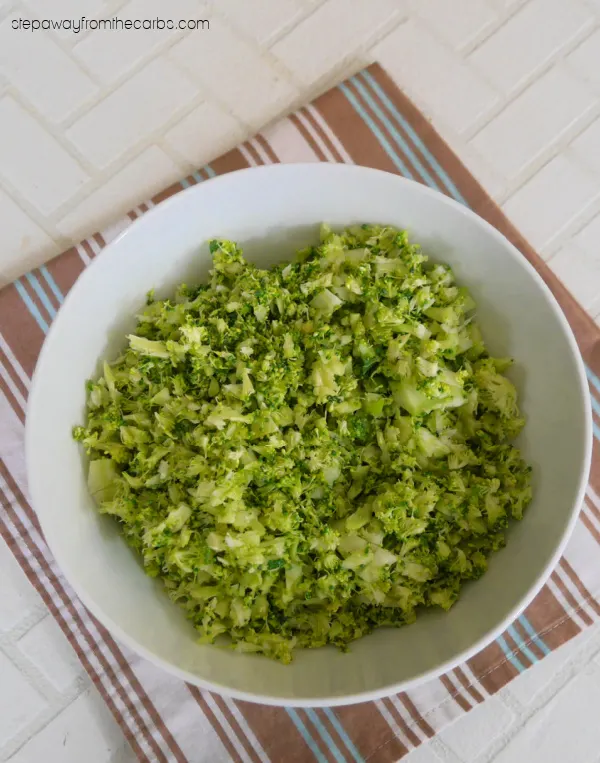 Check out my recipe for a super easy (and cheesy!) Broccoli-Rice Casserole!
---
Turnip Rice
A little higher in carbs than cauliflower or broccoli – but if you fancy a change, it is highly recommended. And of course nowhere near as high as real rice! It's as easy to make as cauli- or brocci-rice (!), but with more flavor – so give it a try!
Find out how to make turnip rice – I sauté it with bacon, garlic, and rosemary. YUM!
---
Palmini Rice
Sticking with natural ingredients once again – my next suggestion is a relatively new product on the market – Palmini rice! They're made from hearts of palm, and very low in carbs. Buy them from Amazon or Netrition! I use them to make this low carb biryani and four-ingredient Italian Palmini Rice Bake!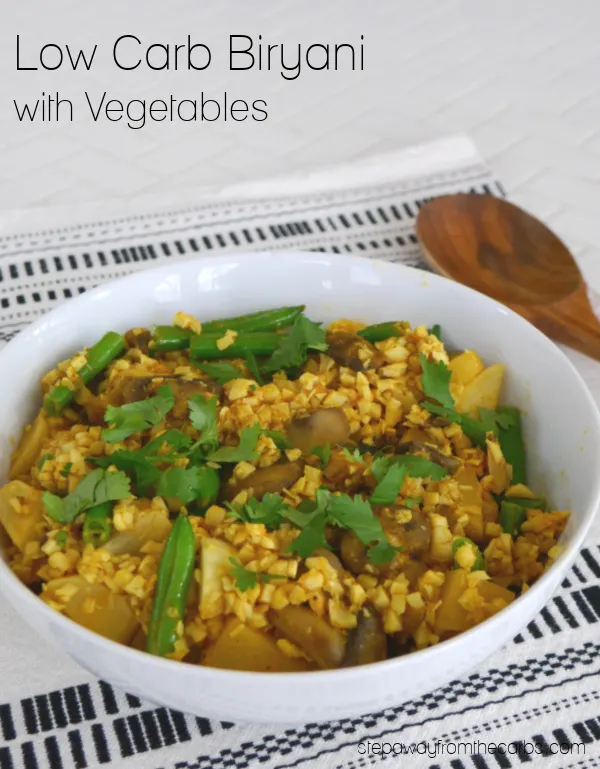 ---
I'm also going to throw in here that I've heard of zucchini rice and cabbage rice – but I haven't tried either. I think that zucchini rice would be too watery, and cabbage rice would have completely the wrong texture – but let me know in the comments if I should try them!
---
Shirataki Rice
Moving onto manufactured alternatives, I have long been a fan of shirataki rice (also known as konjac rice). My Ultimate Guide to Shirataki discusses both the noodles and the rice.
As a zero carb alternative to regular rice – it definitely should be considered! Here are some recipes that you might like:
---
Low Carb Orzo
OK, so I'm slightly sneaking this one in because orzo is in fact rice-shaped pasta. But I feel that it still had a place in this article! It's a product from one of my favorite brands – The Great Low Carb Bread Company – who also make pasta!
Find out more about it in my recipe for low carb Orzo with Spinach and Parmesan!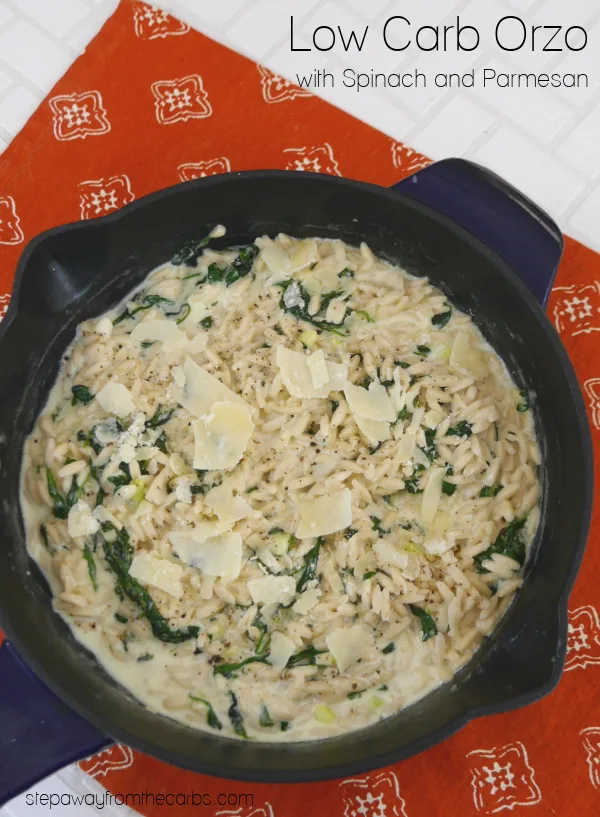 ---
So have I missed anything? Let me know in the comments if you know of any low carb rice alternatives that I haven't mentioned here!