What is Burrata? Here's everything you need to know about this fantastic cheese, plus some low carb recipes for you to try!
This post may contain affiliate links.
So What Is It?
Well, it's a fresh mozzarella cheese that is stuffed with a mixture of mozzarella curds and cream, then rolled into a log or ball.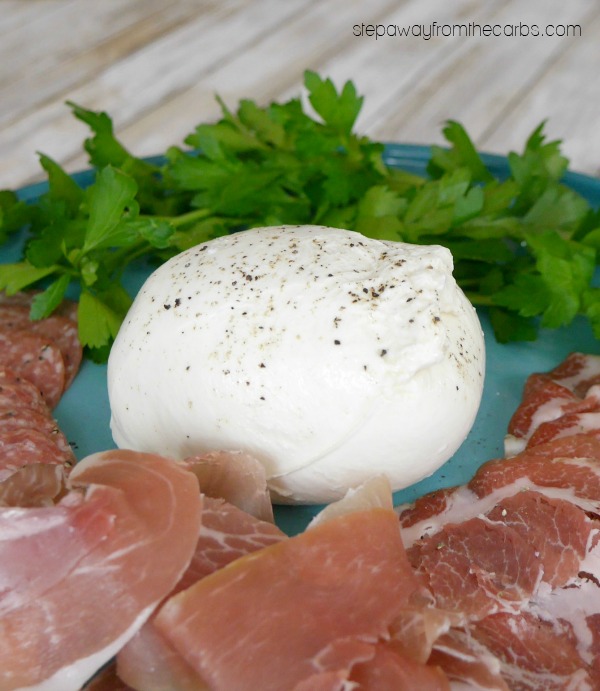 When you cut into the ball, the gooey cheese center dribbles out and it tastes AMAZING. Personally, I think it should be one of those special low-carb-high-fat treats that no-one else should be allowed to enjoy. It is THAT good! 🙂
So what can you do with this cheese? I have so many ideas for you to try! And I absolutely DO NOT just eat it with a spoon. Never. Ever.
It can just be served as an appetizer to share, drizzled with olive oil, salt and black pepper. Alternatively you could slice it and put it into salads. I've also topped pizzas with it (like Great Low Carb Bread Pizza Crust or homemade cauliflower crust, shown below). Classic pairings include tomato, basil, prosciutto, fig, beets, arugula and asparagus.
Although there are many brands available, Buf is one of my favorites (get it from Whole Foods). Shown below with keto-friendly toast, slow-roasted cherry tomatoes, and black pepper. So good.
You can even make your own – but despite how much I *love* this cheese, that might be one step too far for me!
Low Carb Recipes
Did I mention that this amazing cheese is also carb free? If you buy a commercial brand like Bel Gioioso, they sell it in 8oz balls (or sometimes 2 x 4oz balls). Per 1oz serving, the nutritional data is 70 calories, 4g saturated fat, 0g carbohydrates, 5g protein.
2017 Update: In CostCo I can now buy containers of little 2oz balls from the cheese aisle – they are PERFECT for snacking, or as a topping for a steak!
Save
Save
Save
Save