Low carb quesadillas are great for lunches, snacks, or appetizers! Here are over of the 30 best recipes, including savory AND sweet ideas!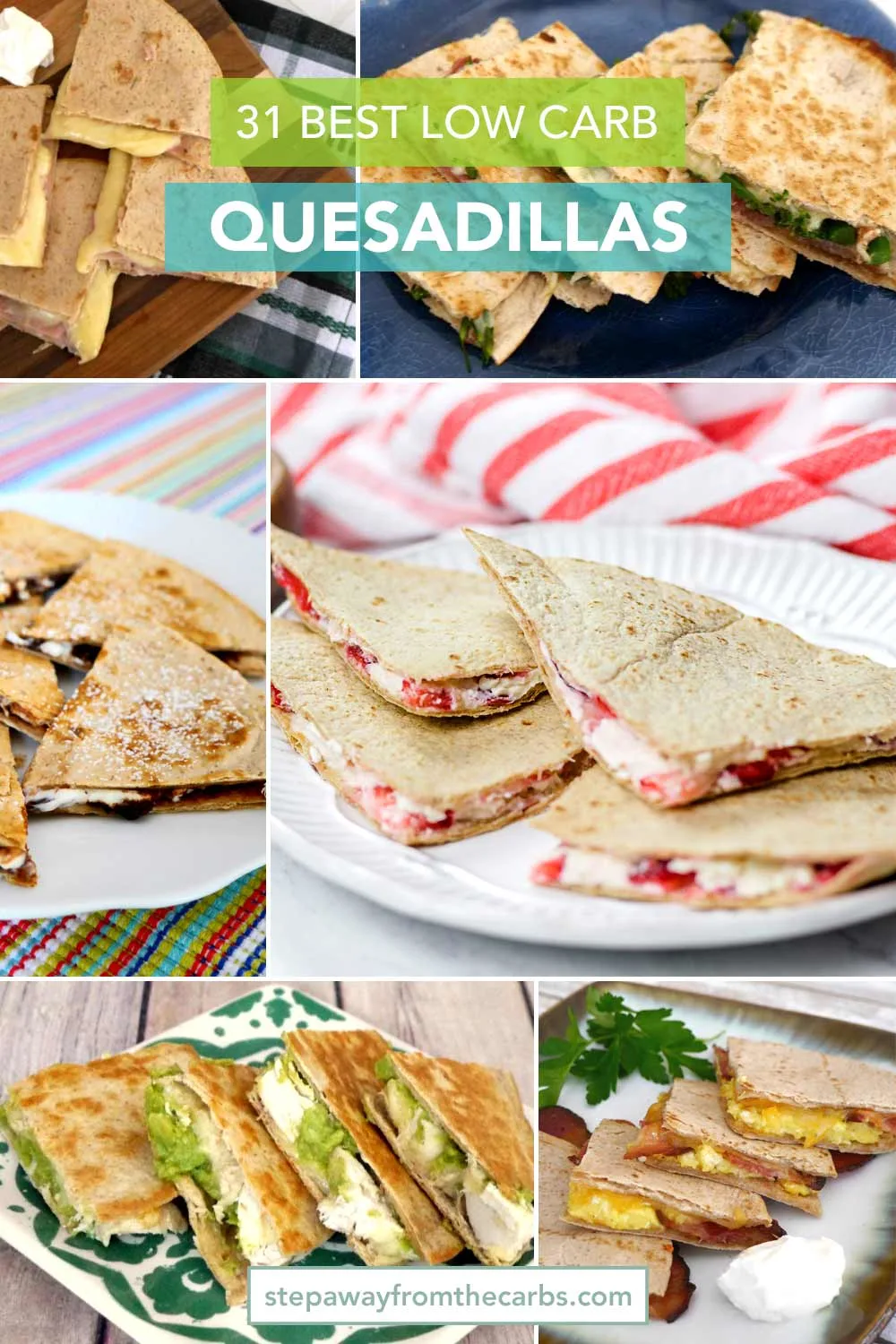 This post may contain affiliate links.
Once you have worked out the best low carb tortillas for you, you'll want to do something with them! They are perfect for making a super quick wrap but if you fancy some hot food, they are ideal for making a quesadilla.
Unsure what a quesadilla is? Here's what Wikipedia has to say: A quesadilla is a flour or corn tortilla filled with a savory mixture containing cheese, other ingredients, and/or vegetables, then folded in half to form a half-moon shape.
It is usually cooked on a griddle – although I use a frying pan – until the tortillas are crispy but not burnt. However, if I'm cooking more than one I prefer to cook them under the broiler (overhead grill) on a silicone mat or baking sheet. To be extra non-traditional I usually use two tortillas per quesadilla rather than fold them – so it's more like a grilled cheese sandwich, really! They are perfect for lunches at home or even as an appetizer. My go-to ingredients are cheese and meat, my favorite cheese being shredded chihuahua. But there are so many flavor combinations for a quesadilla – so here are 31 ideas to inspire you!
The Best Low Carb Quesadillas
Cheese and sliced pickled jalapenos
Cheese and sliced or diced ham (pictured below)
Cheese and cooked chicken
Cheese and baby spinach
Cheese, spinach, tomato and pesto
Steak Quesadilla (this one is my Taco Bell copycat recipe!)
Cheese and cooked mushrooms
Cheese and roasted red peppers
Cheese, bacon, and broccoli (see below)
Cheese and chipotle powder (a personal favorite!)
Cheese and caramelized onions
Buffalo chicken quesadilla
Cheese, cooked chicken and guacamole (pictured below)
And how about something a bit more unusual?
Oh, and you didn't think they could just be savory, did you? Of course it is harder to make them low carb, but how about these SWEET low carb quesadilla ideas:
Remember – not all the links for these low carb quesadillas go to low carb sites – remember to substitute low carb tortillas for these recipes.
31 Low Carb Quesadillas #lowcarb
Click To Tweet
Save
Save
Save
Save
Save
Save