If you're looking for low carb pizza dough – I've got the best options for you! Ready made crusts, homemade recipes, and low carb mixes!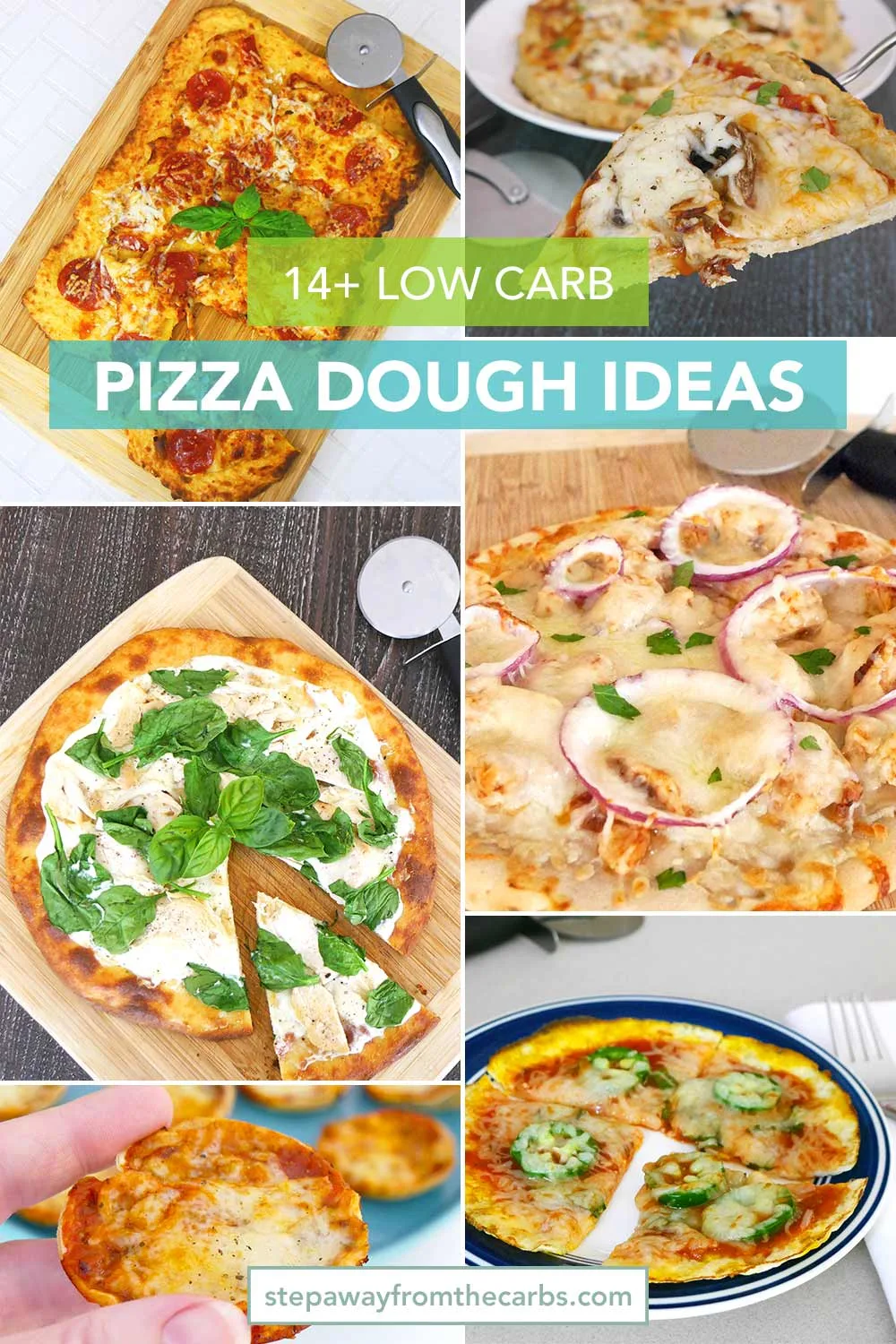 This post may contain affiliate links.
When I discuss low carb diets with people – whether they follow this way of eating or not – they nearly all mention giving up bread and pizza. I tackled the bread issue in my post A Guide to Buying Low Carb Bread – check it out! So next up – is pizza! As I see it, there are three different types – a store bought ready-made crust or mix, make your own from scratch with a recipe, or just buy a low carb pizza that already has toppings. So here are the three options!
Store Bought Low Carb Pizza Dough
ALWAYS check nutrition data panels. Even if the product says low carb – check anyway. There are some cauliflower crusts around at the moment (looking at you, Caulipower) that are over 20g net per serving! So LOWER carb, not low! Here are some good ones though:
Great Low Carb Bread Pizza Crust – available direct from the company or Netrition. This product is great! Check out the BBQ Chicken Pizza that I made with this ready-made crust!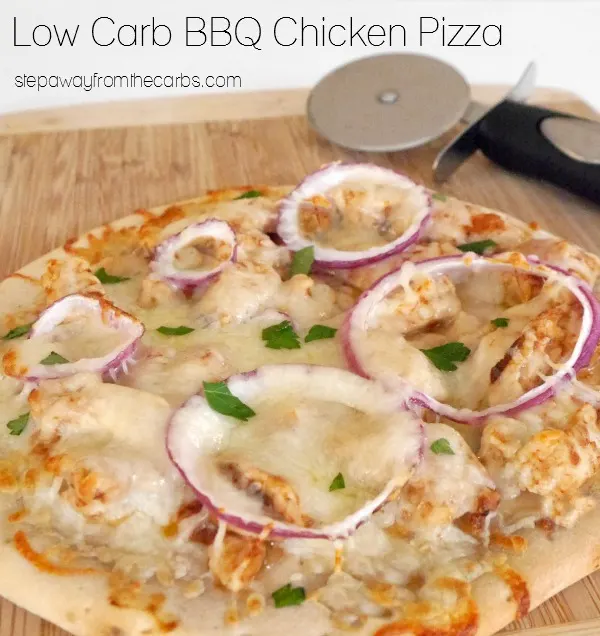 Julian Bakery Keto Thin Pizza Crust Mix – available from Amazon. I haven't tried this yet – and the reviews are mixed.
Outer Aisle Gourmet Cauliflower Pizza Crusts – 3g net carbs for the whole crust! Available in Italian and Jalapeño flavors from Amazon and Whole Foods.
Kbosh Keto Crusts – they have a huge variety of flavors, and they all contain 3g net carbs total. You can use them for lasagna, wraps, noodles, pie base, and more! All gluten free. Buy them direct from their site, alternatively a few varieties are available on Amazon. See the crust "in action" with my low carb breakfast pizza!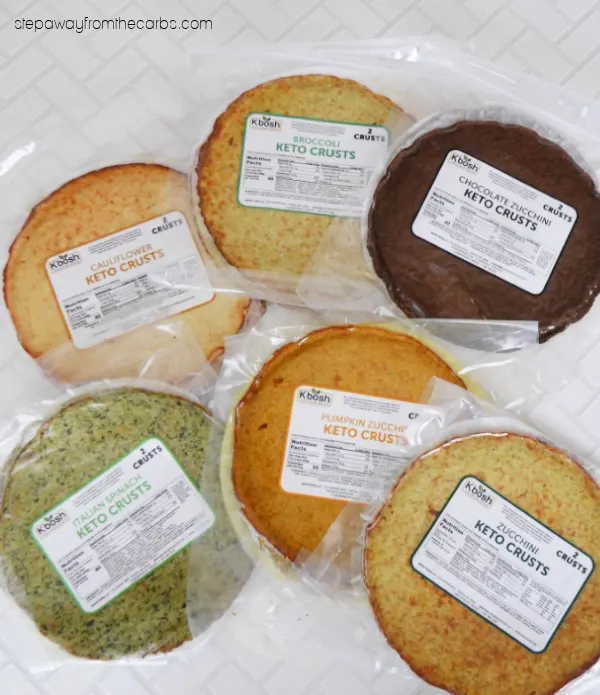 ThinSlim Love The Taste Zero Carb Pizza Crust – this is next on my list to try! Order it from Netrition.
LC Foods Pizza and Calzone Mix – I really liked this mix!
Cali-flour Pizza Crusts – available from Amazon. 1g net carb for a third of a pizza – pretty good! Also available in-store in Whole Foods and Walmart.
NEW! Keto Pizza Crusts from Cappello's! They're made with turnips, almond flour, eggs, and flaxseed. Get 20% off with discount code KETOPIA
Low Carb Pizza Dough Recipes
There are many ways to make your own low carb pizza dough – but here are my top four favorite ways!
FatHead Dough – a classic low carb high fat recipe! Read all about FatHead dough here or check out my Low Carb White Pizza with Chicken and Spinach recipe!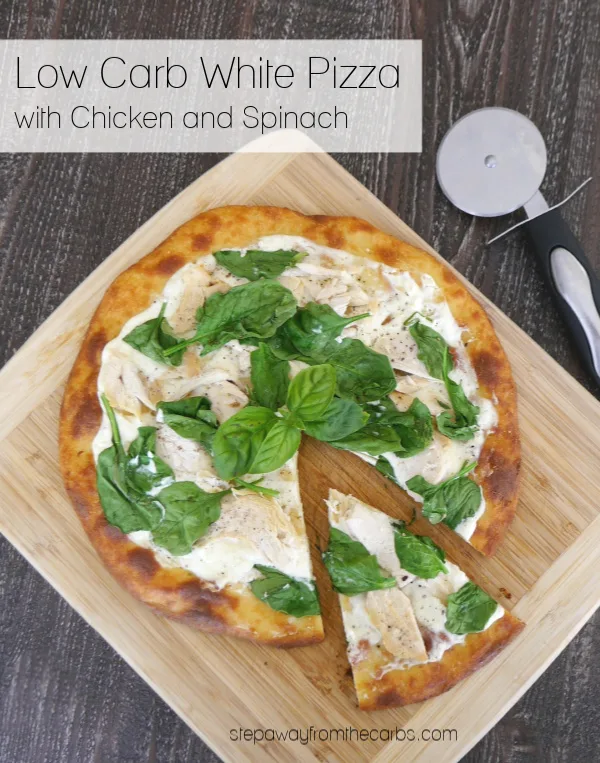 Cauliflower Crust – you've seen the versions you can buy in store – now try making your own! I particularly love this burrata and jalapeño cauliflower pizza!
Low Carb Meatza – Meatzas are super popular right now – and for a reason! The "dough" is actually made from ground beef or chicken! Want to know more? Click the link to my Low Carb Chicken Meatza recipe – it's easier to make than you might think!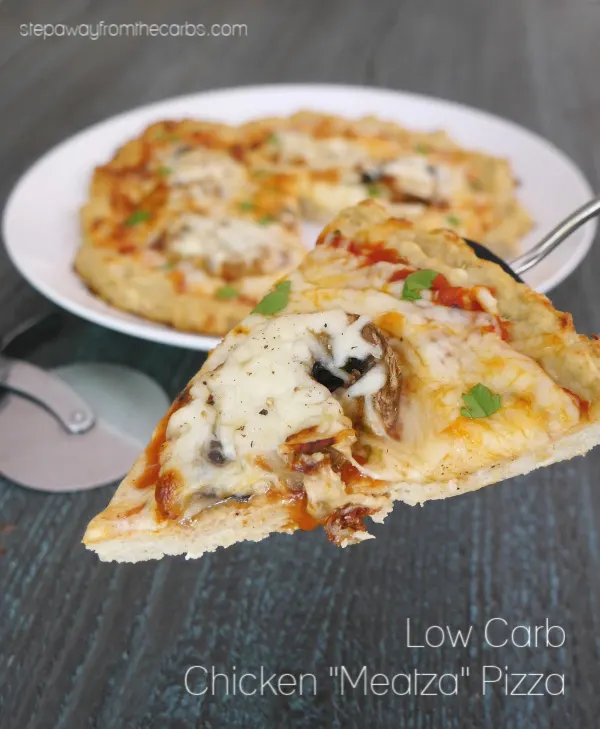 Pizza Omelet – now this is thinking out of the box – low carb style! You're going to love my recipe for a low carb pizza omelet!
Pork Rind Pizza Crust – this pizza base is shown below with toppings stolen from a regular high carb pizza!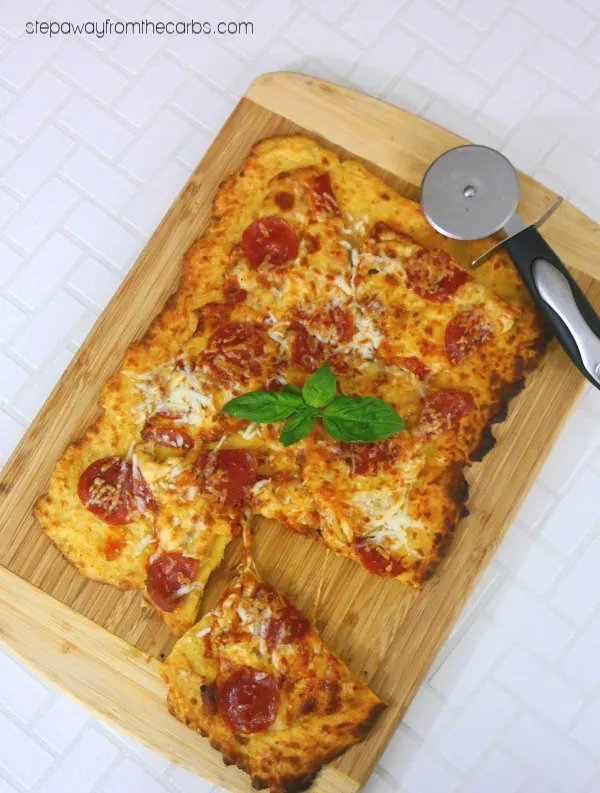 Update: This isn't technically a pizza, but I used low carb tortillas to make keto pizza roll-ups!
Low Carb Store Bought Pizzas
The main three brands that I know are Real Good Pizza, Atkins, and Quest. If you've found any others please let me know!
Quest – I found these in Target, although you can also buy them direct from Quest, but only in bulk! There are three flavors (all thin crust): Four Cheese, Uncured Pepperoni, and Supreme. The Four Cheese is 6g net carbs per serving (half the 8½" pizza).
Atkins – They offer a three meat flavor and a pepperoni pizza. You can buy them in Walmart – although at 11g net carbs they're not especially low carb!
Real Good Pizza Co – You've probably heard of this pizza as the company is pretty active on social media. Flavor options include Uncured Pepperoni, Supreme, Three Cheese, and Egg Cheese & Bacon. You can buy them in Target, Walmart, or Amazon, and average out at 4g net carbs per serving. The crust is made from chicken and Parmesan and they taste great but beware – these pizzas are SMALL. An individual single serving pizza is under 5″.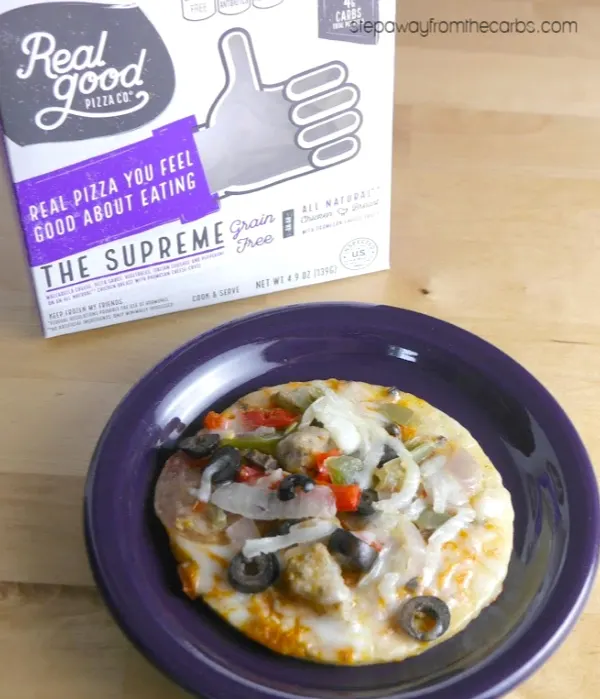 And just for fun, I thought I'd also include these low carb pizza alternatives!
These low carb pizza bites use low car tortillas for the pizza crust – SO easy!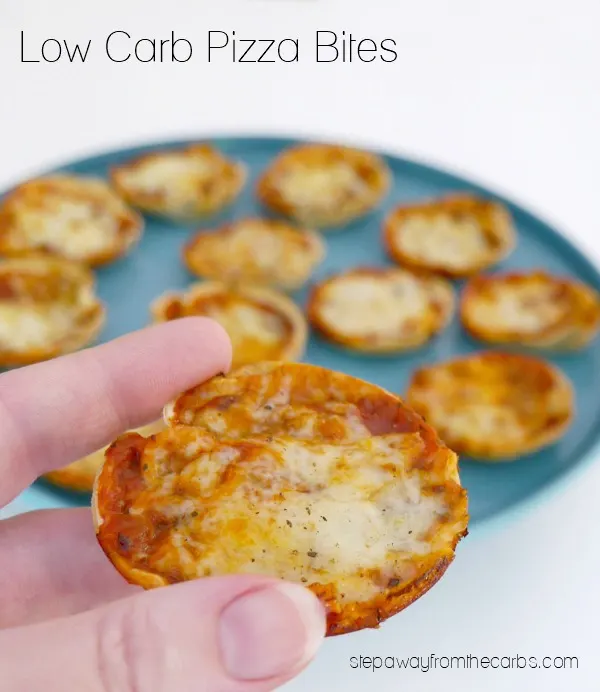 Skip the dough completely and make this pizza dip instead!!!