If you're looking for low carb cheesecake – I have the BEST collection here! All sugar free and keto friendly recipes.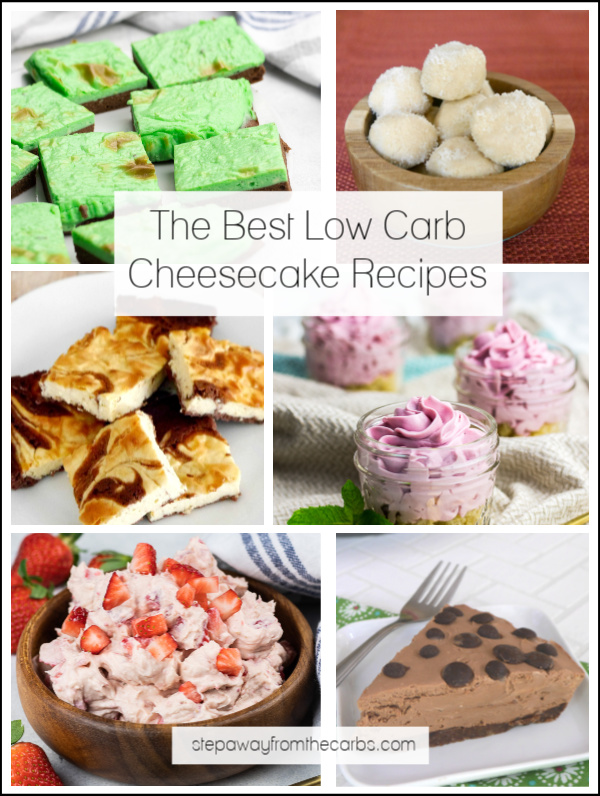 This post may contain affiliate links.
Cheesecake is a super popular dessert and the amount of flavors and varieties that can be created are seemingly endless! So I thought I would celebrate all things cheesecake with this collection of delicious recipes!
Oh and a quick note about zero carb cheesecakes. I researched this for my post no carb desserts after I kept seeing photos on Pinterest that claimed the recipe was carb free. The first few recipes that I looked at contain cream cheese, eggs, lemon juice, and sweetener. Three out of the four of those ingredients contain carbs – so unless the nutritional data isn't being calculated correctly, the portion size is REALLY small. In fact, 1 oz of regular (or light!) cream cheese contains 1.6g net carbs. One of the so-called no carb cheesecake recipes that I found contained five *bricks* of cream cheese – and at 8oz each, the whole cheesecake already contains 64g net carbohydrates before you add anything else!
Anyway, moving on! As you will see, not only have I included standard cheesecakes but also ideas for enjoying the classic flavors in a non-traditional way! It's good to think out of the box when you're following a low carbohydrate or keto diet, so scroll down to see my recipes for tasty cheesecake-inspired drinks, ice cream, desserts, and more!
Low Carb Cheesecake Recipes
Oh, and if I publish any new cheesecake recipes I will add them to this list.
Did I miss your favorite recipe? Or want to request a keto version of your favorite cheesecake? Let me know in the comments!