If you love chicken wings, here are 18 low carb recipes for you to try!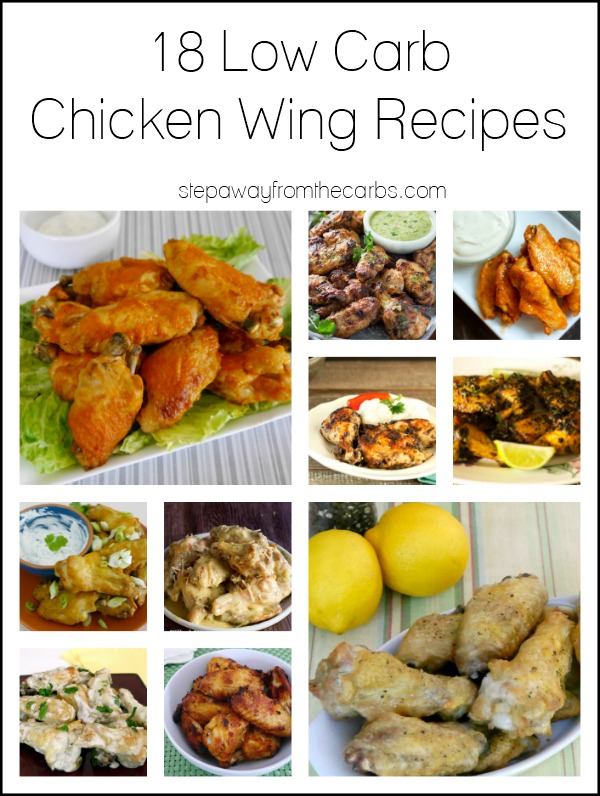 The following post contains affiliate links, which means that at no extra cost to you I can make a tiny bit of money to help support this blog. Thank you!
I think I might be a little bit addicted to chicken wings. I've tried different methods of cooking them: oven baked, pan fried, and in the slow cooker – and so many flavor variations. And I've loved every style I've tried! Unless you coat them in a floury batter, they're naturally low in carbohydrates, too. Just keep the sugar down and you'll actually be quite challenged to turn them into a high carb food!!!
Chicken wings can be served as a snack, party food, appetizer, or lunch – as long as it's informal – any time of day would work. Note to self… Work on a breakfast wings recipe…
So here are 18 low carb chicken wing recipes for you to try, both from my blog and from some of my favorite sites in the blogosphere. Enjoy!
Lemon Pepper Chicken Wings from StepAwayFromTheCarbs
Buttery Chili Lime Chicken Wings from Low Carb Yum
Baked Jerk Chicken from Beauty and the Foodie
Marinated Indian Chicken Wings from StepAwayFromTheCarbs
General Tso's Chicken Wings from I Breathe I'm Hungry
Brown Butter Old Bay Wings from All Day I Dream About Food
Low Carb Buffalo Wings from StepAwayFromTheCarbs
Tikka Chicken Wings from Low Carb Maven
Asian Style Slow Cooked Chicken Wings from StepAwayFromTheCarbs
Easy Low Carb Hot Wings from My Montana Kitchen
Strawberry Rhubarb Barbecued Chicken Wings from Simply So Healthy
Red Thai Curry Chicken Wings from StepAwayFromTheCarbs
Lemon, Garlic and Rosemary Chicken Wings from Low Carb Maven
Oven Baked Parmesan Garlic Wings from Joy Filled Eats
Low Carb Alfredo Chicken Wings from StepAwayFromTheCarbs
Spicy Dry Rub Chicken Wings from Low Carb Yum
Oven Baked Chicken Wings with Lime Coconut Sauce from Fat For Weight Loss
Bacon-Wrapped Asian Chicken Wings from I Breathe I'm Hungry
A collection of 18 low carb chicken wing recipes! #lowcarb #chickenwings
Click To Tweet
Save
Save
Save
Save
Save
Save
Save