If you love low carb chicken wings, here are my best recipes!! So much different flavors and cooking methods for you to try!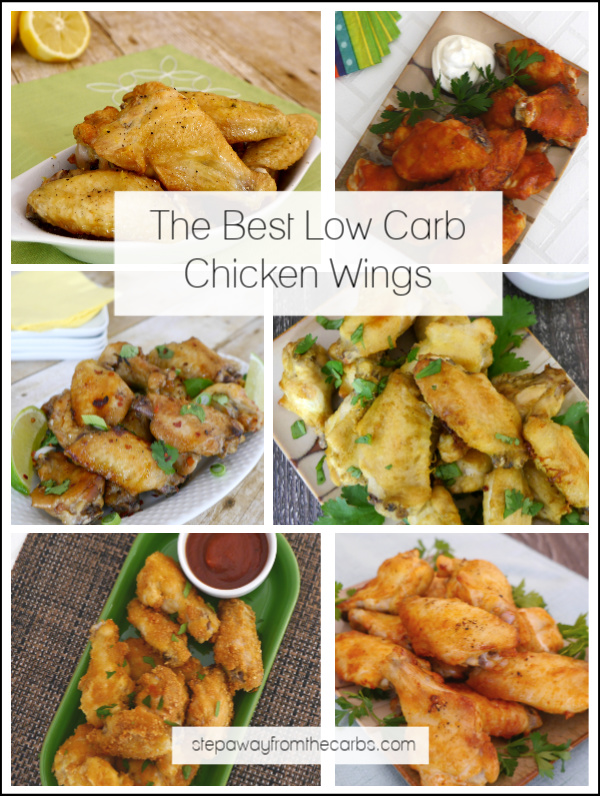 The following post contains affiliate links, which means that at no extra cost to you I can make a tiny bit of money to help support this blog. Thank you!
I think I might be a little bit addicted to chicken wings. I've tried different methods of cooking them: oven baked, pan fried, and in the slow cooker – and so many flavor variations. And I've loved every style I've tried – although my latest recipe for "fried" chicken is SO good – highly recommend!
Chicken wings are naturally low in carbohydrates – great for anyone on a keto diet! If you avoid coating them in breadcrumbs, sugary sauces, or floury batter you'll actually find it a challenge to turn them into a high carb food!!!
I love to serve wings as a snack, party food, appetizer, or an informal lunch or supper – any time of day would work. Note to self… Work on a breakfast wings recipe… Oh and look out for the very last recipe – I added a turkey wing recipe just in case you wanted to try something a little different!
So here are my best low carb chicken wing recipes for you to try. Enjoy!
The Best Low Carb Chicken Wing Recipes
Which chicken wing recipe will you try first?!?
A collection of the best low carb chicken wing recipes! #lowcarb #chickenwings
Click To Tweet
Save
Save
Save
Save
Save
Save
Save
Check out my Low Carb Snacks Recipes Ebook!
If you need more snack ideas, check out my book! Over 70 delicious sweet and savory recipes - all low carb, sugar free, and gluten free!
Check out my Low Carb Party Food Ebook!
Are you planning a party? Check out my mini ebook for low carb recipe inspiration!