If you're looking for low carb breakfast ideas that do NOT include eggs, then this is the list that you need! Includes recipe and product suggestions.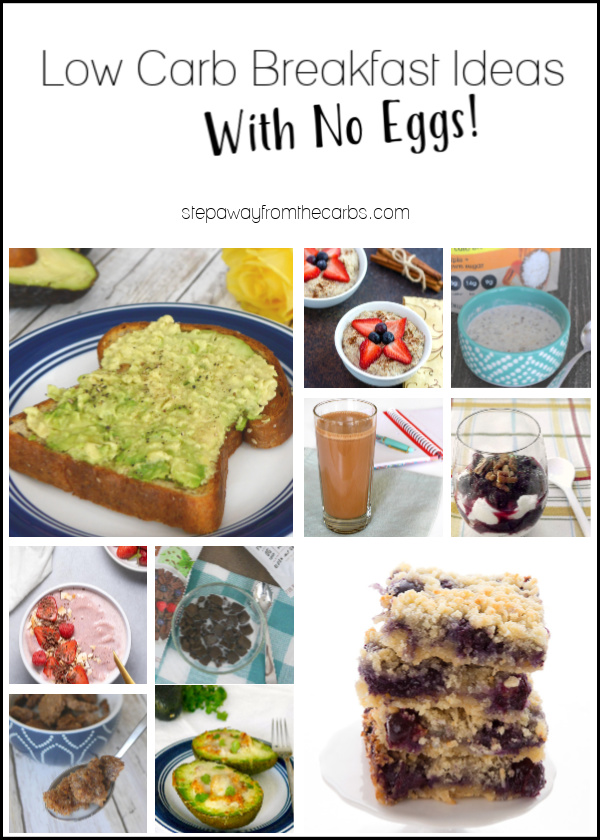 This post may contain affiliate links.
I remember that the first time I ever heard about a low carb diet (MANY years ago!) was a news video of people frying eggs and bacon for their breakfast. These people were following something called "the Atkins diet", and no-one could quite believe that someone could lose weight this way!
Over the years, low carb diets (with all their variations) have become much better understood. And although there are many options available now for a low carb breakfast other than eggs and bacon, the truth is that many of them DO include egg. Pancakes, scrambled eggs, hard-boiled eggs, fried eggs, baked eggs – it can be easy to get egged-out!
Three out of the five of my recipes in my Easy Low Carb Breakfasts video are egg free, check it out:
Low Carb Breakfast Ideas – Egg Free Recipes:
Ham and cream cheese roll-ups – as seen in the video! Super quick and easy to make.
Maple Low Carb Oatmeal from My PCOS Kitchen
Low carb granola – perfect with unsweetened almond milk
Almond and Blueberry Shake – super speedy prep for this breakfast shake!
Sausages – dip them in some low carb ketchup
Berry Parfait – use leftover homemade berry sauce to make this tasty breakfast parfait!
Butter Coffee – A classic start to the day for low carbers! Try this delicious recipe from All Natural Ideas.
Whipped Cottage Cheese with Berries and Nuts – whiz up the cottage cheese in a food processor and add your toppings!
Celery and peanut butter
Chocolate Breakfast Shake – as seen in the video – OR – try this chocolate shake mix from Konscious Keto – with added MCTs! Plus there's a 10% discount! Use "GEO10" when you check out on the Konscious Keto website!
Low Carb Smoothie Bowl from Diabetes Strong
Cheese strings, Babybels, or other snack cheese
Avocado and Bacon – mash an avocado, chop some cooked bacon, and mix it together with some hot sauce.
And don't forget about TOAST! Check out my guide to buying low carb bread online! Perfect for peanut butter or even your own homemade butter!
And if we're going to have toast – then check out my ideas for low carb avocado toast!

Egg Free Low Carb Breakfast Products:
Did I miss your favorite egg-free low carb breakfast? Let me know in the comments!
Save
Save
Save
Save