Here are the best low carb sweet snacks for you to try whenever you feel the need for a sweet treat! All sugar free and keto-friendly recipes.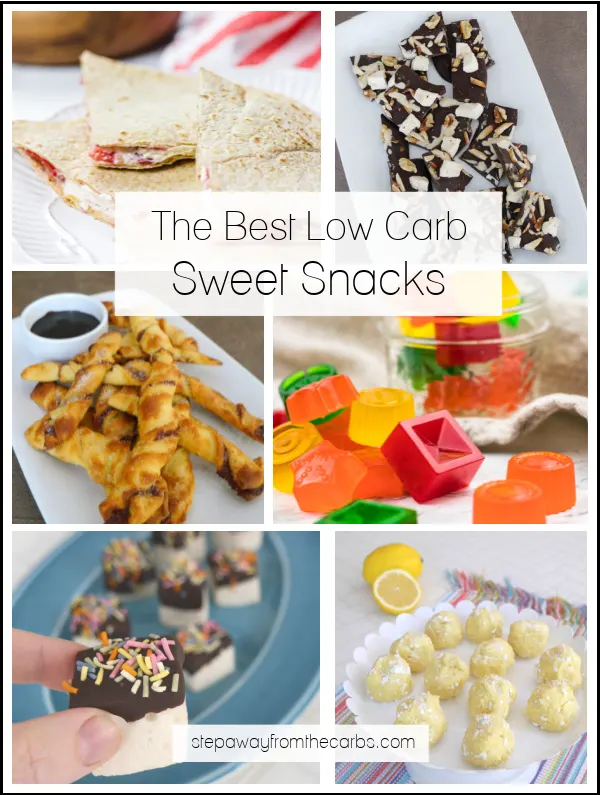 This post may contain affiliate links.
Many people who have been following a low carb diet for some time have told me that they no longer have much of a sweet tooth. But in over ten years I confess that that's never happened to me! If I ever cheat, it's *always* with something sweet. Which makes it all the more important to make sure that I always have some low carb sweet snacks around at all times.
I've put together this list and I hope you'll find some great options for low carb sweet snacks here – and they're all sugar free and keto friendly, too!
Low Carb Sweet Snacks
Low Carb Sweet Snacks
Here's my hand picked collection of low carb sweet snacks - perfect for when you have a sugar craving but want to stay on track! Keto and sugar free recipes!
Oh and check out my recommendations on Amazon for low carb treats to buy! There's so many good products to choose from!
Do you love recipe videos? Check out all my sweet ones here:
And if CHOCOLATE is your passion, you NEED my book – Low Carb Chocolate Recipes!