Here are some delicious keto Mexican food ideas for you to enjoy – including recipes and what to order in a restaurant!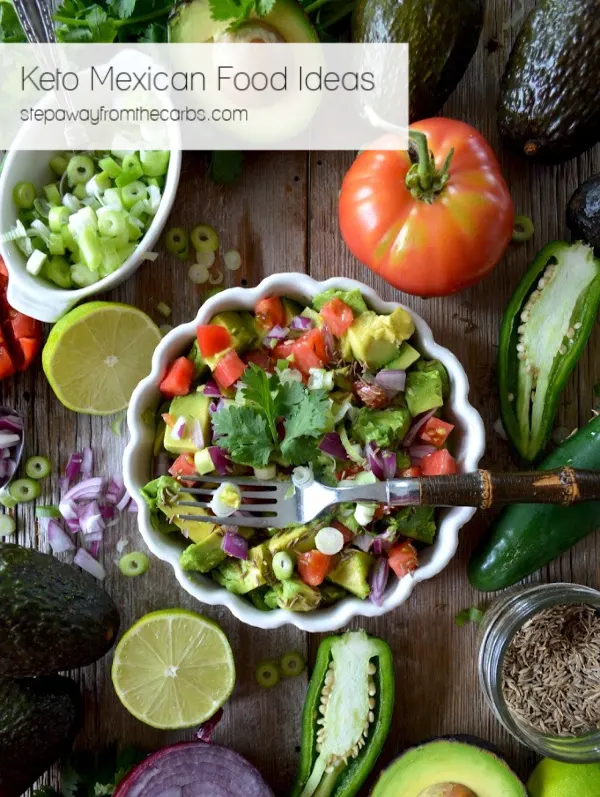 This post may contain affiliate links.
I don't know about you, but I *love* Mexican food. And I certainly love low carb Mexican food! But with all those tortillas, rice, and beans, it can be hard for anyone on a keto diet to navigate. That's why I'm here to help!
Because there ARE Mexican ingredients that we can eat. Here's a quick off-the-top-of-my-head list:
Steak
Shrimp
Avocado
Tomatillos
Poblanos
CHEESE!
Jicama
Pork Carnitas
Chorizo
Chayote
Jalapeños!
First, check out my visual index of low carb recipes on the blog. It certainly makes my mouth water looking through them all! Just hover over each image to see the title and click to link through to the recipe. Or, if you're looking for what to eat in a Mexican restaurant, keep scrolling!
Probably the most useful place to start is finding some low carb tortillas that you like. As you'll see from the list below, I use them for all kinds of applications including nachos, hard taco shells, tostadas, quesadillas, and even as tortilla strips in a soup.
Oh and a quick note about store-bought salsa while I remember. Always check the nutritional data, because some manufacturers add a ton of sugar! I recommend the Green Mountain Gringo salsa which you can buy online from Netrition.
Update: love queso dip? Check out this creamy keto queso recipe from Yummy Keto Cooking!
Keto Mexican Recipes
And of course I just have to mention my mini ebook – low carb mexican recipes! It's perfect if you prefer the convenience of all the recipes in one place!
Keto Mexican Food in Restaurants
Here are my top tips:
The holy grail is finding sizzling fajitas – especially if the restaurant provides lettuce wraps! You might need to go easy on the onions, as the carbs can add up. But whether it's steak, carnitas, or shrimp – this option is perfect.
Restaurants often make fantastic salads – you may need to ask for no tortilla strips or beans though. And get the dressing on the side in case it is loaded with sugar.
Guacamole and salsa is a great choice, even if you can't have chips for dipping. Have it on its own, or in one place I went to they provided cucumber and jicama sticks instead!
Stay away from slushie-style frozen margaritas and sangrias. They are LOADED with sugar. A margarita on the rocks isn't much better. I've seen anything from 34g to 120g carbohydrates per drink – although the latter is for a huge 32oz frozen cocktail!
Always say no to the rice and beans. Ask for veggies instead – summer squash and zucchini are usually available as an alternative.
Ceviche – citrus marinated seafood goodness!
Grilled chicken, steak or fish – perfect with veggies or salad
Queso dips – enjoy these sparingly. Although these contain a lot of cheese, they often contain high carb thickeners.
Chicharrones! If you're lucky enough to find a Mexican restaurant that makes these pork rind snacks fresh – you're sorted! Perfect for snacking and dipping.
Have you got any more low carb mexican food tips to share? Comment below! Also, check out my low carb Mexican Pinterest board!
Main image by Nadine Primeau on Unsplash